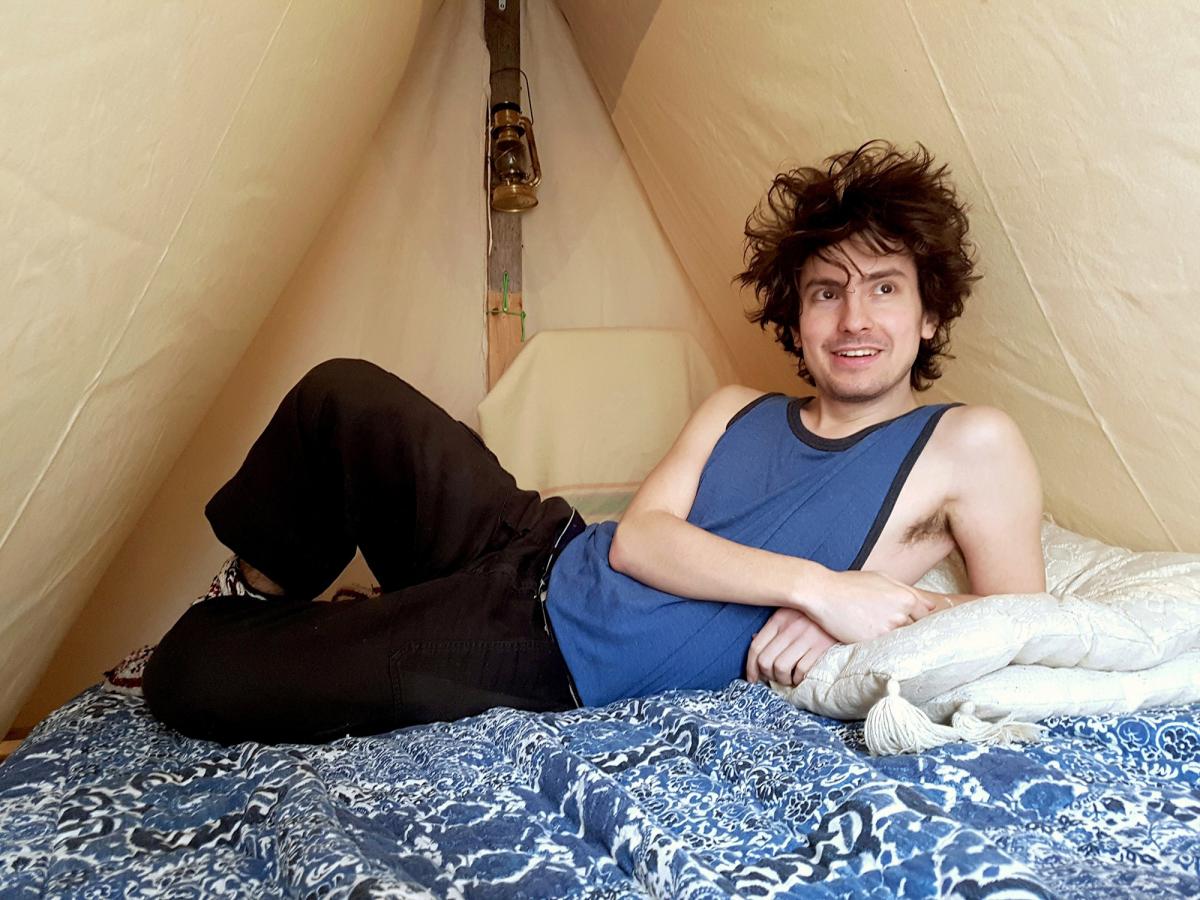 Fri Aug 04, 2017
Moon King (Daniel Benjamin) returns with an animated visual for lead-single "In & Out" taken from his forthcoming tape Hamtramck '16 - out August 4 on Arbutus Records . Video animation is by Jordan Minkoff . On "In & Out" Benjamin says, "I made this in Detroit last September, very quick & dirty, mostly inspired by the music I was hearing DJs play around town ... it's a good tape to leave in your car I think." The new single also premiered on air courtesy of CBC q.
Moon King is the alias of producer, singer and songwriter Daniel Benjamin. Born in Toronto, the musician spent 2016 in Detroit, where the musically fertile and offbeat neighborhood of Hamtramck became both his home and the inspiration for a new set of recordings.
Hamtramck '16 documents his arrival into a new and unfamiliar environment combined with a growing obsession for underground dance music, a sound and spirit that has always felt right at home in Detroit. Collaborating with local artists and musicians, and having the freedom to stretch out after several years of constant touring, Benjamin put together a completely new band with a sound drawing from dance music's early days, from synthpop, disco and house music up through the more pop-oriented songcraft of the Bee Gees or Prince. Benjamin's attention to detail in production, and willingness to break the mold of what he sees as his own potential, have made him an interesting figure to watch.
Moon King kicks off a North American tour with a very special hometown release show on August 11 at Baby G .
LIVE DATES
08/11 - Baby G - TORONTO, ON
08/12 - PN, MONTRÉAL, QC
08/18 - El Club, DETROIT, MI
09/02 - Schubas, CHICAGO, IL
09/03 - The Bishop, BLOOMINGTON, ID
09/04 - MOTR, CINCINNATI, OH
09/05 - Double Happiness, COLUMBUS, OH
09/06 - Sound Hole, PHILADELPHIA, PA
09/07 - Charlies American Cafe, NORFOLK, VA
09/08 - Silent Barn, BROOKLYN, NY
09/11 - One Caroline, SARATOGA SPRINGS, NY
09/12 - Bard College, ANNANDALE-ON-HUDSON, NY
09/13 - House Of Targ, OTTAWA, ON
09/14 - Le Cercle, QUEBEC, QC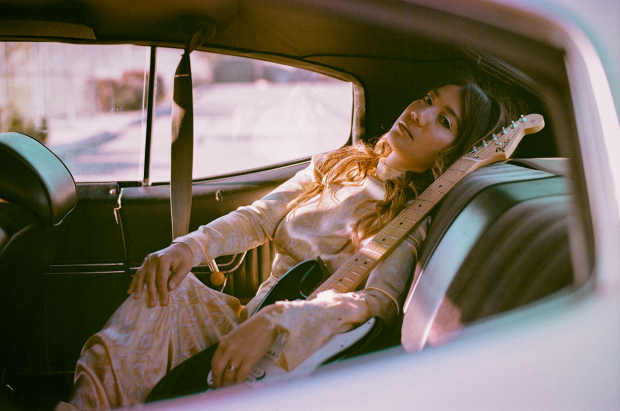 Just out from Musician and filmmaker Tara Beier, a new video for the song "Diana" from her latest six-song EP, California 1970. Beier, a Vancouver native who now splits her time between L.A. and Toronto, returns to Canada on Aug. 19 to perform at Riverfest in Elora ON.
Beier describes the new video as a reflection of the song's theme of a girl turning to nature to escape the pressure of the big city. Diana was shot in Joshua Tree National Monument, and various locations in Downtown and East L.A.
"A friend and I made the video together, partly as an adventure," Beier says. "It was over 40 degrees in the desert and we had to watch for rattlesnakes. Then we shot in the L.A. River, which is really difficult to access. It took us two days to find a secret entrance. Then we did some filming along Skid Row, which was challenging. We often had to hide the camera, but overall I think we got some imagery that really suits what the song is about."
Beier produced California 1970 herself at legendary L.A. studio The Village Recorder, joined by guitarist Adam Zimmon (Iggy Pop, Shakira), drummer Tripp Beam (Moby), bassist Eliot Lorango (Sea Wolf), and keyboardist Sasha Smith (Ariana Grande, Linda Perry). Additional sessions were held at former Guns N' Roses drummer Matt Sorum's studio.
TARA BEIER TOUR DATES:
Sat. Aug. 19 :: ELORA ON :: Riverfest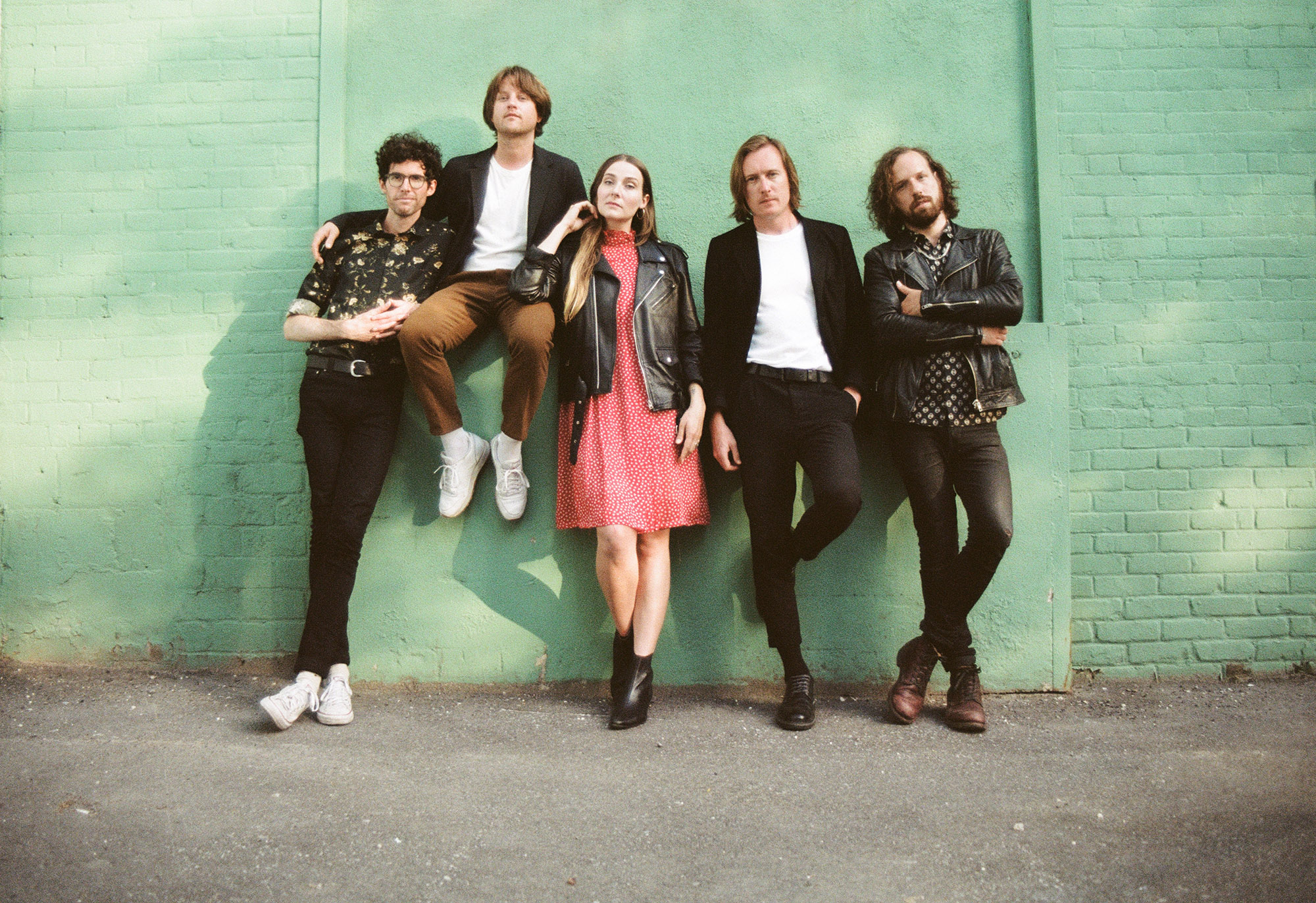 After their final European tour in support of 2015 album, On Blonde, Yukon Blonde were not ready to come home - so they didn't. Frontman Jeff Innes relocated to Madrid, Spain where he was joined sporadically by his bandmates to write new material. Over beers at Restaraunte Padron, in the gardens of the El Retiro, and from a one room apartment on San Bernardino, Malasana, "Crazy" and "Emotional Blackmail" were born. These two new songs were produced by Yukon Blonde and Steve Bays (Hot Hot Heat), and out on Dine Alone Records . Fans will also be able to pre-order the two tracks on a clear 10" vinyl tomorrow on the Dine Alone Record Store.
"Crazy" premieres today courtesy of Noisey, who claims it's "the perfect jam for dancing and falling foolishly into the depths of an emotional disaster."
"The idea for the song came about just before a show in Munich at the end of the tour," says Innes. "I was just outside of the club and I could hear the rest of the band sound checking one of our songs. I had the chords mixed up in my mind so it sounded like a completely different tune. As I was humming this melody outside, I was simultaneously trying to think of what to say to defend my slightly erratic behaviour to a girl I had met in Spain. And so as I was writing to her, I ended up writing the lyrics to the song."
The Vancouver-based bands' JUNO Award nominated album Tiger Talk (2012) spawned the Alternative hit "Stairway" and cemented their place in the Alternative Rock landscape. On Blonde (2015) featured the Alternative hits "Saturday Night" (peaked #11) and "I Wanna Be Your Man" (peaked #12) and garnered rave reviews from Spin Magazine, PASTE, Buzzfeed, BBC, and more. You can catch Canada's Tame Impala at....
TOUR DATES
Jul 29 - Halifax, NS - Red Bull Tour Bus
Aug 12 - Vancouver, BC - Vancouver Mural Festival
Aug 25 - Ottawa, ON - Mill Street Brew Pub
Sep 15 - Victoria, BC - Rifflandia
Singer/ songwriter Jerry Leger is sharing the new lyric video for "Forged Check" from latest record, Nonsense And Heartache, out now via Latent Recordings. Of the song, Leger says, "I really dig the band dynamics on this one, especially the guitar interplay during the instrumental section between James McKie and I. I wrote the song very quickly one night, I like the line 'had to run away from the circus and be a clown without their crutch '."
Nonsense And Heartache is equal parts primal rock and roll, and raw, confessional balladry. The separation between the two is evident by the album's title, and it is in fact two distinct collections of songs presented on two slabs of vinyl. In many ways, Jerry Leger's artistic path has been leading up to this ambitious display of both sides of his musical personality, fueled by countless nights playing in clubs and bars with a loyal band equally committed to keeping rock and roll's original flame burning.
Employing his distinctive live-off-the-floor recording approach on Nonsense And Heartache, producer Michael Timmins (Cowboy Junkies) focused on capturing the chemistry between Leger and his core musicians: multi-instrumentalist James McKie, bassist Dan Mock, and drummer Kyle Sullivan, along with guest vocalist Angie Hilts. The ragged-but-right results perfectly complement Leger's tales of characters on the fringe, attempting to unravel life's mysteries.
Leger describes the album thusly, "Mike Timmins came up with the idea of doing a double album, but it's really two different records – Nonsense and Heartache – packaged into one. He had the idea to record one album as electric, bluesy, dirty rock and roll, with James and I on electric guitars, Dan on electric bass and Kyle bashing away. The other album was intended to be more of a singer/songwriter record with me on acoustic guitar or piano, James on fiddle or lap steel, Dan on upright and Kyle using brushes and percussion. So, it's not an ego trip for either of us. It just felt like it made more sense to put them together, plus the fact that neither is overly long, just about 35 minutes each."
JERRY LEGER ON TOUR
08/09 Toronto, ON - The Horseshoe Tavern
09/08 Montreal, QC - Casa Del Popolo
09/09 Trenton, ON - Old Church Theatre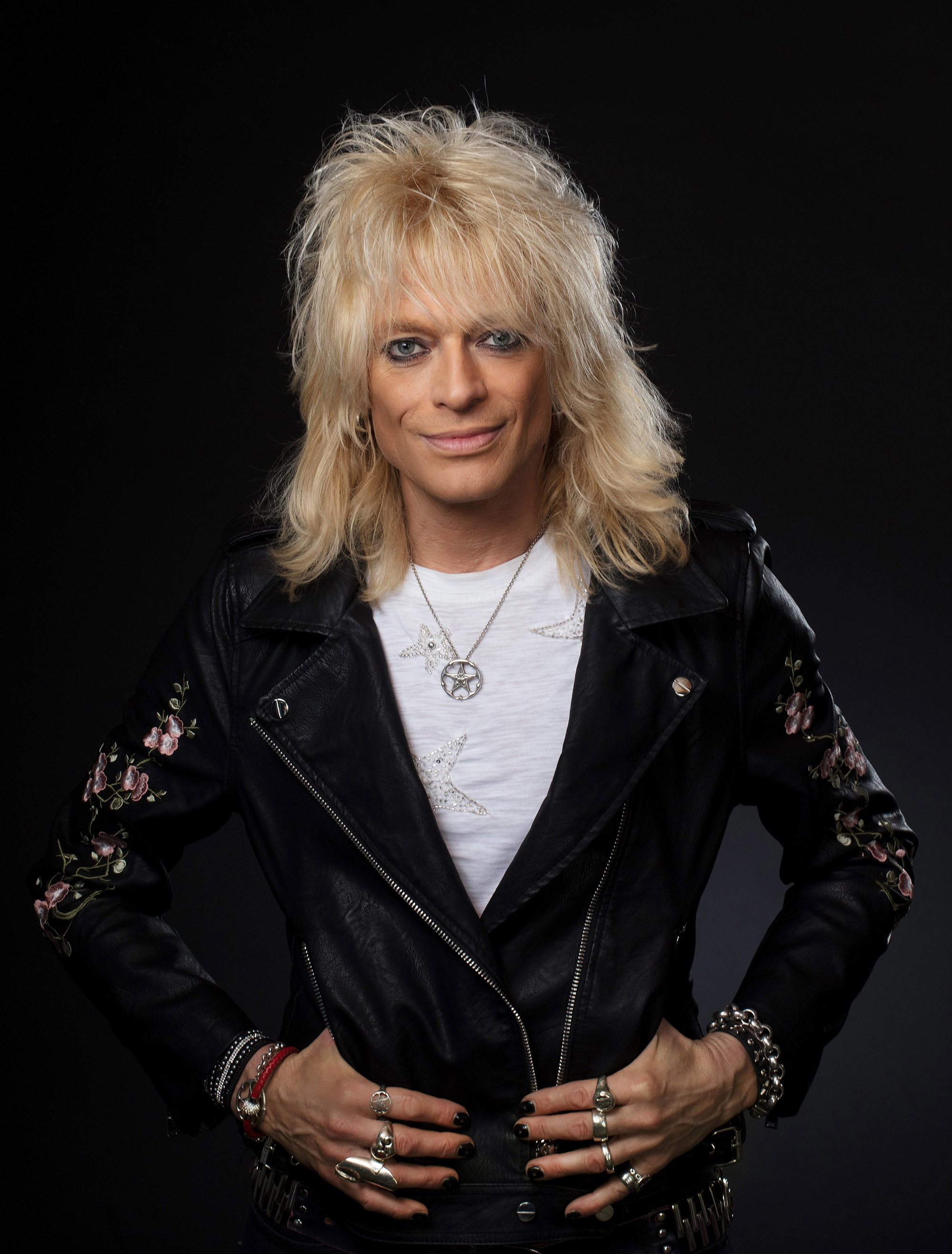 In the leather-bound history of heartfelt rock 'n' roll, not only will Michael Monroe have at least one chapter all to himself, but his name will be colourfully threaded throughout, such has been his impact, his appeal and his ongoing never-surrender story; a powerful, inspirational tale told in detail on The Best – the first official collection of his (ongoing) solo musical exploits, featuring prime tracks from 1987 right up to 2017, out now on Spinefarm Records.
"This album is a great representation of my 30-year solo career, including four songs from the Little Steven-produced, Demolition 23, album, which has been unavailable for over 20 years, plus some special rarities and previously unreleased bonus tracks," comments Monroe, the most beautiful leather boy of the Eighties and ringmaster of the too brilliant to live Hanoi Rocks.
Icon, song-writer, multi-instrumentalist, media personality, flamboyant force of nature and one of rock's most celebrated and uber-kinetic front-men; Michael has been a name and a (much-photographed) face on the scene since 1979 when he played a central role in the formation of Hanoi Rocks – legendary Finnish glam-punk heroes who came within a rolling paper's width of taking the world by glitter-storm.
Were it not for cruel and fickle fate, Hanoi – who disbanded for the first time in 1985, then finally in 2009 – might have ended up as an arena act; but whatever obstacles were thrust in their path, they were never less than the real deal, and major names like Guns N' Roses were ready to acknowledge their influence and their worth (G N' R would go on to issue the European Hanoi catalogue in the US via their Uzi Suicide imprint).
Over his three-decades-plus in the spotlight, Michael has befriended and performed with a whole host of artists and acts, including Guns N' Roses and Slash, Lemmy, Alice Cooper, Aerosmith, Little Steven, Ian Hunter. The front-man has shared stages and studios with them all, but since that first break-up of Hanoi in the mid-'80s, he's essentially been pursuing his own path, and it's this solo activity that forms the basis of The Best – almost two hours worth of career-spanning music, re-mastered by Svante Forsback and sequenced by the great man himself.
As well as key, high-profile numbers such as Dead, Jail Or Rock 'N' Roll (from his second solo album, 1989's, Not Fakin' It, the promo clip for which features an onstage cameo from Axl Rose) and '78 (from 2011's Sensory Overdrive, voted Album Of The Year by Classic Rock magazine), this two-CD set also showcases some 'from the vaults' moments for collectors and completists, with bonus tracks and previously unreleased songs strategically placed to make the journey both scenic and surprising.
" There's a couple of extra special tracks like It's A Lie, sung as a duet with Stiv Bators (Dead Boys, Lords Of The New Church) back in 1985," Michael continues , "and a never-before-released 2nd version of the Steppenwolf cover, Magic Carpet Ride, featuring Slash, left over from the Coneheads soundtrack project that Slash did with me in 1993. And since Slash has the biggest heart of gold in Rock'n'Roll, he was kind enough to allow me to use it on this album. God bless him!"
Two other previously unreleased songs are Fist Fulla Dynamite and Simpletown – outakkes from the Blackout Stakes album (2015) – plus there's the new single,One Foot Outta The Grave – an anthem of pure defiance – to bring things nicely up to date, showing Michael's continued commitment to a genre (we're talkin' rock 'n' roll here, straight from the source!) he has both celebrated and driven forward with unbridled passion, energy and emotion, not to mention a natural front-cover flair.
So… 29 great and glorious tracks. celebrating a heady life in music for a survivor and thriver.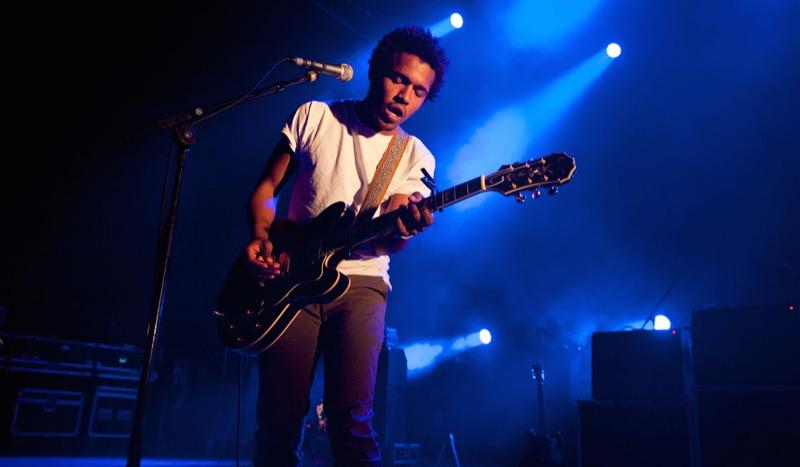 Virginian Benjamin Booker has been named Stereogum's August cover star, following the release of his new album Witness (out now via ATO Records). With all that shine in mind, Booker has dropped a stunning new video for " Overtime" - the soul-infused slow burning highlight off the new record - which was filmed at the historic Columbus Theatre in Providence, RI earlier this spring. Watch here .
Booker will tour behind 'Witness' for much of the rest of the year, headlining his biggest venues yet following supporting shows last week with Portugal. The Man. Dates include headline stops atVancouver's Biltmore Cabaret, Toronto's Mod Club, Brooklyn's Music Hall of Williamsburg, D.C.'s 9:30 Club, and festival plays at Austin City Limits, Voodoo Festival + more.
'Witness' marks Booker's most ambitious artistic statement yet, and has been one of the best reviewed albums of the year so far - earning praise from Rolling Stone, Time, FADER, NPR Music, Esquire, the NY Times, Entertainment Weekly and more. In their album review, Pitchfork claims that "Booker makes retro music feel modern, reflecting on racism in American while drawing on blues, soul and gospel...he's curious and angry as all hell."
Benjamin Booker Tour Dates:
Aug 26 - Moontower Music Festival - Lexington, KY
Sept 8 - Wonder Ballroom - Portland, OR
Sept 9 - Biltmore Cabaret - Vancouver, BC 
Sept 10 - Neumo's - Seattle, WA
Sept 13 - The State Room - Salt Lake City, UT
Sept 15-17 - Telluride Blues & Brews Festival - Telluride, CO
Sept 27 - El Rey Theatre - Los Angeles, CA
Sept 29 - Belly Up - Solana Beach, CA
Sept 30 - Crescent Ballroom - Phoenix, AZ
Oct 3 - Trees - Dallas, TX
Oct 4 - White Oak Music Hall - Houston, TX
Oct 6-8 - Austin City Limits - Austin, TX
Oct 9 - The Basement East - Nashville, TN
Oct 10 - Old Rock House - St. Louis, MO
Oct 11 - The Bottleneck - Lawrence, KS
Oct 13-15 - Austin City Limits - Austin, TX
Oct 16 - Thalia Hall - Chicago, IL
Oct 17 - Magic Stick - Detroit, MI
BTS'N'PIECES- Winnipeg altrockers Figure Walking wind up theirThe Big Other tour with two hometown dates, Aug 10 - Winnipeg, MB @Good Will, Aug 18 - Winnipeg, MB @ Interstellar Rodeo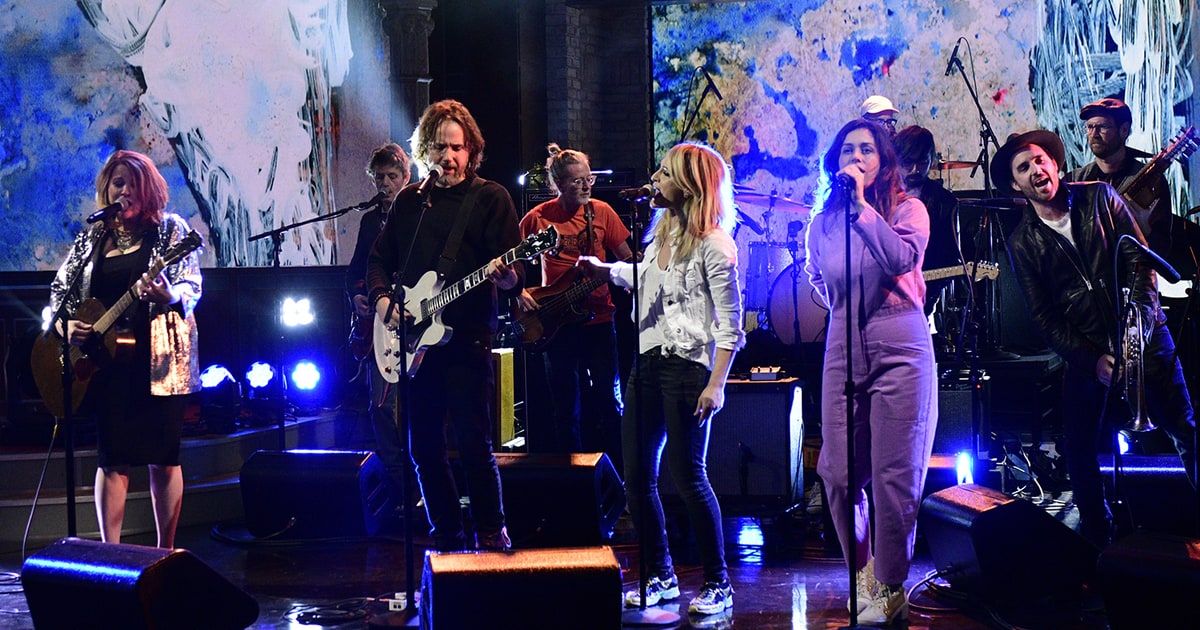 Toronto's 'hometown gang' Broken Social Scene plays a pair at Osheaga Music & Arts Friday 04 August 2017, Sunday 06 August 2017 Parc Jean-Drapeau, Montreal, QC, Canada.
Coldplay's A Head Full Of Dreams tour fills up Montreal's Bell Centre Aug.9
The Decemberists light up Calgary's Macewan Hall Aug.9
Same night, Aug,9, in Toronto, Kings Of Leon play the Budweiser Stage
Sat.Aug,12 Basia Bulat plays The Fox Cabaret in Vancouver