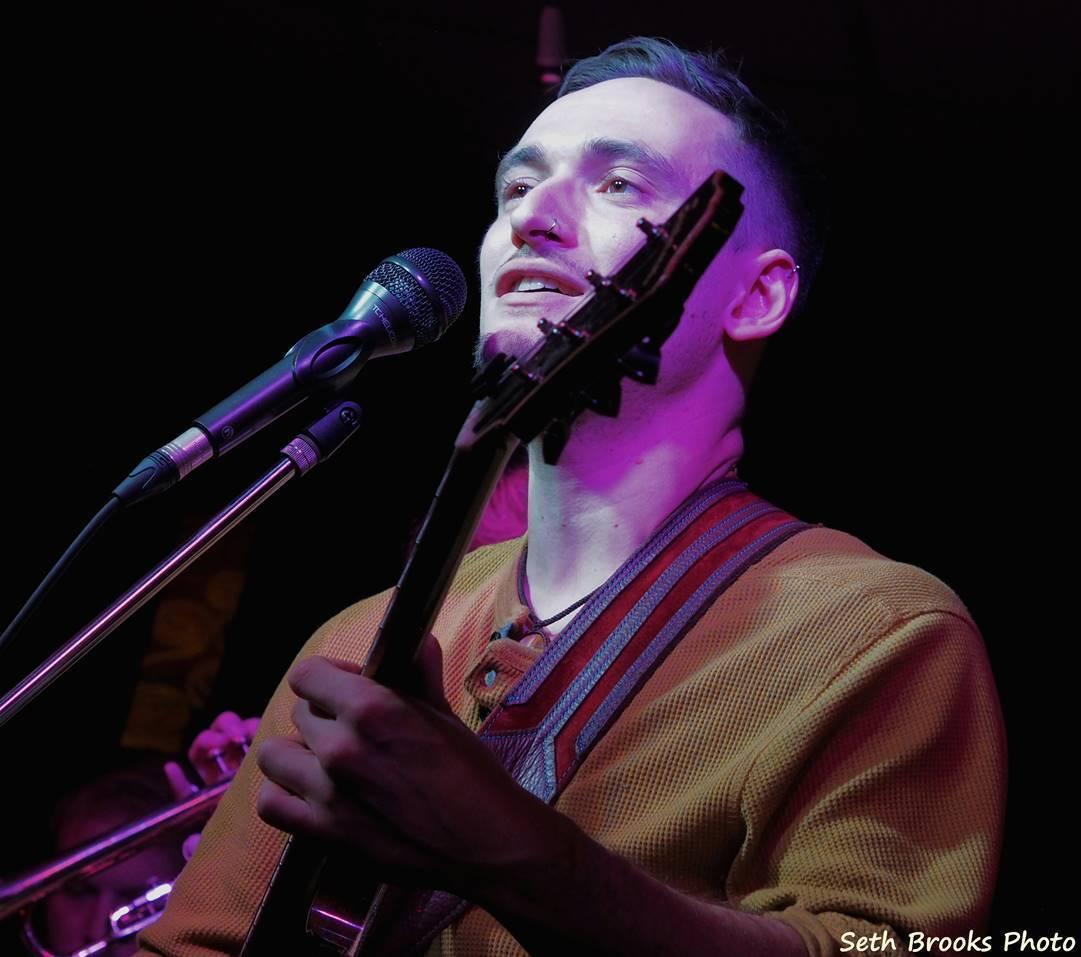 Fri Feb 14, 2020
Must be the season, but this week we're awash in heartfelt love songs and social evaluations. A BC artist now based in Toronto, Wes Carroll and his band Confabulation have released their second studio album Elephant in the Sea. Much like their critically liked debut Off Empire, this one features five vocal tunes and five instrumentals. Genre-wise it messes with modern jazz, hip hop, soul and balladry.
Guitarist, vocalist, rapper and songwriter Carroll honed his craft at Vancouver Island University's jazz studies program (2014) and is currently doing a master's in jazz performance at the University of Toronto. He walks a virtual tight-rope delicately balancing detailed arrangements with the power of spontaneity. He creates topical songs about issues including social justice, surveillance, mental health, climate change and the requisite love songs. In five years, while maintaining its jazz base, the band has stretched out to include hip-hop grooves, soul and electronica.
Carroll has a distinctive voice, with a singular timbre, and he applies it on the title track in a unique way – moving from the kind of jazz that wouldn't sound out of place on Steely Dan's Aja album, to a rap verse, to moody, atmospheric singing, for this metaphoric parable.
"Night Song" features state-of-the-art jazz for 2020, highlighting the deft, dextrous guitar work of Carroll. "Out the City" is about packing up the cellphone on a camping trip in the country, and the honey-voiced Carroll enjoys his communion with nature so much that he calls it "so f__king sublime" and himself "so f__king content."
"Bad Boss Enterprise" sarcastically targets an exploitative service-industry situation where the plates are piling up, the place is understaffed, the employees are underpaid, and the boss is raking in the dough anyway. But he gets his in the end. Short, sweet, to the point, the instrumental tune "What's Next" is the sonic equivalent of an unexpected sunny break in an otherwise dreary day.
A song reminding us to be kind to ourselves, and disconnect the endlessly nagging voices in our heads that tell us we're not good enough, "Say It" climaxes with an excellent, extended guitar solo, followed by an explosive drum solo by Cyril Lojda, over the song's repeated chorus. Another instrumental, a little more on the funky, bluesy side, "The Tooth" gets gently pulled into a softer, smoother world about mid-way through. Then it returns to the groove at the end. As an up-tempo, Latin jazz piece, "Hot Air Balloon" offers a smooth flight, soaring on the wings of tenor saxophonist Ryan Oliver. "Borderless" is a spacious waltz, an apparent love song that in fact celebrates and soulfully praises an inspiring progressive female activist.
Elephant in the Sea will be released with a concert celebration at Tranzac Club, 292 BrunswickAvenue Toronto, Feb.14 Music 7.30 pm and will be available on all major streaming platforms. Wes Carroll and Confabulation returns to the Tranzac Club April 4 @ 6:30pm.
Check 'Night Song' https://www.youtube.com/watch?v=Bqqf8eGniwk
Here's Pup coming on with a group hug of an album. Just off the road from a nine-month world tour, the group's sharing the video for "Morbid Stuff", the album's title track, recorded live and shot on cheap handheld cameras handed out to 19 gig-goers the band personally connected with
in advance of their recent London dates. The clip showcases the sweat-stained euphoria of the band's shows and once again captures the unique bond between PUP and the people that come to their gigs, screaming every word.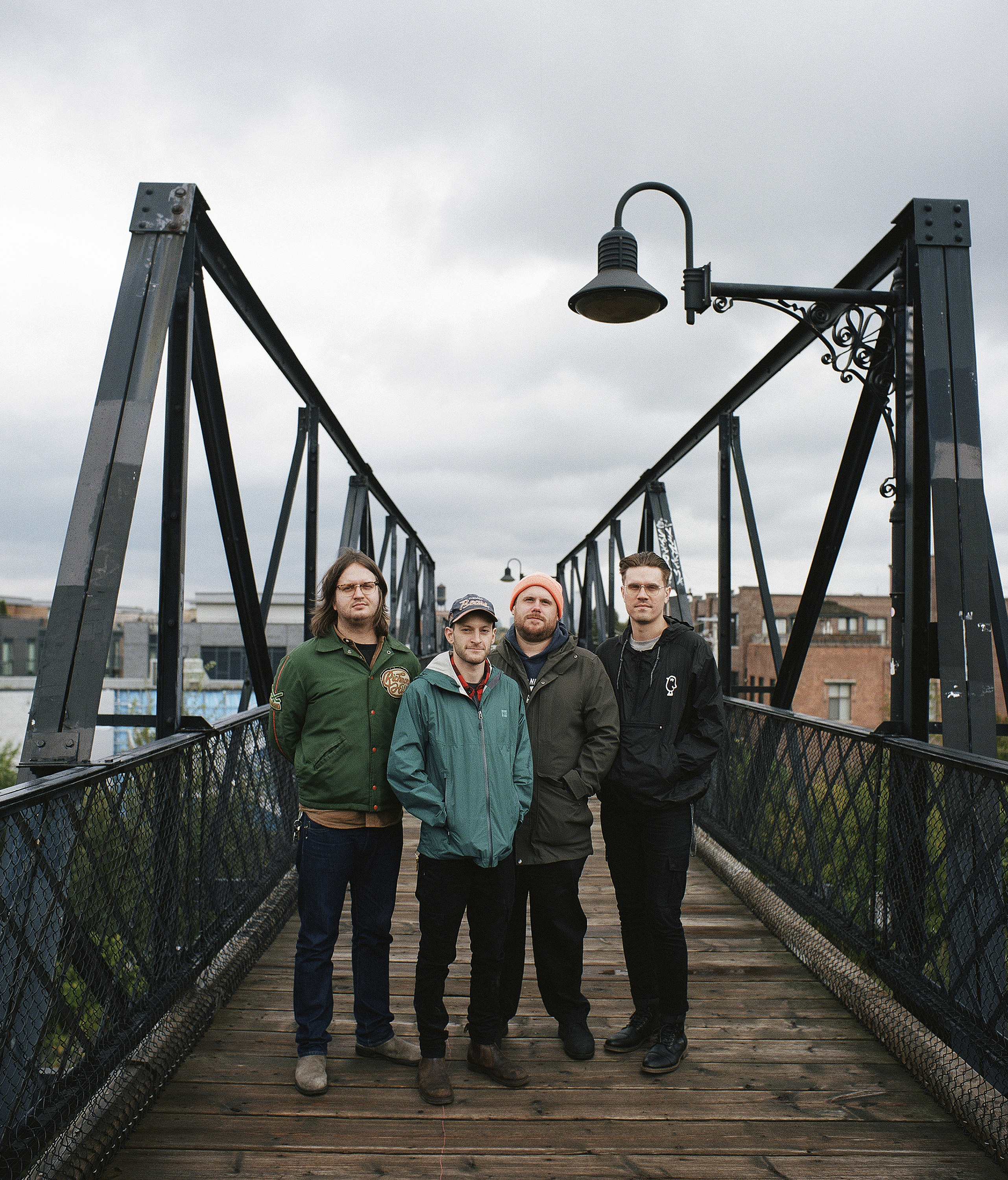 Formed in Toronto five years ago, PUP, comprised of Stefan Babcock, Nestor Chaka, Zack Mikala, and Steve Sladkowski, quickly became favourites on the punk scene with their first two albums, winning accolades everywhere from the New York Times to Pitchfork, from NPR and Rolling Stone, and more. Now, with Morbid Stuff, PUP have grown up and doubled down on everything that made us love their first two records. It's gang's-all-here vocals, guitarmonies, and lyrics about death. Lots of them.
Their new album takes the dichotomy of fun and emotional wreckage in their songs and teeters between gleeful chaos and bleak oblivion while wielding some of the best choruses the band has ever written. Morbid Stuff is also a pretty intense foray into singer Stefan Babcock's fight with depression, and shows, in perfect PUP fashion, how taking responsibility of his own depression lead him to….laughter. Admitting his depression allowed Babcock to laugh in its face, and the result is that marriage of darkness and joy that made PUP who they are but in a brand new way.
Despite its dark subject matter, at times Morbid Stuff is funny as hell, even in the music. It's the most insightful, sweetest, funniest, sickest, angriest, saddest and most inescapably desperate collection of songs they've recorded to date.
Check "Morbid Stuff' https://www.youtube.com/watch?v=h1RGKev2OD4
Full Blown Meltdown Tour
Feb 20 - Peterborough, ON - The Venue
Feb 21 - Buffalo, NY - Asbury Hall Babeville
Feb 22 - Oshawa, ON - The Music Hall Concert Theatre
Feb 25 - Phoenix, AZ - The Van Buren
Feb 26 - Albuquerque, NM - Sunshine Theater
Feb 28 - Houston, TX - White Oak Music Hall
Feb 29 - Dallas, TX - Canton Hall
Mar 1 - Austin, TX - Emo's
Mar 2 - Oklahoma, OK - Tower Theatre
Mar 4 - Omaha, NE - The Waiting Room
Mar 5 - Denver, CO - Ogden Theater
Mar 6 - Salt Lake City, UT - The Complex
Mar 8 - Tacoma, WA - Spanish Ballroom at McMenamins Elks Temple
Mar 9 - Seattle, WA - Neptune Theater
Mar 10 - Portland, OR - Roseland Theater
Mar 11 - Eugene, OR - Sessions Music Hall
Mar 13 - Sacramento, CA - Aces Of Spades
Mar 14 - San Francisco, CA - The Regency Ballroom
Mar 21 - Yellowknife, NT - Snowking's Winter Festival
Apr 10 - Indio, CA - Coachella Music and Arts Festival
Apr 17 - Indio, CA - Coachella Music and Arts Festival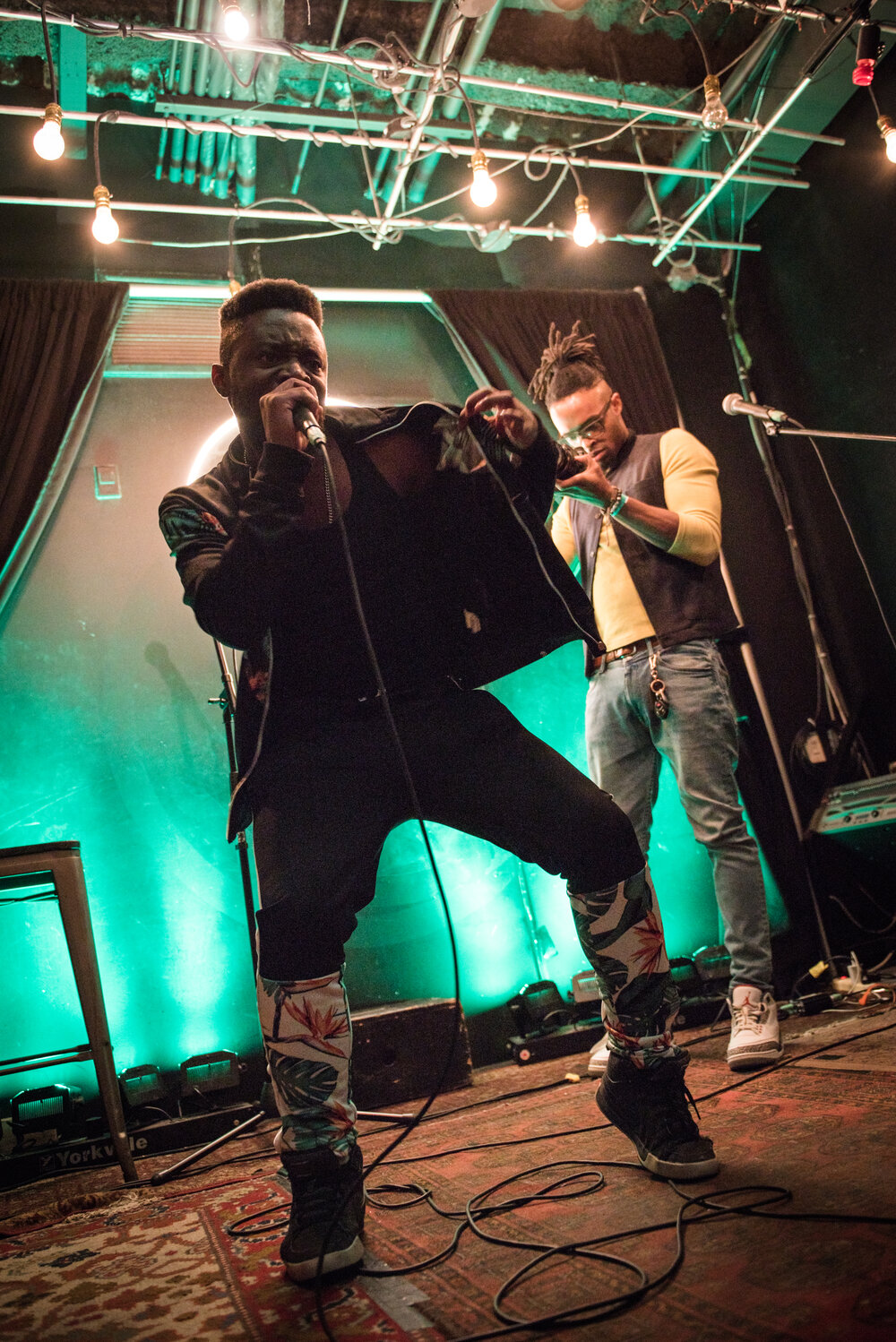 Another act with a slick sense of humour is Toronto-based Hip-Hop/Dancehall hybrid, Lexxicon. Before his buzzy Basement Trap House project drops on January 31, he shares Superstar, his fourth single leading to the release. You can catch Lexxicon perform the new tracks live with two shows in Toronto at The Baby G February 23. An innovator without going all braggy about it.
"Written after my visit to New York last October, Superstar is the perfect track to play after you just got your post-secondary degree, passed your driver's test, won the lottery or received Christmas money," Lexxicon says. "It's a high-energy track embracing being wild, outlandish and celebrating the youthful spirit. This track is club-ready and will get you dancing in no time. "says he of leadoff single 'Superstar.'
The song follows 'Lucky Lucky,' a tribute to Lexxicon's parents and their bond. "The song was inspired by my parents and their 26 years of marriage and just reflects on how special it is when you find that right person for you," Lexxicon says of the Artafacts-produced track. "Love is not something to be taken for granted because each time you find it, it's like winning the lottery. Last month, Lexxicon shared a personal track called Lonely, sharing his experience with Crohn's disease. "Many of us have certain experiences where no matter who is around us we still have to go through it alone. For me, it was begin diagnosed with Crohn's disease and dealing with hospital visits, medication changes, and multiple side effects. During that time was when I felt extremely alone and was the inspiration for this song. I just hope putting my feelings to music can help someone going through a similar situation."
Basement Trap House's first single, is Fatty Fatty, celebrating inclusion and body positivity. Produced by Kontrabandz, Fatty Fatty is about celebrating life, tying into the project's overall theme around Lexxicon's journey as a Jamaican/Canadian artist. The hook is gender-neutral, embracing an inclusive party track that everyone can vibe to.
On stage, Lexxicon moves between dancehall patois, r&b harmonies, and melodic rapping with pure power. Born in Jamaica, Lexxicon moved to Birmingham, England and then New York City before settling in Toronto, Canada, where he found the drive, passion, and tools to become a recording artist. He honed his talent by growing in some of the city's talent incubators such as R.I.S.E Edutainment, and UrbanArts – B.M.M.
The artist's up-tempo hybrid sound comes from many influences of Sean Paul to Tory Lanez. His vision is to push the boundaries of hip-hop music, by blurring genres lines and adding his Jamaican background to his music.
Check 'Fatty, Fatty' https://www.youtube.com/watch?v=qB0y-EJqfmI
Seems natural that pianist Jim Beard and guitarist Jon Herington would strike the kind of special accord heard throughout their latest release, Chunks and Chairknobs. They've shared countless hours playing on each other's albums, worked together on recordings by Victor Bailey, Bill Evans and Bob Berg, Dennis Chambers and Michael and Randy Brecker. And they've shared the bandstand on tour with Steely Dan for the past several years — 20 for Herington, 11 for Beard. "There are many, many records and gigs and times of our lives," said Herington, reflecting back on their musical partnership. "Not only that, we've been sharing a studio ever since we got to New York, which is probably since 1987."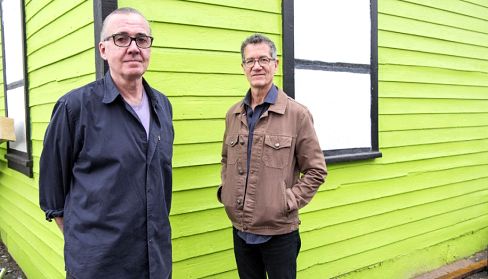 For this album, though guitar and piano are not generally regarded as ideal mates in a duo setting, the two kindred spirits found a way to seamlessly blend in the studio, divvying up duties on eight tunes, easily alternating roles, comping for each other while delivering melodic gems and brilliant solos along the way.
"Not all of that happened right away spontaneously," Beard pointed out. "We did have to think about who could do what where, because it's not the most natural duo instrumentation. It's so much different than if it were piano and bass or guitar and bass, piano and saxophone or guitar and saxophone. Because the two instruments are so similar in the way they function and behave in a group, particularly the chordal aspect of it. So it did take a little bit of think-time to figure out what would be best."
"It's two instruments that do not necessarily cooperate too well," added Herington. "And because the role of each instrument is similar, it kind of presents a real problem — Who's going to play the bass part? Who's going to keep time? So we had to hunt for different tunes and figure out what we could do to them to make them work. And it took quite a while."
In the dead of winter at Hugh's Room Live, Jim Beard and Jon Herington of Steely Dan presents an eclectic evening of instrumental music performed on guitar and piano in celebration of their latest release, Chunks and Chairknobs. Happens Sun. Feb.23 Music 8.30 PM and is sure to warmy our cockles.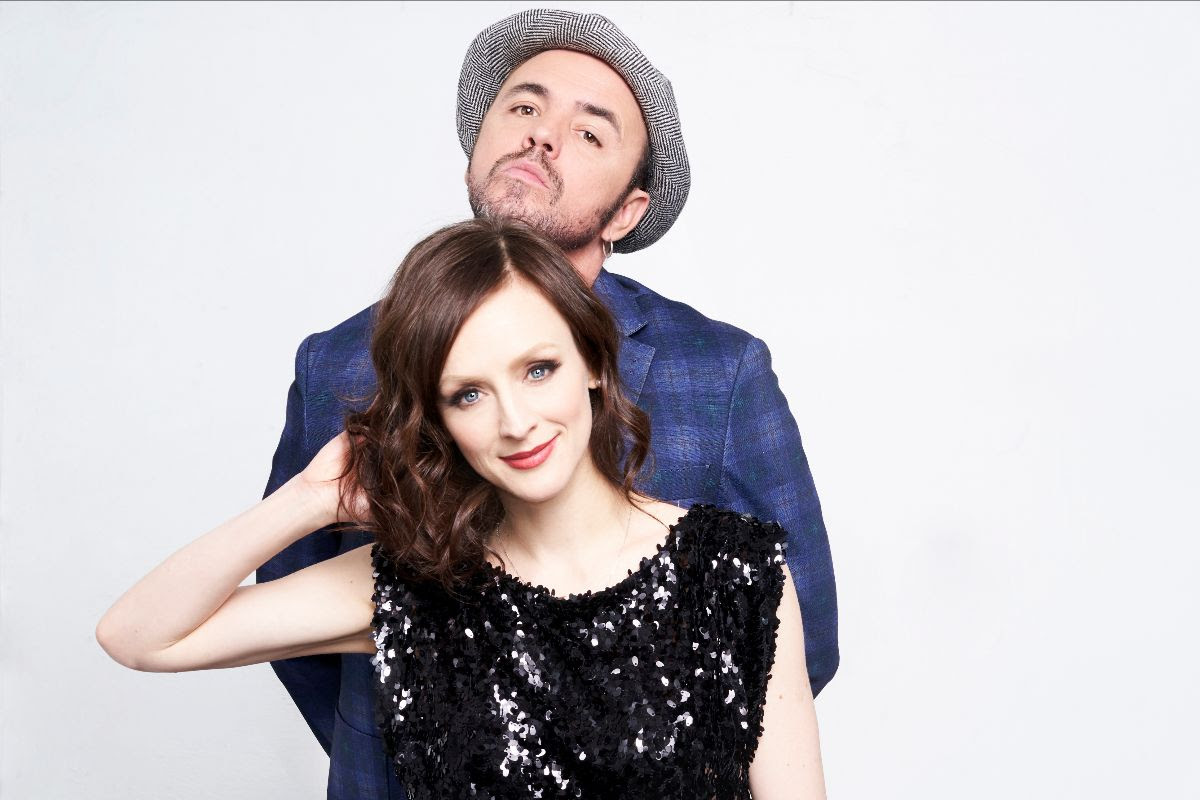 Time's up for Virtue and Moir as Canada's Sweethearts. Next up in the role, meet Sarah Slean and Hawksley Workman. The pair dropped new single "Wound You", from their forthcoming EP, These Two, out February 21st. On February 27th the alternatively cute pair commence an Ontario tour billed as "A Musical Evening with Sarah Slean and Hawksley Workman".
Check 'Wound You' https://www.youtube.com/watch?v=MS5cTRfBEtA
Created by two of Canada's most original musical voices, "Wound You" is about taking life's inevitable difficulty in stride and greeting it without resistance. It suggests that the world is meant to break us, and perhaps this is even the aim or necessary lesson of the earth experience. The lyrics conclude that our brokenness is our strength. That it is not just the defining feature of our humanity, but also the key to the evolution of our consciousness. Heady stuff made accessible.
These Two is a collection of newly recorded material, including two versions of "Wound You", and three stunning covers from some of the finest songwriters. From The Tragically Hip's 1996 song "Flamenco", to the popular Joe Cocker and Jennifer Warnes movie single "Up Where We Belong" (written by Jack Nitzsche, Buffy Sainte Marie, and Will Jennings), and a beautiful version of Blue Rodeo's long time concert finale song "Lost Together".
Sarah Slean is a composer, songwriter, arranger, and unique artistic force. Over the course of her 20-year career, she has made eleven albums, toured internationally, starred in short films and a movie musical, published two volumes of poetry, held exhibitions of her paintings, composed for chamber and symphonic ensembles and shared the stage with ten of the country's leading orchestras. She has been nominated for three Junos and two Geminis was recently awarded a Fleck Fellowship, and is a 2018 alumna of the prestigious Canadian Film Centre Film Scoring Residency. Sarah regularly premieres works by renowned contemporary composers (including a new release with Symphony Nova Scotia), and is currently working on music for the stage adaptation of the award-winning film "Maudie".
Hawksley Workman is a Two-time JUNO Award-winning singer-songwriter and multi-instrumentalist. A staple of the Canadian music and arts scene for over 20 years, Workman boasts a catalogue of 16 releases, showcasing his now signature blend of anthemic folk and show-stopping vocals. Hawksley's touring career has seen him play over a thousand shows worldwide. He's headlined prestigious venues like Massey Hall in Toronto and The Olympia in Paris.
"A Musical Evening with Sarah Slean and Hawksley Workman
Thursday, February 27, 2020 - Markham, ON - Markham Theatre for Performing Arts
Friday, February 28, 2020 - Brampton, ON - Rose Studio Theatre
Saturday, February 29, 2020 - North Bay, ON - Capitol Centre
Sunday, March 1, 2020 - Guelph, ON - River Run Centre
Wednesday, March 4, 2020 - St. Catharines, ON - FirstOntario Performing Arts Centre
Friday, March 6, 2020 - Huntsville, ON - Algonquin Theatre
Saturday, March 7, 2020 - Meaford, ON - Meaford Hall Arts & Cultural Centre
Friday, March 13, 2020 - Ottawa, ON - Shenkman Hall
Saturday, March 14, 2020 - Kingston, ON - Grand Theatre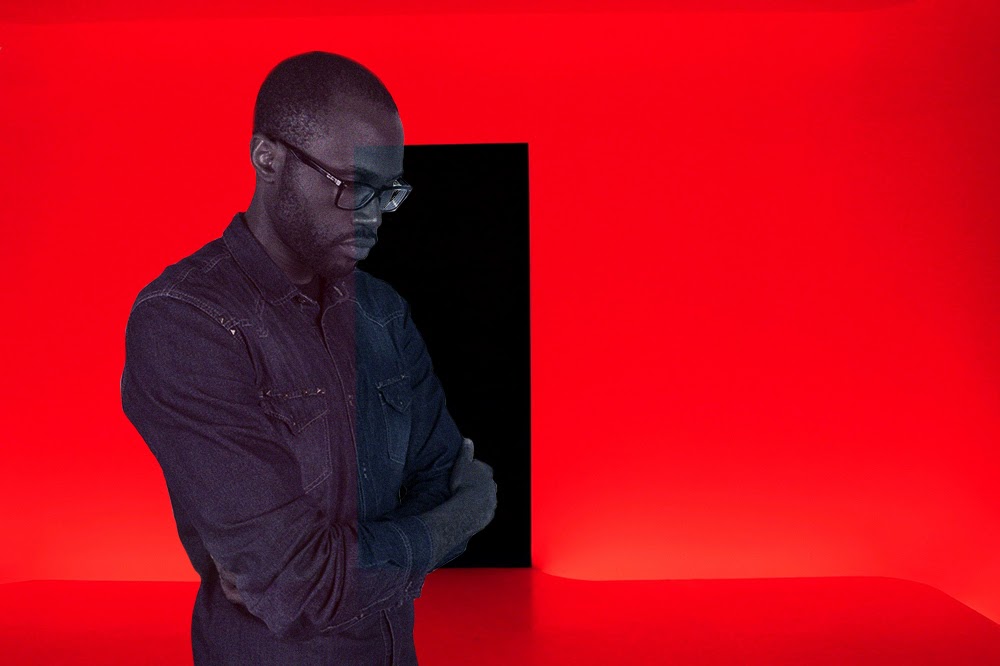 BITS'N'PIECES Brooklyn-based retrowave producer DJ Ten shared his latest track, 'Nightfall' as part of newly released EP We Dream Aloud via TenStars. The producer composed and mixed the EP himself with Tonebox, previous associations include DEADLIFE, stepping forward as the master engineer. DJ Ten is also the man behind the tastemaker Youtube Channel, New Retro Wave with nearly 1 million Youtube subscribers. His own work has received over 4.1 million views across streaming platforms while a track from his Retrological 2.0 album was featured in the movie 'The Demolisher'. The EP features collaborations with several noteworthy artists including Jessie Frye, By An Ion and Lost Nights. DJ Ten has previously collaborated with synthwave producer, Trevor Something on two highly successful singles, 'The Inner Voice' and 'Viral Lust'.
While DJ Ten currently lives in Brooklyn, he spent 12 years living in London where he attended school and discovered 80's music, UK Garage and Grime. It was in Leytonstone that he began playing around on keyboards creating music and soon started getting into creating beats, thus discovering his passion for music production. "My brother would play Heart FM and they played a lot of 80's power ballads and pop tunes. Loved the arrangement and melodies the songs had and the immense emotion they evoked".
To achieve his retrowave meets retro-electro, DJ Ten draws inspiration from artists such as Journey, Heart and Exposé. While the resulting sound is totally unique, it draws parallels to Foreigner, Quincy Jones and Gunship…..DJ Ten creates his own niche genre with a foundation of the 1980's synths meeting dreamy contemporary effects, the retro-futuristic productions provide a solid support for the R&B influences.
"Nightfall was inspired by many things for me. The key thing being to make a song with retrosynth inspiration, but to also give it a modern vaportrap twist and execution. I love to blend different sounds together that no one expects….check 'Nightfall' here: https://www.youtube.com/watch?v=_blMxZRzcL0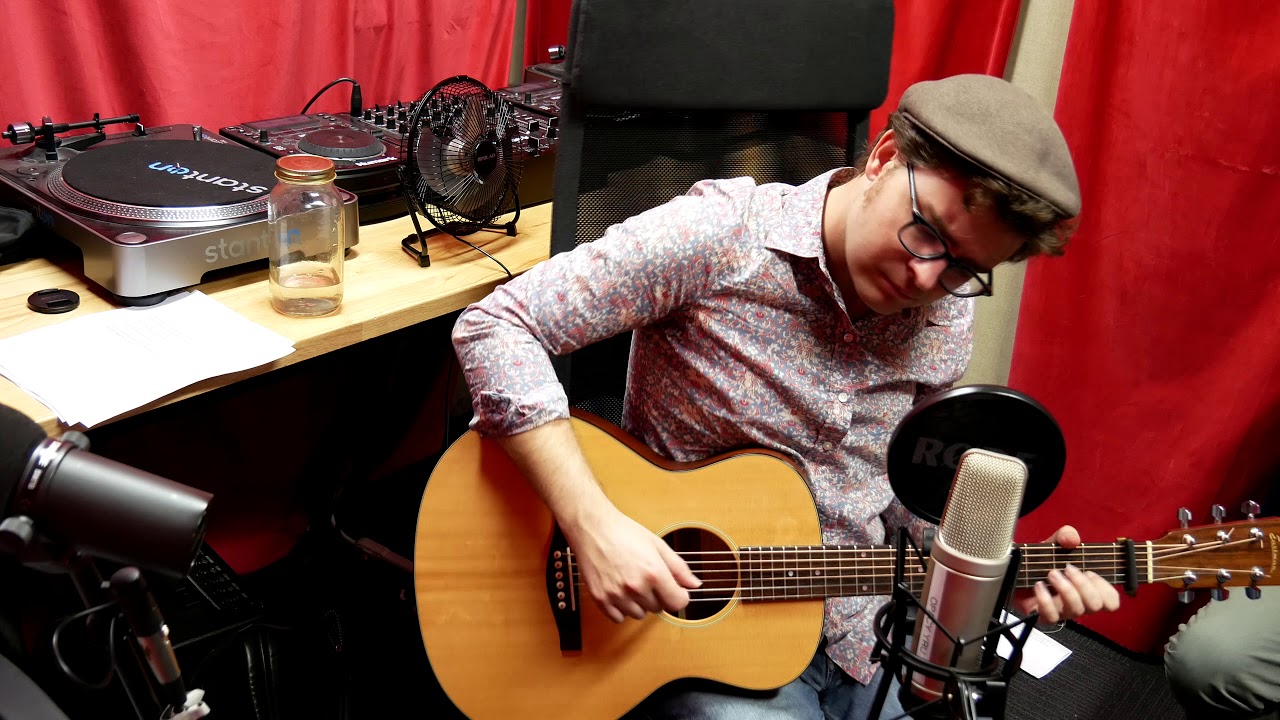 …..this just in from my fave Toronto nextgen quirkoid singer/songwriterTaylor Abrahamse …"I've got THREE separate performances on Feb 23rd at Winterfolk Blues & Roots Festival backed up on a few of the tunes by the ever-trusty Bryn Scott-Grimes.
"I'll be part of the 'Songs For A Better Planet' song circle/panel at 4 PM, have a one hour set at 7 PM, and will join the 'Earth, Water, Sky' song circle/panel at 8…people should check out Winterfolk….It's a great Canadian music institution with tons of Toronto's best talent. Working diligently on solving some last-second bumps in the road with my album - I expect an April release complete with lots of music video/lyric video content"…check the kid if you can. He's sweetly bent….
Check 'Quarter Life Crisis' here https://www.youtube.com/watch?v=SrWOkVZeFRg
Maja Bannerman/Rusty McCarthy Tranzac Club Toronto Sun. Feb.16….JV's Boogaloo Squad Rex Hotel Toronto Thur. Feb. 20 …Die Antwood Commodore Ballroom Vancouver Wed. Feb. 19….Destroyer Vogue Theatre Vancouver Thur. Feb.20….
Support Live Music.