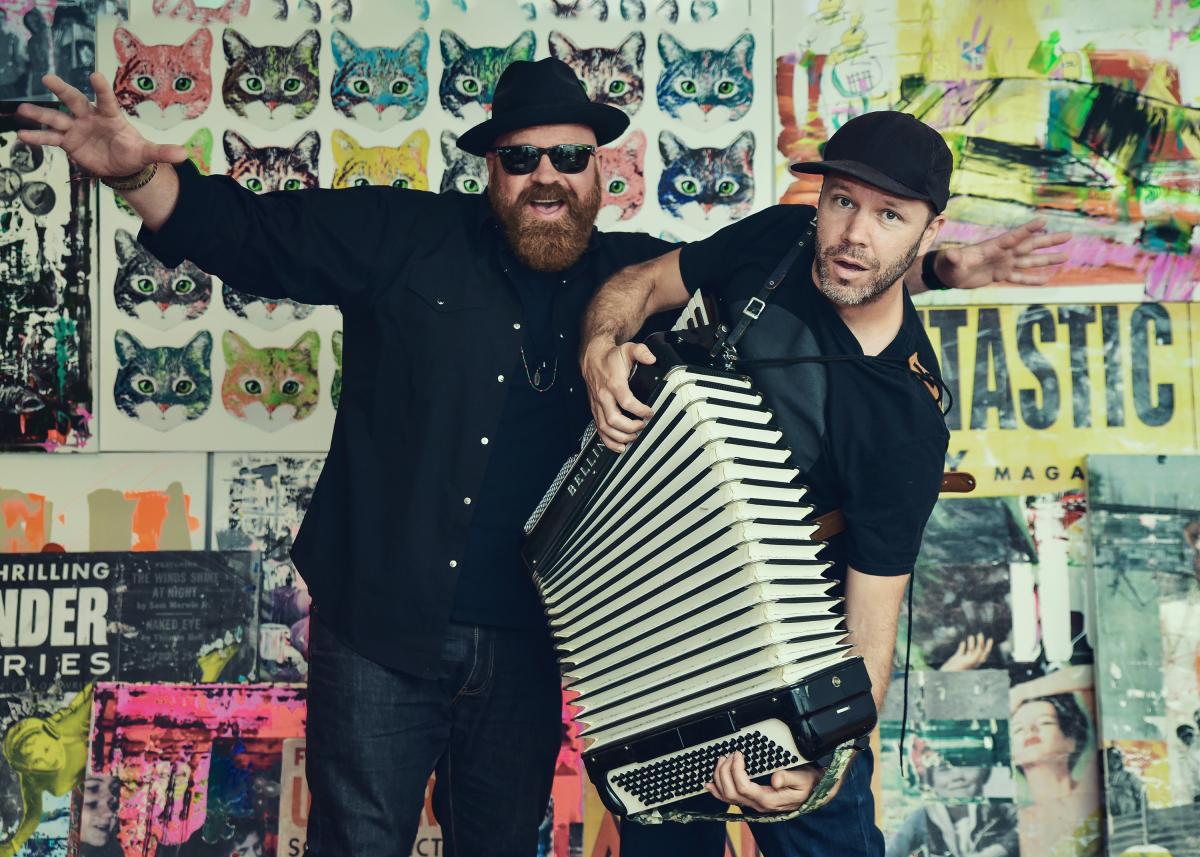 Mon Sep 09, 2019
Submitted to Cashbox Canada
Psych-country.
That's it, that's the pitch when it comes to Canada's indie alt. outfit TETRIX and their new single, "Every House Has A Light On" — available now.
After 16 albums for the Calgary-based duo, Connor Gottfried and Neil Pockett have managed to further experiment with experimental, delivering a fresh, original sound that fuses the essence of old-time country with modern psychedelic music.
"Think 'Hank Williams on acid' or 'melted accordion Kraftwerk,'" Gottfried details of their release by the same name, Every House Has A Light On. "For this album, we wanted to connect vintage country chord progressions and accordion with analog drum machines and avant-garde editing.
"Each song was recorded as an extended 20 to 30-minute improv session which was then chopped and edited using Ableton Live into the final arrangement heard on the album."
The results are as intriguing as they sound, and lands as a sonic gold star for the pair of skateboarding outsiders of sorts growing up in small-town Manitoba during the 90s. "We were surrounded by old-time country music but drawn to the punk, grunge, and electronic sounds of the outside world," Gottfried continues. "In the early 2000's, and after moving to Calgary, we formed TETRIX with a focus on genre-mashing improvised jazz, psychedelic, electronica, pop, noise, and punk, all run through a cutting-edge, computerized editing process."
The concept was an easy one for Gottfried; as the main editor for TETRIX, he is also an award-winning technologist, and named one of Calgary's Top 40 Under 40.
Between 2001 - 2018, the band released 16 albums of authentic, avant-garde experimental improv music, along with a 12" compilation LP on Belgium's MeWe Le Disque. The band toured Europe in 2007 and their live show featured a custom LED, laser and smoke show that audience members took in through a pair of glasses specially filtered for viewing fireworks, to trippy result.
TETRIX has been featured in a number of International magazines — including Voxer, Future Music and Trax in Europe — along with an appearance of their track "Jesus Put the Purple Haze in My Veins" in a Belgium feature-length film.
Experimental by nature, Gottfried and Pockett began playing around with various analog instruments like pedal steel and sitar. It was a fateful 2015-era purchase, however, that revealed the sound you hear today: a vintage Italian accordion.
"We've been using a fully-improvised process throughout our time as a band and find it produces fresh interesting patterns and novel changes," Gottfried reflects. "For this album, we primarily used that vintage Italian accordion and an Arturia Drumbrute, along with various hardware synthesizers and effects processors — including a vocoder to introduce de-pitching noise effects on the vocal tracks.
"Our aim was to try and bring the beauty of the classic country chord progressions and the rich tonality of the accordion into the context of 21st century electronic music.
"Both Neil and I were born and raised in the prairies and this album fuses that influence back into the progressive sounds we've been working with for the last 20 years. I'm also a visual/abstract artist and for the cover Neil and I hand-crafted sleeves from canvas, paper and acrylic using a formula I've developed for my large format paintings. Each cover is completely unique and this is our way of representing the elements of chance and texture that have shaped our sound."
Every House Has A Light On is available now.
Watch Video on YouTube here:
https://youtu.be/GOTQLfwQLwM