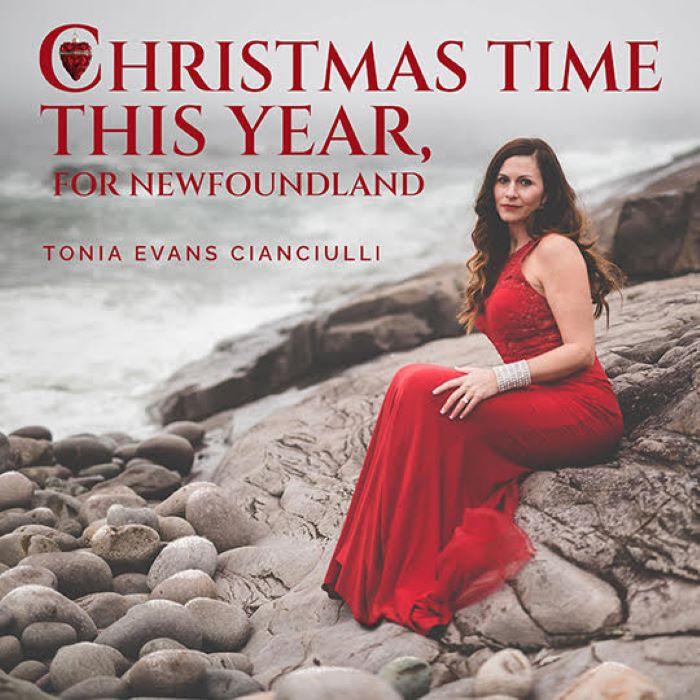 Fri Dec 11, 2020
Award-winning Canadian soprano, singer/songwriter, and author Tonia Evans Cianciulli has released a poignant and beautiful song for the holiday season in this, "Christmas Time This Year".
"Christmas 2020 will be a challenging one for the entire world," Cianciulli considers. "If we can't be with our families in person, I pray we can be together in spirit and music.
"With that in mind, I hope this song will weave its way through your heart."
"Christmas Time This Year" is the latest creation from the multi-faceted artist, and lands ahead of her forthcoming album set for release this Spring, 2021.
Watch "Christmas Time This Year" here:
The new release of all-original music will highlight matters of the heart while further heralding her heart's true home of Newfoundland. To that, "Christmas Time This Year" enjoys two versions of its lyrics, with alternate words fitting for other locations.
"Even though I'm completing an album for a springtime release, I felt moved to write and release this song for Christmas," she shares of the song and its especially meaningful lyrics. "I co-wrote these lyrics with my dear friend Vaughn Harbin; I wanted to mark what will be and is a very different time for everyone."
With both the song and video recorded and produced by multi-talented artist Dima Graziani, additional accompaniments were provided by guitarist Jesse Fegelman and cellist Erika Nielsen; Fegelmen wrote the guitar and cello arrangements.
Canadian songstress, TONIA EVANS CIANCIULLI is a multifaceted concert artist, enchanting her audiences across North America with her signature programs. She's been praised for her versatility as a singer, her broadening repertoire and her 'ability to invest any song with authentic emotion no matter the genre or subject matter' (K. Hughes, Toronto Journalist). Gordon Pinsent says, 'Mother of all goosebumps'.
Performer, public speaker, author, recording artist, mentor and unabashed fan-girl of the creative spirit, Tonia is intellectually curious as she is approachable, as accomplished as she is warm and giving, and as dedicated to her dreams as she is to her family. Preserving and promoting her cultural heritage of Newfoundland has been a pre-eminent preoccupation of late. Tonia is an award winning author of 'The Heart's Obsession – An Intimate Biography of Newfoundland Songstress Georgina Stirling' (1867-1935), with Flanker Press, and has received glowing reviews from CBC, Opera Canada Magazine, and singer Alan Doyle of Great Big Sea. She released two companion albums in tandem with the book under Newfoundland record label, Citadel House, shining a spotlight on two of the province's most renowned musicians, Georgina Stirling and late folk hero, Ron Hynes, bringing new appreciation and life to their distinct songbooks.
Tonia is a huge advocate for following our hearts in all that we do along our own individual journeys. She is the founder of non-profit Wish Arts, focusing on the psychological aspects of being an artist/performer with her coaching program, An Artist's Journey. She further dives into the artist's psyche with her print interview series, Artist's Spotlight, and more recent HEART to H-ART Instagram Live interviews, both series highlighting and shining the spotlight on Canadian artists. Tonia is a certified Neuro-Linguistic Programming Practitioner and is a certified Teacher with the Institute of HeartMath, She is working on a new book which focuses on self-development for artists. Tonia lives between Toronto and Miami and is in her seventh year of homeschooling her two children.
For more visit:
wisharts.ca/
instagram.com/toniacianciulli/
facebook.com/wisharts.artistsjourney/
open.spotify.com/album/6KWdAqB4jO8lTpY31Vkgb8?highlight=spotify:track:5lpDj1x6IqxKCKBfnVYTIz