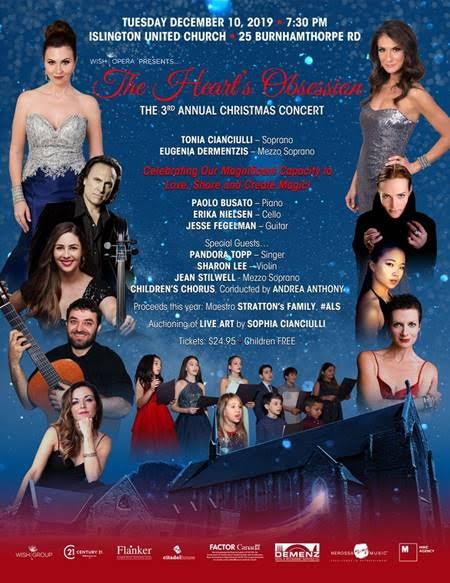 Fri Nov 29, 2019
Newfoundland-born, Toronto-based international superstar opera singer Tonia Evans Cianciulli and her new CD and book The Heart's Obsession, celebrating the historical ripple effect of one woman's voice—Georgina Ann Stirling brings her astounding legacy into the twenty-first century.
Soprano Tonia Evans Cianciulli is a multi-faceted concert artist, enchanting audiences with her signature solo programs and versatile repertoire across North America. Honouring her Newfoundland roots Tonia embarked on a journey to revive the legacy of Newfoundland's 1st International opera singer, Georgina Stirling (1867-1935). She's toured her program, Nightingale Sings, extensively across Newfoundland, Toronto, Ottawa and Miami. In 2018 she was awarded a Canada Council for the Arts grant for this historical work and has been featured in interviews on CBC and SiriusXM. Tonia's debut book, The Heart's Obsession - An Intimate Biography of Newfoundland Songstress Georgina Stirling, co-authored with her grandfather, veteran Newfoundland author Calvin D. Evans, published by Flanker Press Ltd., this August has garnered early praise by Alan Doyle of Great Big Sea, Newfoundland tenor David Pomeroy and will be featured in Opera Canada Magazine this fall. Represented by Citadel House label, Tonia is releasing two albums paying homage to Georgina Stirling and, treasured songs by Newfoundland's late folk hero, Ron Hynes. Tonia officially starts her book and double album tour across Newfoundland on August 28, 2019, with signings and concerts. Her tour also includes Vancouver, Toronto and Miami throughout the fall.
Tonia founded Wish Opera/Arts, a non-profit collaborating with Maestro Kerry Stratton and Toronto Concert Orchestra, producing operas/concerts/events. Her "Artist's Spotlight" interviews highlight Canadians artists. Certified in Neuro-Linguistic Programming Tonia created, "An Artist's Journey" programs based on psychological aspects of being an artist. Tonia trains with Manny Perez in Miami. She and her husband live between Toronto and Miami, Tonia home schools her two children while pursuing her musical endeavours. www.WishArts.ca
Tonia and her friends will be performing Tuesday, December 10th at 7:30 pm for the 3rd Annual "The Heart's Obsession" Christmas Concert at the Islington United Church. This year's proceeds will raise support for the family of Maestro Kerry Stratton, who lost his battle this year from ALS.
 Forging a musical journey from across the surging sea of Twillingate, this heroine conquered the hearts of audiences through Europe, the United States, and beyond. This is the definitive biography of Georgina Stirling, and in addition, Tonia has also released an accompanying album, The Heart's Obsession and both are available now.
Watch "Marie" by Tonia Evans Cianciulli & Evan Smith here (Ron Hynes Cover)
https://youtu.be/4QPys2QfcgU
For more visit: https://www.wisharts.ca/