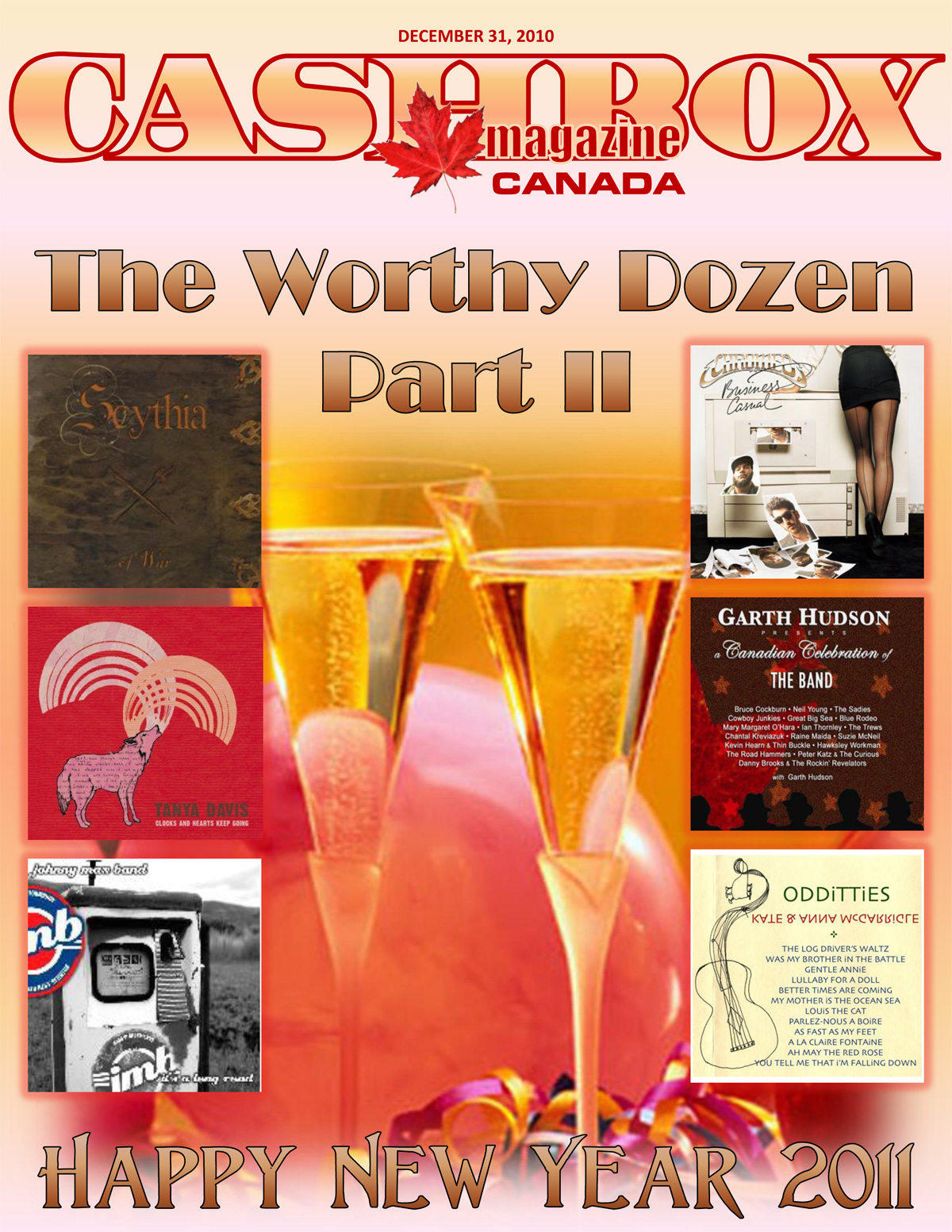 Fri Dec 31, 2010
Here we go with The Worthy Dozen Part Two. In no particular order, except that they all deserve the attention, here's the second  six pack of twelve hearing-worthy Canadian albums whose release may have flown under your personal radar. Happy New Year 2011.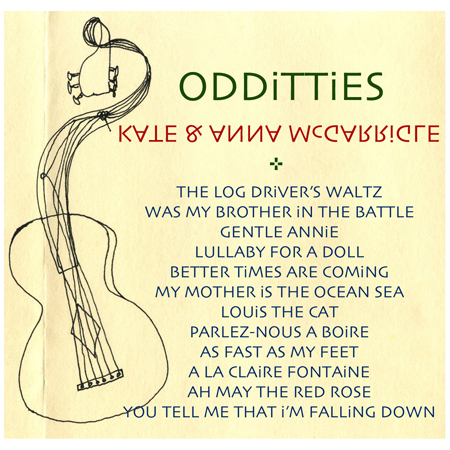 Kate & Anna McGarrigle
Oddities
Outside Music
This collection of rarities and B-sides offers a dozen songs Kate and Anna recorded between 1973 and 1990 but never previously released or released in alternate versions. Arriving shortly after Kate passed on, this recording stands as fitting testimony to the sterling contributions the McGarrigles have made to Canadian music.
The sweep of their output here leaves no oddity unturned. Standouts include the seldom heard Stephen Foster penned Civil War era tunes,  "Was My Brother in the Battle," and the hopeful anthem, "Better Times are Coming," both written in 1862, 'The Log Driver's Waltz' in a version dating back to the pair's original renditions from the late Sixties, and a foot stompin' rip on a Cajun number, "Parlez-Nous À Boire," from the catalogue of Louisiana's legendary Balfa Brothers.
And cat lovers everywhere will want to own this collection of only for "Louis the Cat," written by Anna and Audrey Bean, a stately lament for a lost feline
The harmonies are heavenly throughout, the production minimalist tasteful and you know it's sounding better up there now that Kate's on the mic.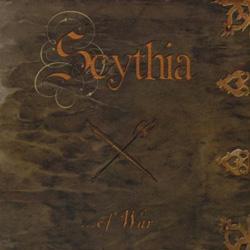 Scythia
Of War
Independent
The breakout folk metal album of the year and not a Jethro Tull riff in the mix. Scythia has never shied away from owning up to being steeped in folk metal, excessive conceits and all. Consequently, the standard subject matter and over the top approach is way par for the course. For them to take any other would muddy the waters too much for a debut album,
So the vocalist comes on with epic tales of derring do and the rhythm section never sound less than massive mountains falling down and just when you think you've heard it all before a scary oboe cuts loose. What you're hearing is a level of creativity and musicianship rare in this genre and rarer still on a debut from a young band.The music is adventurous, creative, the songs frequently step outside metal, employing piano,oboe and violin to make their points.
The violin work especially is a treat throughout, at tbis poiint the most original element in the Scythia sound that'll make it instantly identifiable.
"...Of War" is a folk metal album any current fan of the genre will surely enjoy. More than that, Scythia's licks are tasty enough to draw in those open to checking out  folk metal without being bombarded with its cliched imagery. The combination of folk, symphonic, progressive, and classical elements make for a fluid and distinct sound that will make Scythia a force on the folk metal scene.
While the production is decidedly spotty in places, 'Of War' is an album that could give the genre a good name.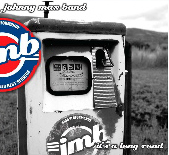 Johnny Max Band
It's A Long Road
Pour Soul Records
Most musically satisfying outing so far from this band of road warriors. Right from the get go, the rolling barrelhouse piano lines Jesse O'Brien deploys on 'Daddy's Little Girl" let you know how it's gonna be. The swamp blues vibe hangs like Spanish moss on 'Too Many Fish' and 'One Day' flexes the hard muscle beneath the slow grind.
Elsewhere, a soulful r'n'b sound, ably abetted by Hammond-esque keyboard riffs from O'Brien is the other side of this coin, best paid out on 'Heading Back To You', underpinned by tasty country/soul guitar lines that wouldn't be out of place on a Holmes Brothers album. The blues gets even more countrified on the epic 'Song Of New York', a wry tale in which the Apple treats our man less than kindly.
To demonstrate their musical dexterity, the band turns its attention from that tasteful setup to the swampy raunch'n'roll of 'Too Many Fish', then it's off to get all bayou funky riding the baritone sax on the ensemble standout 'I'm In Trouble'.
Can't say there are no generic moments here but they're left in the dust by the more than generous and tasty helpings of hooky boogie blues.
Tell ya, Johnny Max be wise to hustle hard to keep this crew together. Heck, even the horn section, officially not part of the band, made contributions that were essential to certain tunes. This is not lost on Johnny, who gives full credit to saxman Johnny Johnson for the horn charts.
Perhaps the most interesting development here is that of Johnny Max as social commentator, working with lyrics that dig deeper into the musician's life ("It's A Long Road), urban disaffection ('Song Of New York') and yer basic existential angst ('You Tell Me').
This one leans a little less on the rock but it sure do stroll a mean groove all the way to many Blues Album of the Year lists.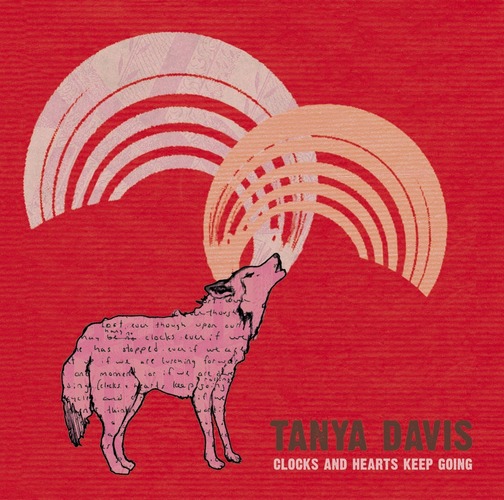 Tanya Davis
Clocks And Hearts Keep Going
Wordy Music
Misery never sounded so satisfying all year. Davis works a charming lo-fi vocal perfectly suited to her low-key heartfelt material. Produced in collaboration with multi-instrumentalist Jim Bryson, the sound is stripped-down acoustic folk spiced with banjo and Hammond organ, harnessed to some intriguing arrangements and grabby tempos
Using its title as theme for her third album, Davis explores ideas about the passage of time, loss and surviving loss, living to thrive or simply survive. There's much sadness in the sound but it's not the overarching emotion, inevitably giving way to the inherent hope and idealism of the lyrics. A sleepy drum tempo, broken up by the bluesy guitar licks of producer Jim Bryson, props up the sublime lyrics of "One Room," marking it as a standout track.
"Don't Bury Me" stands equally tall, as does the spoken-word poetry of "Eulogy for You and Me," the funky handclaps on  "Please Bless" bringing that one perilously close to a groove thing.
Chromeo
Business casual
Sony
Intelligent lyrics over dope beats and a flow like Niagara Falls, Chromeo's Dave-1(David Macklovitch) and P-Thugg(Patrick Gemayel) broke out three years ago with Fancy Footwork, an album that did a fine job of setting the tone for the band's 'brand'. Since then, the duo's blown up globally, more so in Europe, leaving a large American market to get friendly with Chromeo's sound.
Since that's the job of Business Casual, it makes all kinds of strategic sense that this is a classic straight up Chromeo album, beats just so and a canny hand with the disco guitar references.
And you can't blame them since taken as a calling card, the album does just fine in the role. It sounds like the big money production it was, fat grooves and bouncy backbeats well to the fore, tracks jammed with sonic information. The thing's full of show stopping moments, among them the Queen-like grandeur of "Don't Walk Away" and those in search of a new club anthem need look no further than "Hot Mess'. Then, having rocked the joint, the pair turn to a trio of tunes, "Night by Night", "Don't Turn the Lights On" and "You Make It Rough" which evoke a mood of space opera sex among the stars.
If there's anything to whine about, it may be that the boys have focused a tad harder on their pop amalgams. Understandable, as it's common practice to dumb down material for foreign markets and if that's what's up here, no worries, it's just Business Casual doing music business as usual. The best Chromeo business is yet to come.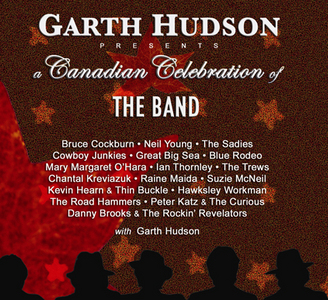 Garth Hudson
Garth Hudson Presents A Canadian celebration Of The Band
Curve/Sony
The Canuck musical lovefest of the year
The Sadies shine throughout and do a damn fine job of re-creating the barroom backing band spirit of the early The Band. Never better than on a rip roarin' ride through 'This Wheel's On Fire' fronting Neil Young as dude bawls and shreds it like the joint's ablaze.
Then they turn on a dime with nine cents change to help Mary Margaret O'Hara conjure up the spooky vibe of 'Out Of The Blue'.
Elsewhere, Bruce Cockburn brings his A game to 'Sleeping', little-known Road Hammers funk up 'Yazzo Street Scandal' courtesy of inspired work from the backline and Chantal Kreviazuk does a great job of representing the household by drenching 'Tears Of rage' in womanly soul. Underpinning every track, just as he did with the originals, is Garth Hudson's piano and keyboard playing, weaving the connecting threads between then and this.
Only glaring omission from the lineup is Stompin' Tom Connors. Would've liked to hear him take a run at 'Up On Cripple Creek', which didn't make the cut here. Maybe on Vol: 2.
A sonic treat for old heads and young pups alike.