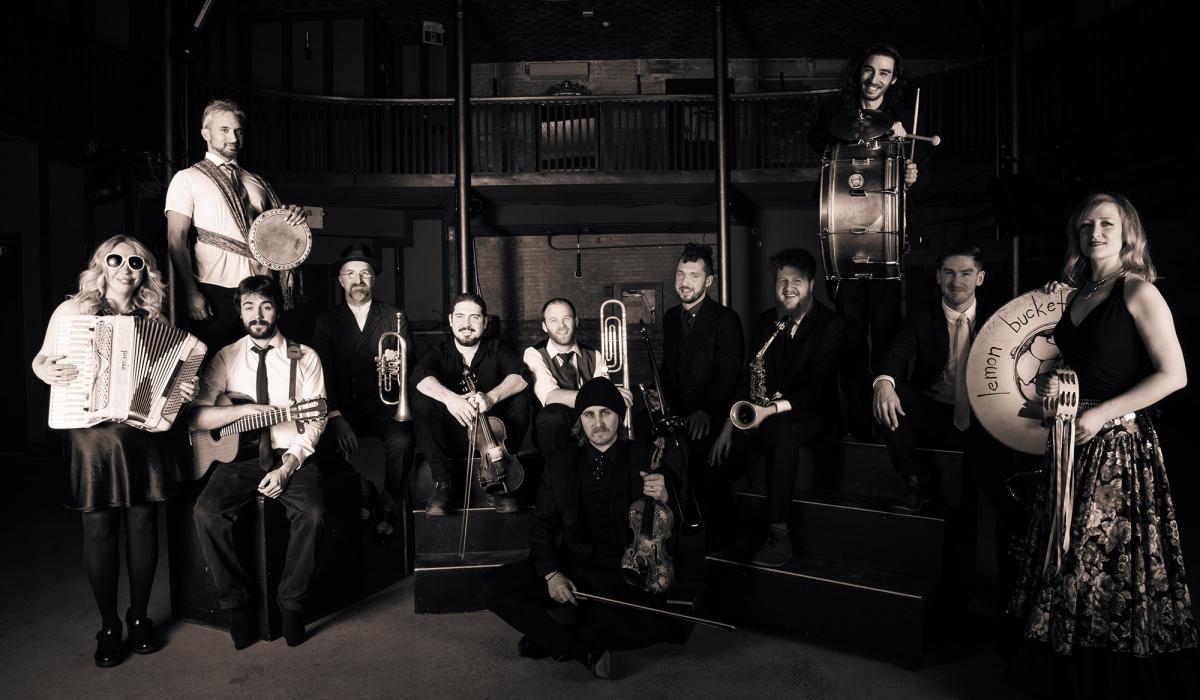 Fri Jun 02, 2017
A guerilla-punk-Balkan-folk-brass band massive like no other, LBO traces their genesis back about 8 years to the streets of Toronto, where a quartet of energetic busking troubadours began to amass a battalion of like-minded musical travellers, and the dozen strong Orkestra was born. Since then they've been nominated for 2 Junos and won a Canadian Folk Music award, been heralded as a groundbreaking, genre-bending phenomenon by media and fans. They've toured in more than a dozen countries, leaving a trail of fiercely dedicated fans in their wake. Equal parts exhilarating precision and reckless abandon, their live shows are truly immersive experiences, ranging from the ecstatic to the cathartic.
Their current repertoire is largely based on re-worked traditional folk songs picked up from the locals while on tour through Romania, Ukraine, Serbia, and Macedonia in 2014. Each one is spiked with their unique blend of punk, funk, psychedelia and swing, creating a sound that is truly their own. As at home in the speakeasy as the concert hall, LBO has stormed the international scene with their irresistible brass band mayhem. Lemon Bucket Orkestra plays Hugh's Room Live Wed. Jun.7, showtime's 8.30 pm
After a highly successful Australian tour, and winning the Cobalt Prize at the Maple Blues Awards in January, Ann Vriend (AV) is currently working new EP Anybody's Different (Aporia Records). AV can take you by surprise. At every show, people say, "I didn't expect such a big voice to come out of such a tiny frame!" Her ballads bring people to tears, but then she cracks a witty, self-effacing joke and takes off her shiny second-hand high heels to play the piano. AV sings her heart out about her views of the world; her matter-of-fact, non-sugar-coated observations from her inner city neighborhood; her hard life lessons and yet there is a soulful, hopeful persistence for herself and the world to be better. Sounds all earnest millennial but a knowingness in the voice and a willingness to pump up the beats offsets that nicely.
New single, "Get Back To Me," is an old-school, funky, upbeat number, sexy and fun, with a gospel-style call-and-response at the end of each chorus, yearning for a lover to come back, even (or especially) "if it takes all night." It's fueled by a huge, irresistible dance beat and boasts a killer vocal breakdown at the finale. The rest of her new EP Anybody's Different follows a similar template, matching stimulating grooves with well-considered views on the rollercoaster of romance.
With the vocals on "All that I Can " recorded primarily in one take, the song has a live-off-the-floor feeling, reminiscent of early gospel and soul recordings in the era of Sam Cooke, but with retro hip-hop drums. The lyrics of the song are an earnest promise to a lover to do "all that I can" if the lover is willing to "take me just as I am.""Will You Be There" is a compelling song propelled by an irresistible New Orleans beat, a catchy horn sample, and Vriend's vocal prowess. The song explains how easy it is to have fun in the party scene, but the real test of a relationship is "will you be there, for the other part?" "Real Love," features AV's gorgeous, expressive riding atop a breezy reggae/ska groove and subtle but propulsive horns to get to the challenging home truth that "real love is harder than it seems." The title track is a minor-key, soul-pop anthem about AV's observation that the most important things between humans are the same. It's a call for global human rights in the face of heightened tribalism and fear of the other. AV will be bringing Anybody's Different to a showplace near you this summer.
AV Tour Dates
June 16, CALGARY, AB http://mikeysjukejoint.com/ 
June 17, LETHBRIDGE, AB, Lethbridge Jazz Festival w/ the Rooster Davis Group, http://lethbridgejazz.com/ 
June 18, MEDICINE HAT, AB, Medicine Hat Jazz Festival w/ the Rooster Davis Group, http://lethbridgejazz.com/ 
June 23, WINFIELD, AB, www.sproutsgreenhouse.com 
August 2, STONY PLAIN, AB http://www.stonyplain.com/Residents/News-and-Events/Town-Calendar/Summer-Sessions--The-Orchard_s_p1966.htm?EventMode=View&EventOccurrence=0
August 12, KITCHENER, ON, Kitchener Blues Festival w/ the Rooster Davis Group, http://www.kitchenerbluesfestival.com/
August 19, WAINWRIGHT, AB, Come By The Hills Festival w/ the Rooster Davis Group, http://www.goeastofedmonton.com/Wainwright-Music-Festival  
With Oh Susanna's (Suzie Ungerleider) new album, A Girl In Teen City freshly out, the JUNO Award nominated songwriter is celebrating by sharing the new video for "Tickets On The Weekend". The video uses "outrageous teenage punk rock photos of me and my friends, punk rock gig posters, tickets, photos of punk rock shows in Vancouver (some by the legendary photographer Bev Davies) as well as teenage photos of fans of mine," says Ungerleider. "The song tells a true story about me and my friends missing a show of the punk band DOA because we got caught for buying liquor. But really it is a universal story of all of us whoever got into mischief as a teenager. So it was really important to me to include as many teenager photos as possible. It is a celebration of who we were back when we were just finding ourselves in the world."
On A Girl In Teen City, Oh Susanna discovers what it means to be undone by love, the exuberant freedom under the cover of night, and music bursting with riotous rebellion. "Trying to find out who she is while trying to be something she isn't," says Ungerleider. "Falling in love,  getting drunk , having her heart broken, hanging out with friends in bedrooms, basements and parking lots, sneaking into shows in burnt out warehouses, watching the  waves, walking home over bridges and railroad  tracks in all that endless rain." Like a coming of age novel, A Girl In Teen City, is both piercingly specific and exhilaratingly familiar. No matter where you grew up, or where you live, the songs will bring you home.
A Girl In Teen City reunites Ungerleider with producer Jim Bryson. The pair collaborated on previous release Namedropper, an album featuring the songs of Canada's top songwriters written specifically for Oh Susanna to interpret. This time, with the urging by her friend and co-conspirator, Bryson, she embarked on a time machine to visit her teenage self in a sleepy port town that she thought no one had ever heard of.
From cheeky rock pop to quietly beautiful love songs, the album reflects Oh Susanna's songwriting breadth. Her brilliant vocals float through the sensuous instrumentation to create a cinematic soundscape. The album finds Ungerleider working with longtime friends and musicians Eli Abrams on bass, Cam Giroux on drums, Gord Tough on guitar, and Jim Bryson on guitar and keyboards. Guest harmony vocalists include Holly McNarland , Gabrielle Giguere, Ungerleider's sister Jessie and niece Sofia. An excellent coming of age set of songs that hitsS all the right emotional notes.
LIVE DATES
Jun 01 - Toronto, ON - Monarch Tavern (Album Release Show)
Jun 02 - Wolfe Island, ON - St Margaret's Hall
Jun 11 - Erin, ON - Waterstock
Jul 08 - Elgin, ON - Opinicon Lodge
Jul 15 - London, ON - Home County Fair
Aug 19 - Toronto, ON - Budweiser Stage w/ Blue Rodeo, The Sadies, Skydiggers
Oct 07 - Ottawa, ON - National Arts Centre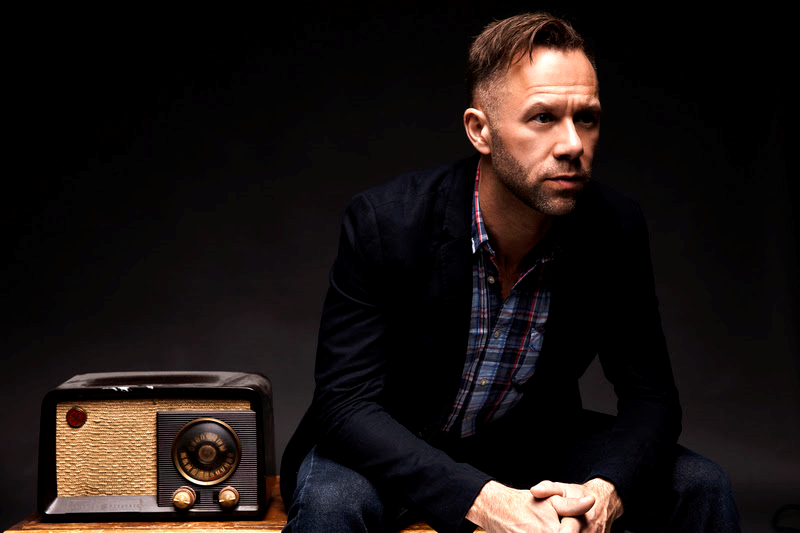 Jeffery Straker's latest album, Dirt Road Confessional, is fresh out and the Saskatchewan piano man is taking it across Canada before hitting up the Euro Festival circuits. As evidenced by the infectious track"Boom Boom" Dirt Road Confessional pushes the boundaries of what it means to be a piano balladeer. Utilizing themes both contemplative and joyous, the 12-song collection encapsulates Straker's experiences of playing over 200 shows around the world since the release of his previous album, 2015's North Star Falling.
Straker regularly draws comparisons to a young Billy Joel or Elton John, with touches of Rufus Wainwright and Harry Nilsson thrown in, but on Dirt Road Confessional his personal storytelling style has evolved by leaps and bounds. He was determined to explore different approaches in the studio, which led the album to be constructed out of five separate sessions.
Daniel Ledwell (Jenn Grant) produced three songs in Nova Scotia, Royal Wood co-wrote two songs and co-produced them with Lawrence Katz in L.A., Dean Drouillard (Justin Rutledge, Amelia Curran) produced two songs in Toronto—where an additional tracks was also laid down withRobyn Dell'Unto—and Murray Pulver (The Bros. Landreth) co-produced the balance with Brad Prosko during sessions in Regina.
Despite the many hands being involved in the end result, the foundation of Dirt Road Confessional is Straker's unwavering sonic vision for the record, and its story about finding love while at the same time finding courage to pursue one's art. That tug of war inspired the creative strides Jeffery Straker has made onDirt Road Confessional. It's all in the grooves.
JEFFERY STRAKER TOUR DATES:
June 8 / 9 :: Regina SK :: Artesian
June 11 :: Weyburn SK :: Weyburn Calvary Baptist Church
June 16 :: North Battleford SK :: TBA
June 19 :: Lethbridge AB :: McKillop United (Lethbridge Pride)
June 23 :: Ottawa ON :: Harmony Haven Concerts
June 28 :: Toronto ON :: Hugh's Room
July 5 :: Hamilton ON :: Artword Artbar
July 9 :: Mont Carmel PEI :: Mont Carmel Concert Series
July 14 :: Sudbury ON :: Fromagerie
July 15 :: Manitoulin ON :: Maja's
July 27 / 28 / 29 :: Calgary AB :: Calgary Folk Fest
Aug 9 :: Kelowna BC :: Parks Alive Concert Series
Aug 12 :: Enderby BC :: Lorenzo's Cafe
Aug 13 :: Vancouver BC :: Café Deux Soleils
Aug 15 :: Sicamous BC :: Owlhead Creek B&B
Aug 16 :: Canmore AB :: TBC
Aug 17 :: Medicine Hat AB :: TBC
Sept 8 / 9 :: Fredericton NB :: Lansdowne House
Sept 16 :: Halifax NS :: Patchwork Concerts
Sept 22 :: Durham ON :: Garafraxa Theatre
Sept 23 :: Manitoulin ON :: Cafe In the Woods
Sept 29 :: Wakefield QC :: Black Sheep
Sept 30 :: Kemptville ON :: The Branch
In advance of their new album Sugar At The Gate , Montreal's TOPS of the popsters are back to share "Further", the third single from the project, courtesy of W Magazine . A mellow and dreamily catchy track, "Further" is additional proof of the diverse sounds that the band is playing with on their forthcoming record. "'Further' lays between the realization that you've restrained your true feelings and allowing yourself the freedom to want more," explain Jane and David from the band. "It's an emotional song, but I hope ultimately it's uplifting."
For Sugar At The Gate, their third and most ambitious album, TOPS reached out to LA. They lived and recorded at "Glamdale," a mini-mansion and former brothel located in the Jewel City, Glendale, CA. The unassuming record unfolds slowly, taking time to reveal itself. Like nearly everything TOPS does, multiple meanings overlap with the album's title referring to orgasm, but also to carrot chasing, gatekeeping, and the social contract.
Vocalist-songwriter Jane Penny , at this point one of the most notable vocalists of her generation, took time during the recording learning how to drive in the Forest Lawn Cemetery parking lot. "Living in LA was living out a teenage fantasy, living with your band and practicing in the garage. It was also the first time we've ever had that much space to make music. I took the experience of living in LA as a challenge to make music that I know is real to me, in the sense of it feeling true and containing true feelings, but also recordings of great songs, the real thing." Jane Penny and David Carriere (guitarist-songwriter) contributed to the album's lyrics as much separately as together. Both their perspectives are heartfelt, with Penny's sometimes cryptic lyrics betraying something of her unconscious.
All of TOPS recordings have been produced by the band, who have self recorded the majority of their work to date. Riley Fleck's distinct and controlled drumming style is key to the arrangements on Sugar at the Gate. A sensitivity in his playing and strong sense of discretion is a distinguishing feature of TOPS' sound. Sugar at the Gate was released on June 2 worldwide on Arbutus Records .
EUROPEAN TOUR DATES
6/2 - Bristol, GB @ Southbank Club
6/4 - Manchester, GB @ The Ritz
6/5 - Brighton, GB @ The Joker
6/6 - London, GB @ The Dome
6/7 - Paris, FR @ Point Ephemere
6/8 - Amsterdam, NL @ De School
6/9 - Hamburg, DE @ Uebel & Gefaehrlich
6/10 - Berlin, DE @ Roter Salon
6/11 - Warsaw, PL @ Cafe Kulturalna
6/12 - Krakow, PL @ Klub RE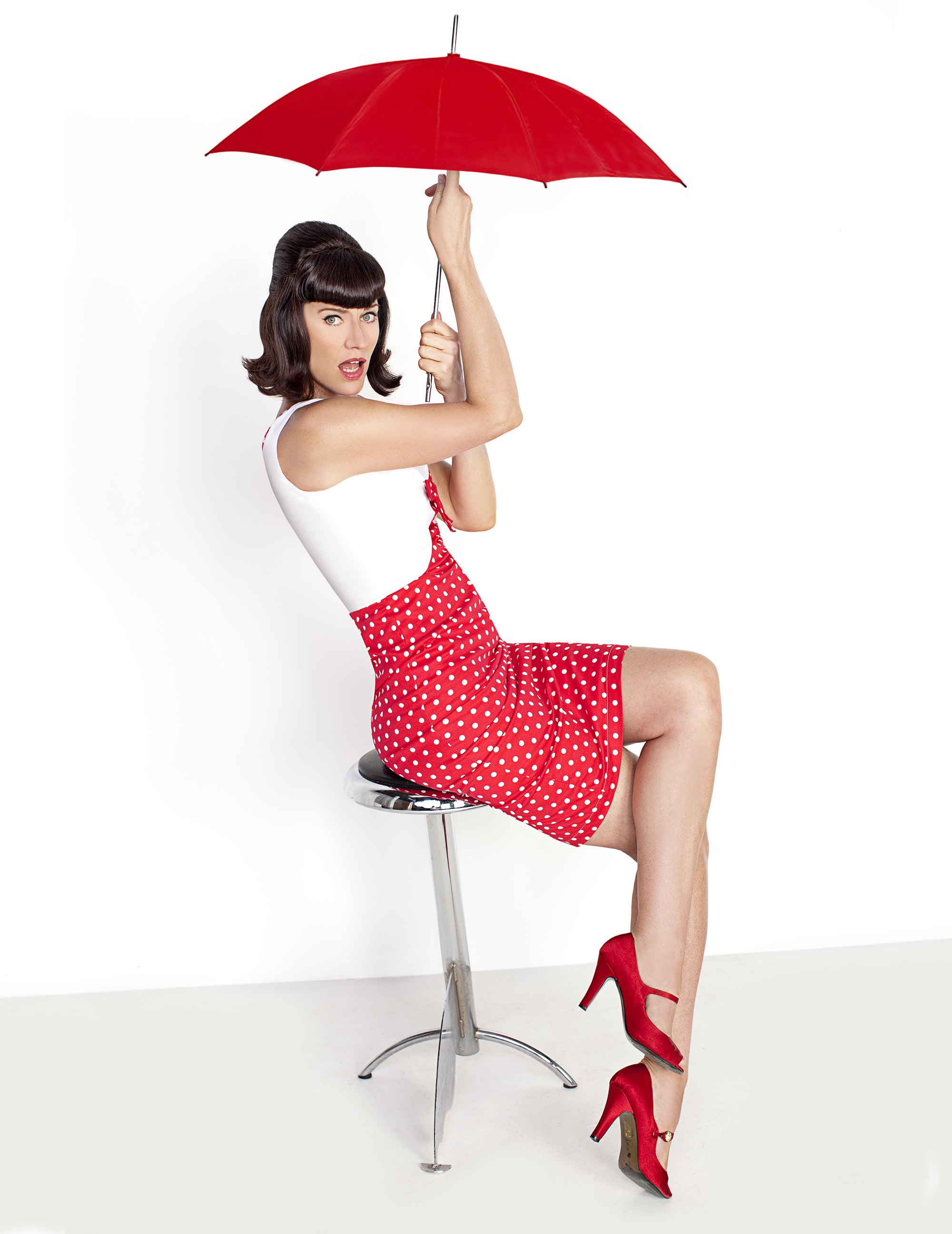 The frequently fascinating LILY FROST is gearing up to launch her new EP REBOUND (Aporia Records) as part of the second edition of her wildly popular BIG CITY SOCIAL . The film-noir styled collection of songs fits the new chic performance series to a T. Big City Social was unleashed to a standing-room-only crowd at Lula Lounge in April and number two promises heightened revelry, presented smack dab on the Thursday between Pride and Canada Day celebrations in Toronto. The event lineup includes Lily Frost And The Gentlemen Callers with special guests jive cats Tennessee Voodoo Coupe and featuring Laura Desiree, Dew Lily, Soda Pop Hop Dance Studio with D.J.David Faris and Ms 'Matchmaker' Marshall . It all takes place Thursday, June 29 at Lula Lounge, 1585 Dundas St. West .
The titles on Frost's new EP Rebound tell the tale: " Rebound Bitch," "Sex Trip," "Red Flags" and " Witchdoctor." Frost is obviously writing songs that are spiked with an attitude of brazen, female empowerment, while combining elements of Americana, swing, surf, and spaghetti western, all set to big beats, massive horns, and a cinematic film-noir vibe.
Both "Sex Trip" and "Rebound Bitch" portray a spurned lover turned bi-curious, looking to boldly explore an LGBTQ alternative lifestyle. Equally bold are the loud, brassy horns, and twangy surf guitars that drive each song. The former track balances these elements with beautifully arranged strings and harp. On" Witchdoctor," Frost's haunted and haunting voice tells the tale of a brief but deep, fleeting encounter so powerful and memorable that it actually cures your blues and changes your life. "Red Flags" is especially cinematic, moving from a growling muted trumpet to a languorous bridge, culminating in Frost's litany of dismissals for a nasty hustler. The song is a cautionary tale about protecting one's heart and avoiding the ensnarement of online dating.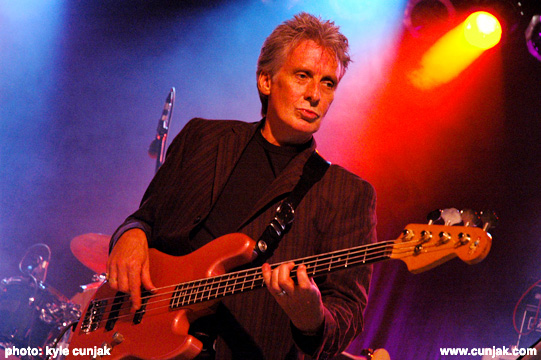 Lily Frost is celebrated for her earlier recordings, such as 2008's Lily Swings, which featured swing renditions of Billie Holiday songs, or for all of her 12 original albums to date. Well known from song placements in TV shows likeGrey's Anatomy,Charmed,Mistresses, Crazy Beautiful and Being Erica, or TV commercials for Chevy Cobalt and The Bay, Frost has earned a place in Canada's music scene elite, quirky division.
So The Silver Dollar Room closed its doors on May 1 st to make way for urban development. Once the Waverley Hotel, Silver Dollar Room and Comfort Zone are demolished a student housing complex and a new live music venue will be constructed on that well traveled corner of Spadina and College. In recent years Indie rock had slowly transformed the one time blues club into a successful new music venue. That genre celebrated the club's departure with an over the top final week of shows to say goodbye and we'd all love to do it again.
When the dust settled the owners decided to dig back a little deeper into the history of the place that's housed live music since New Year's Eve 1957 and celebrate its life as "Toronto's Premier Blues Night Club". A banner it held proudly from 1994-2010.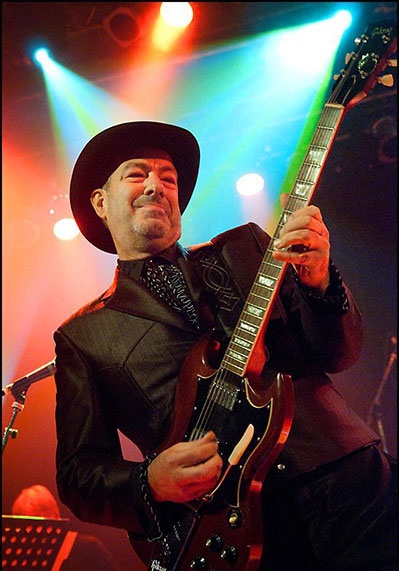 Gary Kendall , long time bassist with The Downchild Blues Band and musical director of The Maple Blues Awards had been the driving force behind the club's blues years. He was asked to put together a show with some of the artists who had supported the club during that era. A day or two of email and phone put THE LAST SHUFFLE in motion giving Toronto's blues lovers a chance for one last boogie before the wrecking ball swings.
During the blues years The Silver Dollar Room presented an amazing lineup of legends and icons. Bobby"Blue"Bland, Snooky Pryor, Levon Helm, R.L.Burnside, Kim Wilson, Junior Kimbrough, Magic Slim, A.C.Reed, Coco Montoya, The Average White Band and Duke Robillard to name only a few. Canada`s Blues elite also played a large role in the club`s history. The Downchild Blues Band, Fathead, Powder Blues, Jack de Keyzer, Rita Chiarelli, Carlos del Junco, Paul Reddick and many of those performing at The Last Shuffle developed their careers at The Silver Dollar Room.
The Last Shuffle Starring The Hogtown Allstars
Chuck Jackson, Gary Kendall, Pat Carey
Mike Fitzpatrick, Michael Fonfara, Darran Poole
with performances by:
Donnie"Mr.Downchild"Walsh, Danny Marks, Cheryl Lescom
Jerome Godboo, Robin Banks, Spencer MacKenzie
Raoul Bhaneja, Braithwaite & Whiteley
The Silver Dollar Room
FRi, JUN 16 TH $20adv. $25 door
Doors: 7:30pm Show 8:30pm
And that was all he wrote...