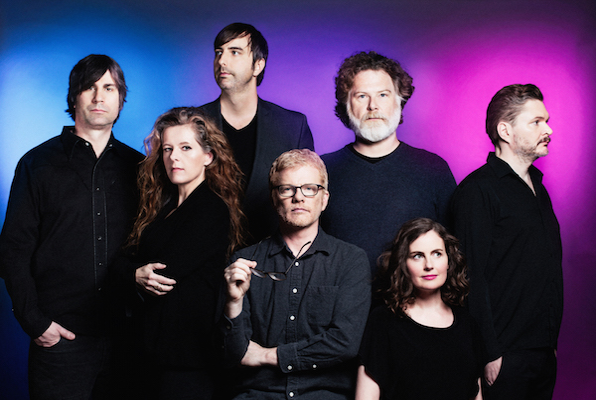 Fri Apr 07, 2017
They're back and harder than ever. Critically acclaimed supergroup The New Pornographers are premiering the title track off new album Whiteout Conditions today. Stream/share the song at https://youtu.be/hXwGX5Es9vM . The album dropped April 7 and is the first release on the band's own Collected Works Records in partnership with Concord Records and damn fine rock 'n' roll.
In the wake of their headlining performance at the 2017 NPR Showcase at SXSW, The New Pornographers will also tour the U.S. and Europe this spring and summer including a run of newly added dates with Spoon . Tickets for all headlining U.S. shows include a free download of the new album. Additionally, Under the Radar is premiering a behind the scenes featurette of the filming of the video for the song "High Ticket Attractions." Of the video, director Dan Huiting (Bon Iver, Sylvan Esso) notes, "I have always wanted to wreck things in music videos, I just never thought I would get a chance to destroy an entire high school!"
TOUR DATES
April 12 Los Angeles, CA Theatre at The Ace Hotel
April 13 Oakland, CA Fox Theater
April 14 Bend, OR Midtown Ballroom
April 15 Seattle, WA Moore Theatre
April 16 Portland, OR Wonder Ballroom
April 18 Minneapolis, MN First Avenue
April 19 Chicago, IL The Metro
April 20 Milwaukee, WI Pabst Theater
April 21 Chicago, IL The Metro
April 22 Columbus, OH Newport Music Hall
April 25 Boston, MA House of Blues
April 26 New York, NY Terminal 5
April 27 Philadelphia, PA Union Transfer
April 28 Washington, DC 9:30 Club (sold out)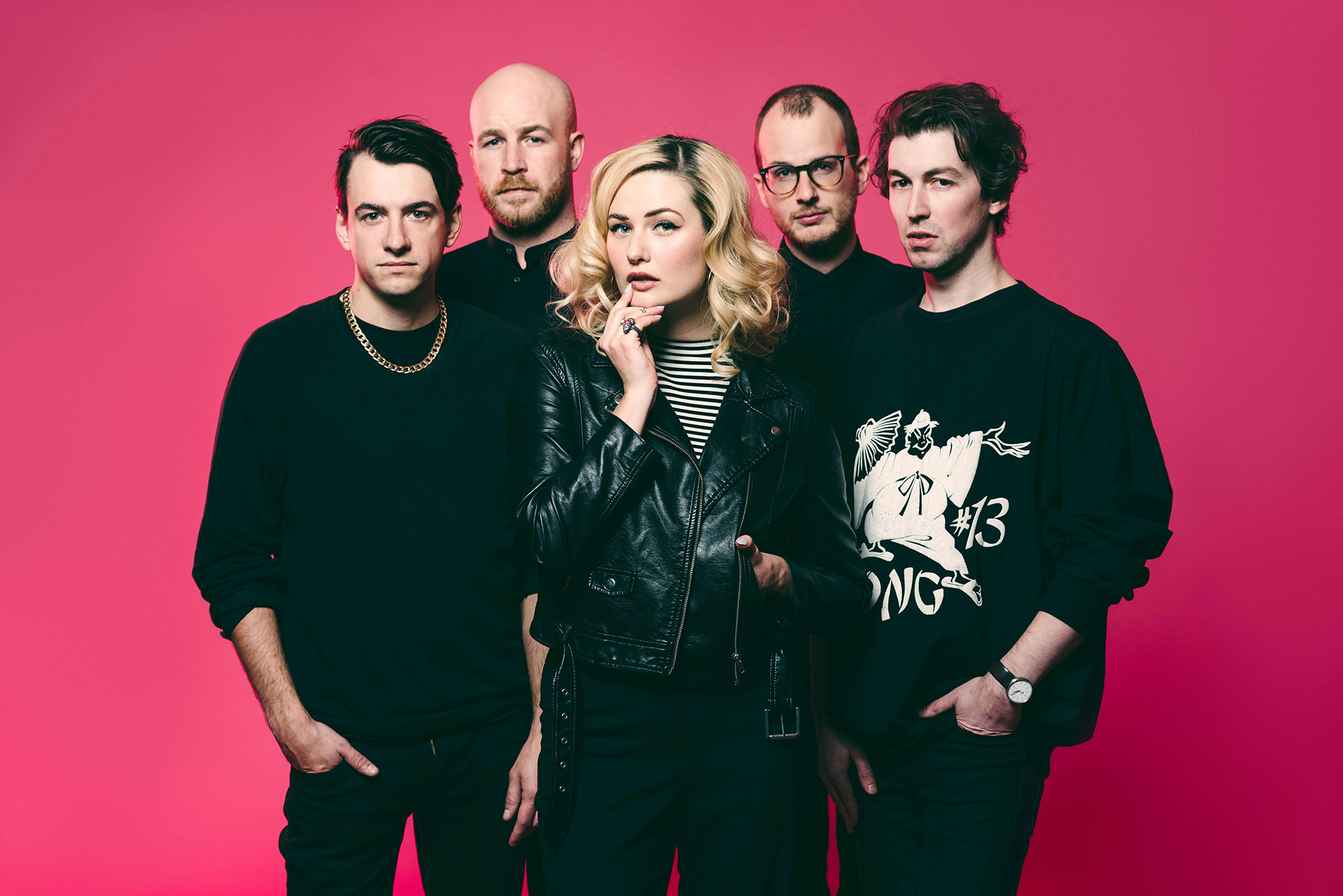 Vancouver's rising dream-pop unit Youngblood are taking on the road starting with JUNOfest, and the release of a brand new music video for the single "Broken English" off 2016 EP Feel Alright. This Vancouver band presents a powerful dynamic live, with the fiery frontwoman a crackling live wire bewitching and /or scaring the audience. Youngblood has shared bills with Chromeo, Timber Timbre, Black Mountain and Mother Mother, and was named a must-see band at Canadian Music Week, BreakOut West and Australian Music Week in 2016, so they are back for more in 2017.
Intentionally vague and disarming, the lyrics of Broken English feel like fragments of a dream that you half remember, only to fully forget when you try to explain it to your friend. Written as an ode to feeling fucked up and disoriented, the song unravels at a pace that parallels the shifting sensation you notice when the drugs start to kick in. While Broken English comes from the psyche of today's world, there's a retro vibe that permeates Youngblood's sound, and the video fits the vibe. The video was laboriously created with each letter individually hand-cut from paper by Tierney Milne and Mark Illing . In a time where we increasingly expect speed and perfection, this video serves as a reminder to slow down and appreciate the wonky and weird that life has to offer. Broken English was written by Alexis Young with Parker Bossley (Gay Nineties, Hot Hot Heat, Mounties) and produced by JUNO nominee and Diplo collaborator, Sleepy Tom.
What started as the creative release of Vancouver artist Alexis Young, the music of Youngblood is "what the 60's thought the future would sound like", fusing timeless melodies with an aesthetic rooted firmly in the dream-pop land of now. It's soothing but insistent, a soft pillow of lush sound anchored by electronic grooves. The siren-like voice at the centre of it all is fierce and sultry; a bit Grace Jones, a trace of Nancy Sinatra, but all Youngblood. The band's debut EP Feel Alright, (September 2016) features five sweet pop confections with hearts of darkness, concocted by Young in collaboration with co-writer Parker Bossley and produced by JUNO nominated DJ and Diplo collaborator Sleepy Tom (Fool's Gold Records). The first self-titled single reached the No. 6 spot on the Spotify Viral Chart, with the whole EP racking up over half a million plays within the first few months of its release, and has been heard in MTV's Sweet/Vicious and the snowboarding documentary Full Moon, among others.
Youngblood On Tour
April 8: HAMILTON, ON Mill's Hardware
April 9: WATERLOO, ON Maxwell's
April 11: TORONTO, ON The Horseshoe Tavern
April 12: OSHAWA, ON The Moustache Club
April 14: TORONTO, ON Adelaide Hall
April 22: TORONTO, ON CMW @ The Drake Hotel
From April 1st to May 20th 2017, Small World Music presents the 15th edition of its Asian Music Series – embracing sounds from across the Asian cultural landscape. Partnering with premier presenters across the region, the program brings together emerging artists with internationally renowned figures, engaging communities around the GTA and showcasing the finest sounds on the best stages.
Curated experiences encourage audiences to enjoy the breadth of music on offer. Small World Explorer Bundles create the opportunity for concert-goers to develop a diverse appreciation of the series while accessing it at an accessible price. Four three-concert packages themed Rhythm, Soul, Heritage and Motion are available through Small World Music's Ticket Hub: http://smallworldmusic.com/asian-music-series/
Highlights this year include songwriter extraordinaire HANIYA ASLAM and her trio, Indian classical artist and Grammy Award-winning slide guitarist VISHWA MOHAN BHATT, WORLD FIDDLE DAY CONCERT featuring KOUSHA NAKHAEI ( kamancheh) & AMELY ZHOU (erhu), plus Toronto's own folk/rock/blues/Hindustani music purveyors SO LONG SEVEN, drum ensemble NAGATA SHACHU TAIKO, and Indo-jazz performers MONSOON, among many others.
Asian Music Series at a Glance:
Saturday, April 1 – Haniya Aslam Trio (Pakistan/Canada) – Small World Music Centre
Friday, April 7 – Nagata Shachu Taiko (Japan/Canada) – Aki Studio Theatre - Daniels Spectrum
Saturday, April 8 – So Long Seven (Canada/India) – Small World Music Centre
Sunday, April 16 – Upanishads (Canada/India) – Small World Music Centre
Saturday, April 22 – Vishwa Mohan Bhatt (India) – Aga Khan Museum
Saturday, April 29 – Korean Traditional music Association of Canada (Canada/Korea) – Small World Music Centre
Friday, May 5 – Monsoon (Canada/India) – Small World Music Centre
Saturday, May 6 – Globetrotter - Retro Bollywood (Canada) – Round
Saturday, May 13 – Hidayat Husain Khan & Manjusha Kulkarni-Patil (India) – Macleod Auditorium
Sunday, May 14 – Kayhan Kalhor & Alireza Ghorbani (Iran) – Toronto Centre For The Arts
Saturday, May 20 – World Fiddle Day Concert W/ Kousha Nakhaei & Amely Zhou (Canada/Iran/China) – Aga Khan Museum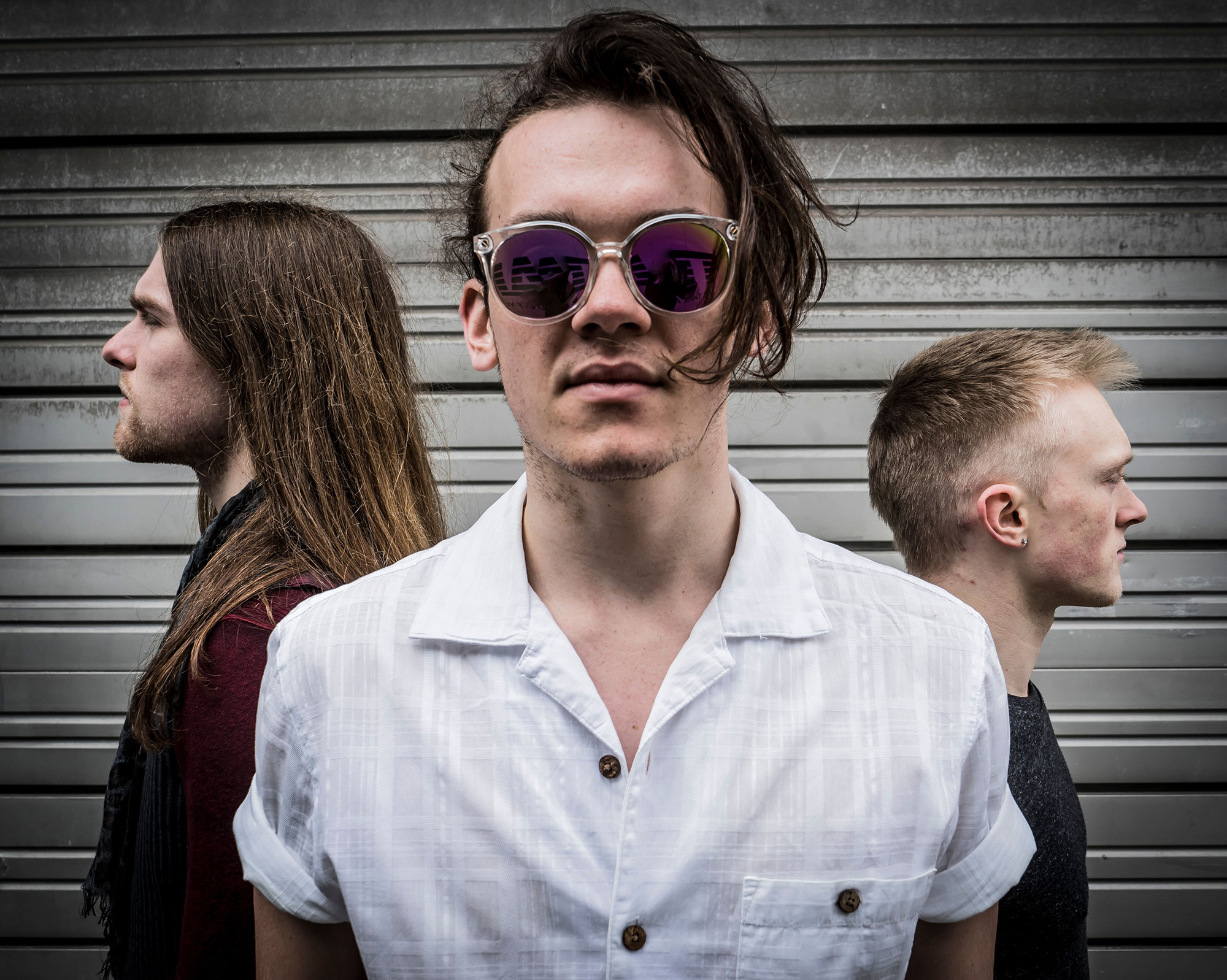 Another punchy rock band making friends is Windsor's The Silence Factory. Riding 'High' on the success of their latest single, the group will be packing up the van and hitting the road for a coast to coast tour across Canada, which includes 2 showcase events at Canadian Music Week in Toronto on April 19th and 20th.
The Silence Factory released their current single 'High' back in January and after 11 weeks on the Canadian active rock chart, they've achieved considerable success at rock radio reaching a peak chart position of #37 this past week. 'High' was produced by Juno Award winning and Grammy nominated producer Gavin Brown (3 Days Grace, Billy Talent). The band just finished recording another track with Brown to be released early May.
The Silence Factory formed in 2015 (as Nathan McNevin and The Silence Factory) and they've been playing shows across Canada ever since. The Silence Factory's debut CD, Collection of Thoughts, was released in February 2016 launching their first commercial radio single 'Land' . In June 2016, the band took first place in 97.7 HTZ FM's Rocksearch competition which has launched the careers of many notable acts including Finger Eleven, The Trews, and The Glorious Sons.
The band spent a great deal of time on the road in 2016, playing over 50 shows all across the country and they plan to spend 2017 the same way, continuing to build fans one show at a time. Upon completion of their upcoming cross-Canada Tour, The Silence Factory will play select shows throughout the summer, including opening for Fuel, The Trews, and Our Lady Peace and have plans to record their first full-length studio album this fall.
'High' is currently available on most digital/streaming platforms including Spotify and Apple Music/ iTunes , and will be released on vinyl as a 7" single this summer.
THE SILENCE FACTORY CANADIAN TOUR DATES
April 12 – Charlottetown, PEI – Hot Shots Lounge
April 13 - Charlottetown, PEI - Baba's Lounge
April 14 - Halifax, NS - Gus' Pub
April 15 - Sydney, NS - The Governor's Pub and Eatery
April 19 - Toronto, ON - Lee's Palace (CMW)
April 20 – Toronto, ON – Grace O'Malley's (CMW)
April 21 - Windsor, ON - The Dominion House
May 4 - Sault Sainte Marie, ON - Loplops
May 5 - Thunder Bay, ON - The Foundry Pub
May 6 - Winnipeg, MB - The Garrick Hotel
May 12 - Edmonton, AB - The Needle Vinyl Tavern (early show)
May 12 - Edmonton, AB - The Forge on Whyte (evening show)
May 13 - Calgary, AB - Blind Beggar Pub
May 19 - Vancouver, BC - The Roxy Cabaret
May 20 - Kelowna, BC - Fernando's Pub
May 21 - Nelson, BC - The Royal on Baker
May 25 - Calgary, AB - Distortion
May 26 - Lethbridge, AB - The Slice Bar & Grill
May 27 - Regina, SK - The Exchange
The Silence Factory is: Nathan McNevin (guitar/lead vocals), Nathan Schiller (lead guitar/vocals),
and Nick Predhomme (drums).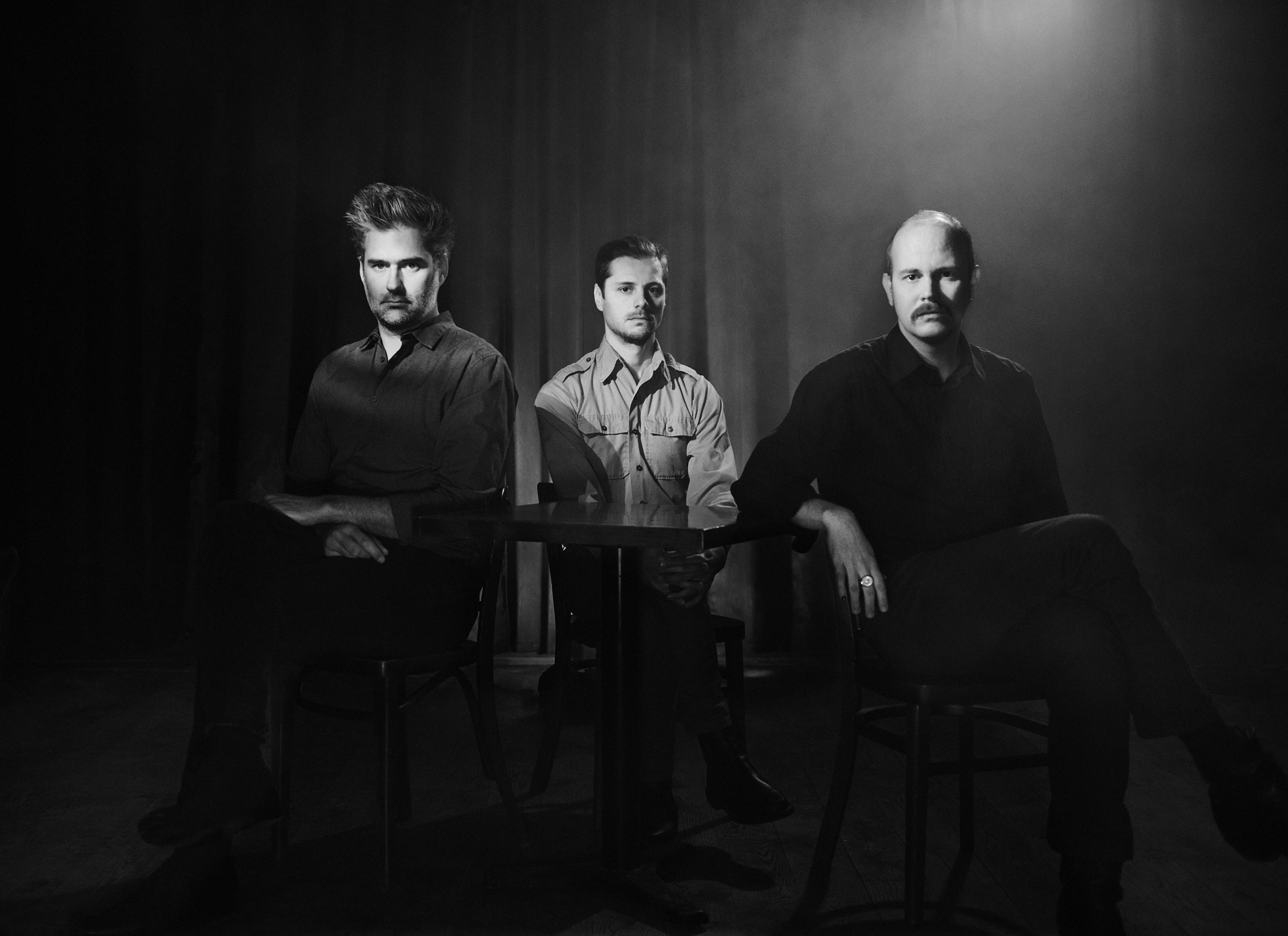 Today, Timber Timbre are streaming their upcoming fourth album, Sincerely, Future Pollution, ahead of its release date. The album is available to stream courtesy of CBC Music and hits record stores April 7 via Arts & Crafts. OnSincerely, Future Pollution, the band –Taylor Kirk, Mathieu Charbonneau, andSimon Trottier, with drummer Olivier Fairfield – coats the stark, sensual sound of 2014's Polaris Music Prize Short-Listed andJUNO Award nominated album Hot Dreams in an oil-black rainbow of municipal grime. It is the cinema of a dizzying dystopia, rattled by the science fiction of this bluntly nonfictional time.
For the recording, the band travelled to La Frette chateau outside Paris, where they looked to the studio's array of archetypal synthesizers for the flesh of the songs. Be it the freedom of recording abroad or the revelation of these unexplored instruments, Timber Timbre found a release from artistic constriction and created its most daring work yet. A blend of the album's mid-apocalyptic setting and its idyllic recording, Sincerely, Future Pollution is a romance of neoteric machines and dark, futuristic hues: with promise as beautiful as it is unsettling.
Wrestling sincerity from abstraction, Kirk submits to the cycle of self-obsession at the album's core. Sincerely, Future Pollution is Timber Timbre's document of this generation's degeneration and disarray. With Kirk as narrator, a party to the play, we get caught in the folly of the echo chamber, awed by the contrast of this gothic modern age. Timber Timbre will embark on a North American tour this spring, beginning on April 28, with stops in Winnipeg, Edmonton, Calgary, Vancouver, Montreal and Field Trip in Toronto.
TIMBER TIMBRE TOUR DATES
Apr 10 - Cologne, DE - Luxor
Apr 11 - Berlin, DE - Huxley's
Apr 13 - Malmo, SW - Babel
Apr 14 - Copenhagen, DK - Bremen Teater
Apr 15 - Hamburg, DE - Uebel & Gefarlich
Apr 17 - Tourcoing, FR - Le Grand Mix
Apr 18 - London, UK - Islington Assembly Hall
Apr 19 - Paris, FR - La Cigale
Apr 20 - Bourges, FR - Printemps de Bourges
Apr 28 - Chicago IL - Lincoln Hall
Apr 29 - Minneapolis MN - Cedar Cultural Centre
Apr 30 - Winnipeg MB - West End Cultural Centre
May 02 - Edmonton AB - Starlite Room
May 03 - Calgary AB - Commonwealth
May 05 - Vancouver BC - Vogue Theatre
May 06 - Seattle WA - Tractor Tavern
May 07 - Portland OR - Wonder Ballroom
May 09 - San Francisco CA - Great American Music Hall
May 10 - Santa Ana CA - Constellation Room
May 11 - Los Angeles CA - Echoplex
May 12 - San Diego CA - Soda Bar
Mar 14 - Mayer, AZ - Form Arcosanti Festival
Jun 2 - Montreal, QC - Olympia
Jun 4 - Toronto, ON - Field Trip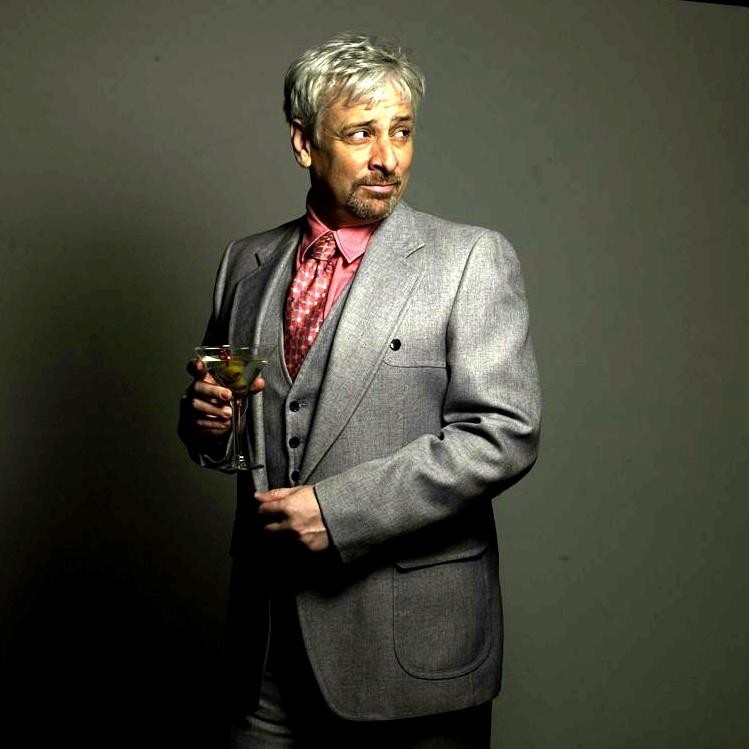 Speaking of blessed events, it's that most wonderful time of the year, Jaymz Bee Birthday Week Celebrations. These are always flashy, fun-filled, musically delirious events as befitting a musical figure who is every bit a T.Dot boosting icon as Drake and you need to have the experience at least once.
Salon Night • Monday April 10, 2017 •7-11PM La Revolucion, 2848 Dundas Street West 416.766.0746
Jaymz will recreate his private salons for the public. He has invited his closest friends who are musicians and performers to jam in both rooms at La Rev (in The Junction). This party is open to the public. Call ahead to reserve dinner at 7…otherwise just show up anytime…it's a PWYC, no advance tickets.
Dinner & Show featuring Genevieve Marentette Trio • Tuesday April 11, 2017 • doors 6/music 7PM BLOOM RESTAURANT, 2315 Bloor Street West (East of Jane)
Being one of Jaymz Bee's favourite restaurants in Toronto, it only makes sense that he'd invite some of his favourite jazz artists to perform at Bloom. The three-course meal and two sets of music will cost you $45.00 and as this is a very popular listening room tickets are sure to sell out in advance. You can call the restaurant directly but they prefer reservations through the website: www.bloomrestaurant.com
Jaymz Bee's Birthday Bash • (Good) Thursday April 13, 2017 • doors 6:30/ show 8PM
LULA LOUNGE 1585 Dundas Street West www.lula.ca • Adv. $18 / Door $25 • Reserve by phone: 416.599.0307 Performances by Tiki Collective and Yasgurs Farm.
Tiki Collective 8PM
Toronto Tiki Collective is a band that plays exotica, jazz and surf music – with charts by musical director/guitarist Eric St-Laurent. The band features Michael Davidson on vibraphone and also includes George Koller (bass) Ernie Tollar (flutes and reeds) Great Bob Scott (drums) and vocalists Jocelyn Barth, Jaymz Bee and Lily Frost. The band is a collective and perform in various sizes ... there are also often special guests.
TTC had their debut concert at Lula Lounge last fall and have since played several parties and special events, including being the house band for the New Year's Eve Massey Hall Comedy Extravaganza, followed by a second set December 31st at La Revolucion in the Junction.
Yasgurs Farm 9:30PM
Yasgurs Farm is a Soul and Funk-Rock band keeping the dance floor alive with both original material and everyone's favourite hits from acts such as: Stevie Wonder, Blood Sweat and Tears, Chicago and Steely Dan. With elite musicians in their rhythm and horn sections, Yasgurs Farm will be releasing an album later this year.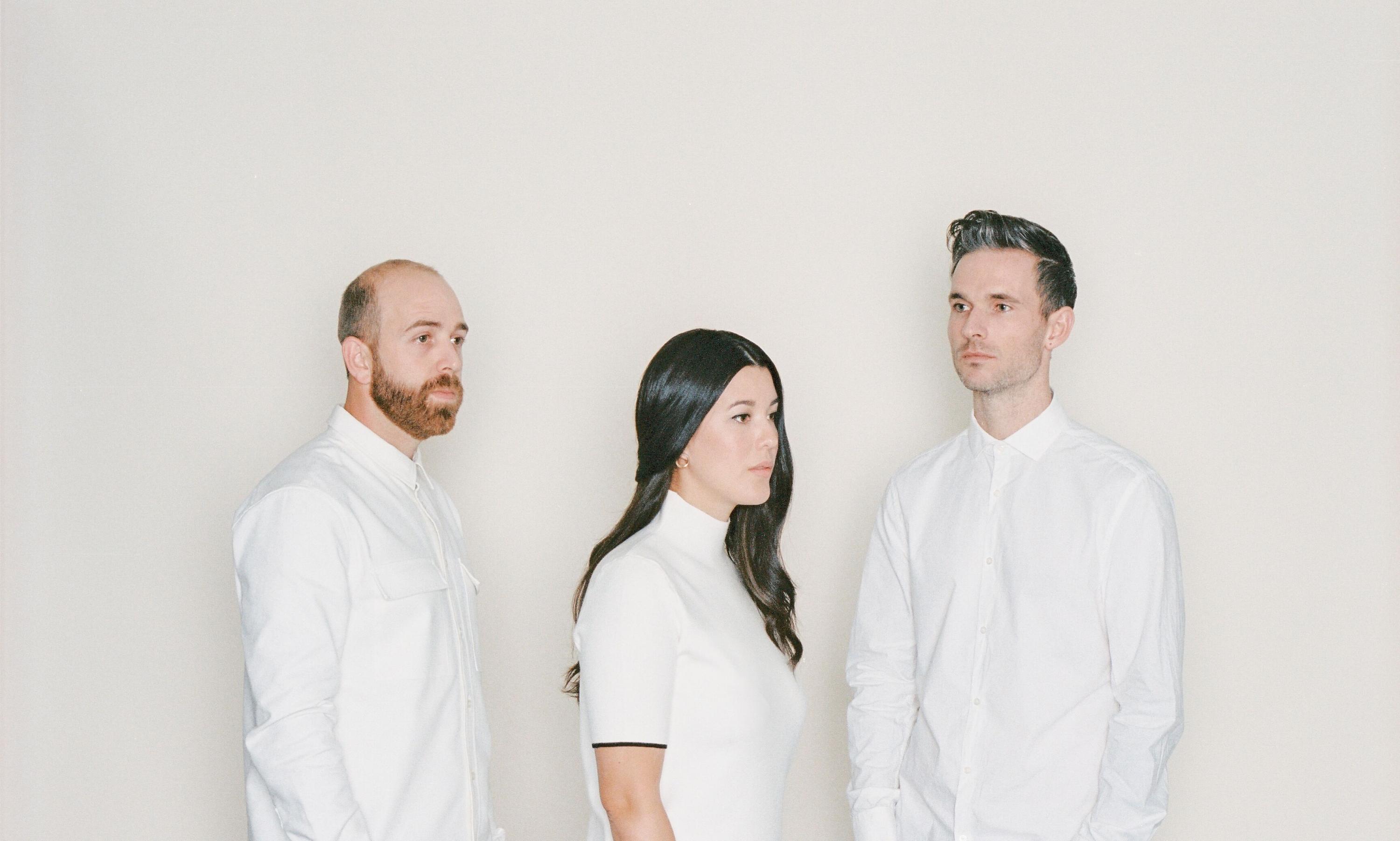 Vancouver's chart-topping, JUNO Award-winning Said The Whale have released their fifth studio album via Hidden Pony Records. As Long As Your Eyes Are Wide is the beginning of a new chapter for the band. Previously operating as a five-piece, the current trio - made up of frontmen Tyler Bancroft and Ben Worcester and keyboardist Jaycelyn Brown - have created their most collaborative, focused record to date. Previous releases highlighted the contrast between the two founders' eclectic rock influences and salt-of-the-earth folksiness. Here, their styles become one.
Along with the release comes a coast to coast US/Canada tour and a new video for " Confidence ". Previously released through Tyler's anonymous side project, P'ARIS, the lifespan of the track exemplifies the band's progression. The inspiration for the original song stemmed from the uncertainty he felt when his best friend was about to become a father. Coming full circle, when re-recorded for Said The Whale Tyler had since become a father himself so "Confidence" carries a renewed poignancy and meaning.
A decade since the band's formation, they have now taken the project back to its freeform roots while simultaneously venturing forward into uncharted art-pop territory. Despite the album's many adventurous sonic forays, it remains true to the spirit of their classic work. At its core, As Long As Your Eyes Are Wide is a singer-songwriter record, guided by introspective lyrics and alchemical group harmonies from Ben, Tyler and Jaycelyn. After so much change and uncertainty in recent years, Said The Whale has emerged as a unified force. They've evolved, but the DNA is the same, and the group's musical partnership is more fruitful than ever. 
Tour Dates
4/8 - Peterborough, ON at Red Dog
4/11 - Buffalo, NY at Iron Works
4/12 - New York, NY at Mercury Lounge
4/13 - Philadelphia, PA at Kung Fu Necktie
4/27 - Pender Island, BC at Studio at Hope Bay
4/28 - Victoria, BC at Sugar Nightclub
4/29 - Vancouver, BC at Vogue Theatre
5/3 - Kelowna, BC at Habitat
5/4 - Calgary, AB at Commonwealth
5/5 - Edmonton, AB at Starlite Room
5/6 - Saskatoon, SK at Cosmopolitan
5/7 - Winnipeg, MB at Park Theatre.
Iconic Minneapolis alt country rockists The Jayhawks air out The Opera House Sunday Apr.16.