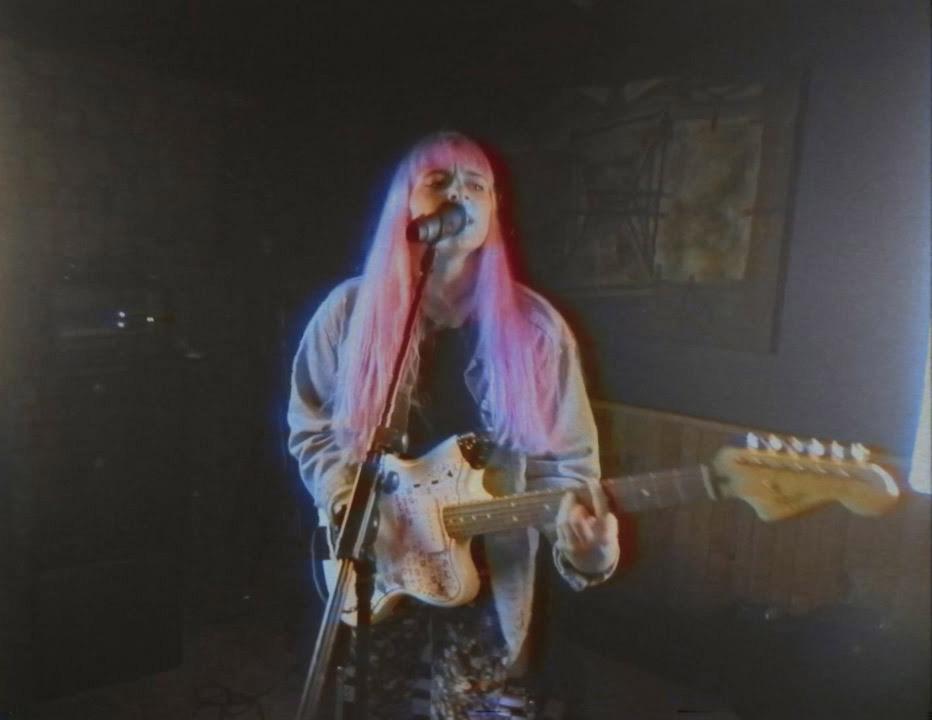 Sun Apr 30, 2017
It was a year of many grassfires, upon occasion a decent brush fire or three but there weren't any roaring, all consuming forest fires at CMW this year.
The Aussie showcase came close to an all out blaze, especially as the night wore on at The Hideout's new home on College and the outdoors temp on the rise. Ducked in to catch Quivers, making their Canadian debut with a fistful of brisk pop songs, cheeky clever lyrics, lotsa chiming guitars and likeable frontman Sam J. Nicholson. The hard candy-coated Eliza & The Delusionals brought shades of The GoGos and flavours of KPop to their indie poprock with a skittery edge. There are decent hooks and the stirrings of something here but it didn't really get across to the room.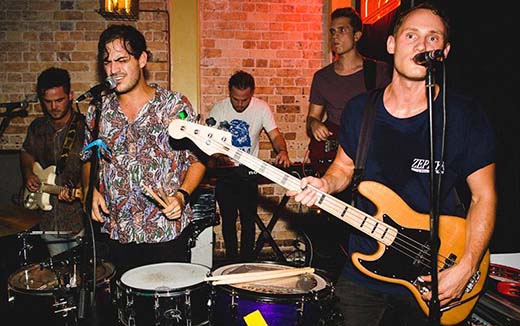 Sydney five-piece Bad Pony is the most buff band we saw all CMW. They deal in a muscular streamlined contempo rock, with just enough smudges of greasy garage roots in the mix. The set was heavy on tunes from current album Deficiency and the dudes dealt it live like the hot hand it is, igniting a sizable brush fire. Next up was Silver Love Club , formerly known as Mabel and presumably the headliner. They showed all the suss and style of the seasoned touring outfit they are, having had radio action in Canada, the US and Europe. Like their fellow Sydneyites do, this is gritty indie rock with powerful vocals and more well honed song craft . It all comes together superbly on current single 'Ghost Town,' a blazing rock'n'roll indictment of the gradual erosion of personal freedoms and the willingness to submit to technology that would fit just fine on a Clash album.
Ears ableeding and in search of softer tones, catching Tasseomancy's newest, Do Easy, live seemed a good choice. Except it happened at The Garrison, a venue more suited to big sounding acts. Sure enough, the Lightman sisters' ethereal harmonies and synth-washed baroque folk pop had to compete with a CMW crowd all mouthy with good fellowship and the occasional blare of sound from the front room making its way into the set. Not a good show but nothing on the act and thanks for the bringing along the sax player.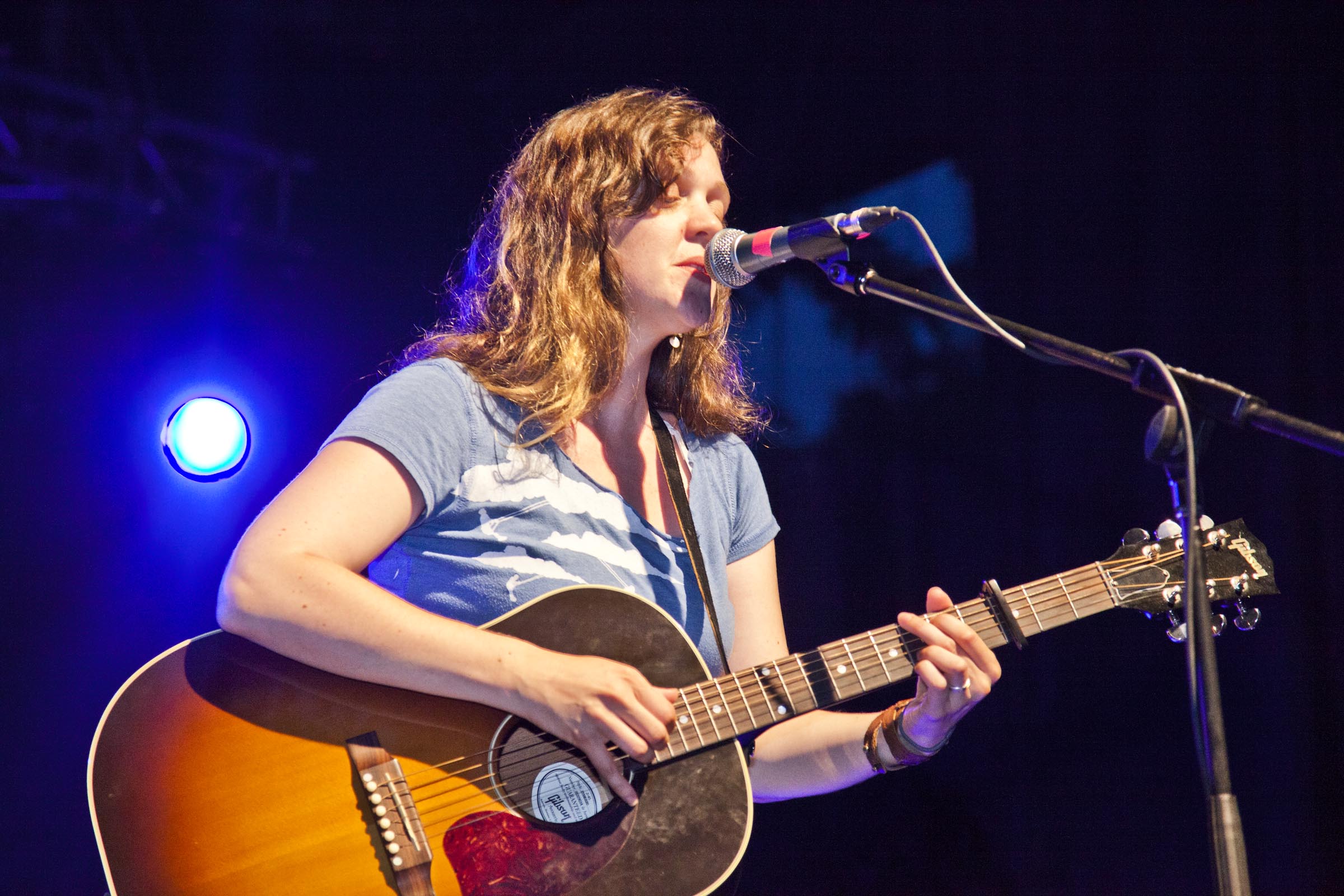 Then there was Amelia Curran at The Phoenix. Curran is a tour-seasoned pro and wasted none of her too short set getting friendly. On offer was a mix of sassy, singalongish, uptempo folkrock sprinkled with glittering electric solos from axeman Peter Kesper, and tightly wound folk tunes delivered with a silky smooth voice and nifty finger picking. All the while holding serious sway over an audience that may have come in large part for headliners Tanya Tagaq and Whitehorse, but stayed to sing, dance and holler their approval of Curran's intense and fan-making performance.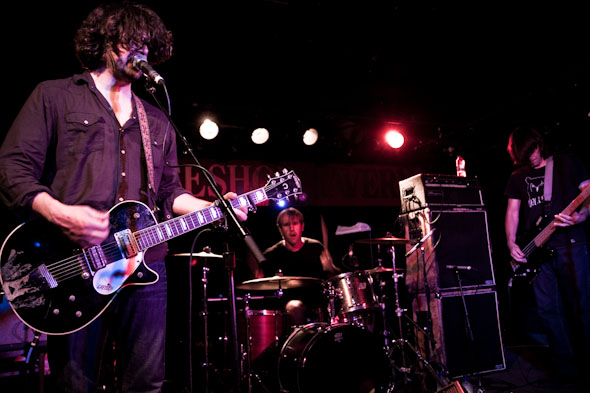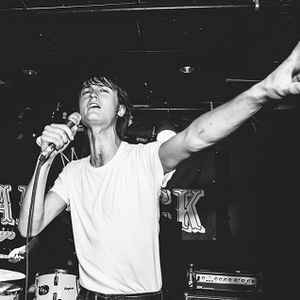 Freshly reunited lo-fi heroes Sebadoh brought their stoned punk sound to the Horseshoe for 4/20 with uh, fittingly stonerish results. The trio battled all manner of glitches and technical probs throughout the set with their typical offhanded cool and 90s charm. Barlow and Loewenstein just kept right on playing, trading off on bass and guitar, breaking off from songs to incorporating sonic probs into their unhinged lofi mind melts. generally putting on a helluva Sebadoh show, which has never been for everybody.
With a set drawing largely from landmark album Bakesale and their most recent from 2013, Defend Yourself, the band managed in a short time to touch up most of the 'hits' from their epic and ongoing career.
Tim Darcy's midnight set at Baby G.had a rec room, all- hands -on -deck jam kinda vibe about it, likely on account on a large number of musicians/ best buds in attendance. The Ought frontman took the stage for his solo outing backed by Charlotte Cornfield on drums and Rachel Cardiello on bass and mood-altering viola. After recording Saturday Night with Cornfield and Cardiello and touring it successfully, Darcy's stately solo project seems to have become a second band for the Montrealer. Accordingly, the set was heavy on material from that album bolestered by a couple of new tunes, of which 'Sledgehammer Rose' hit hardest, with its ornate, filigree-like structure containing some heavy doings which brought a nicely unsettling texture to this perfectly executed set.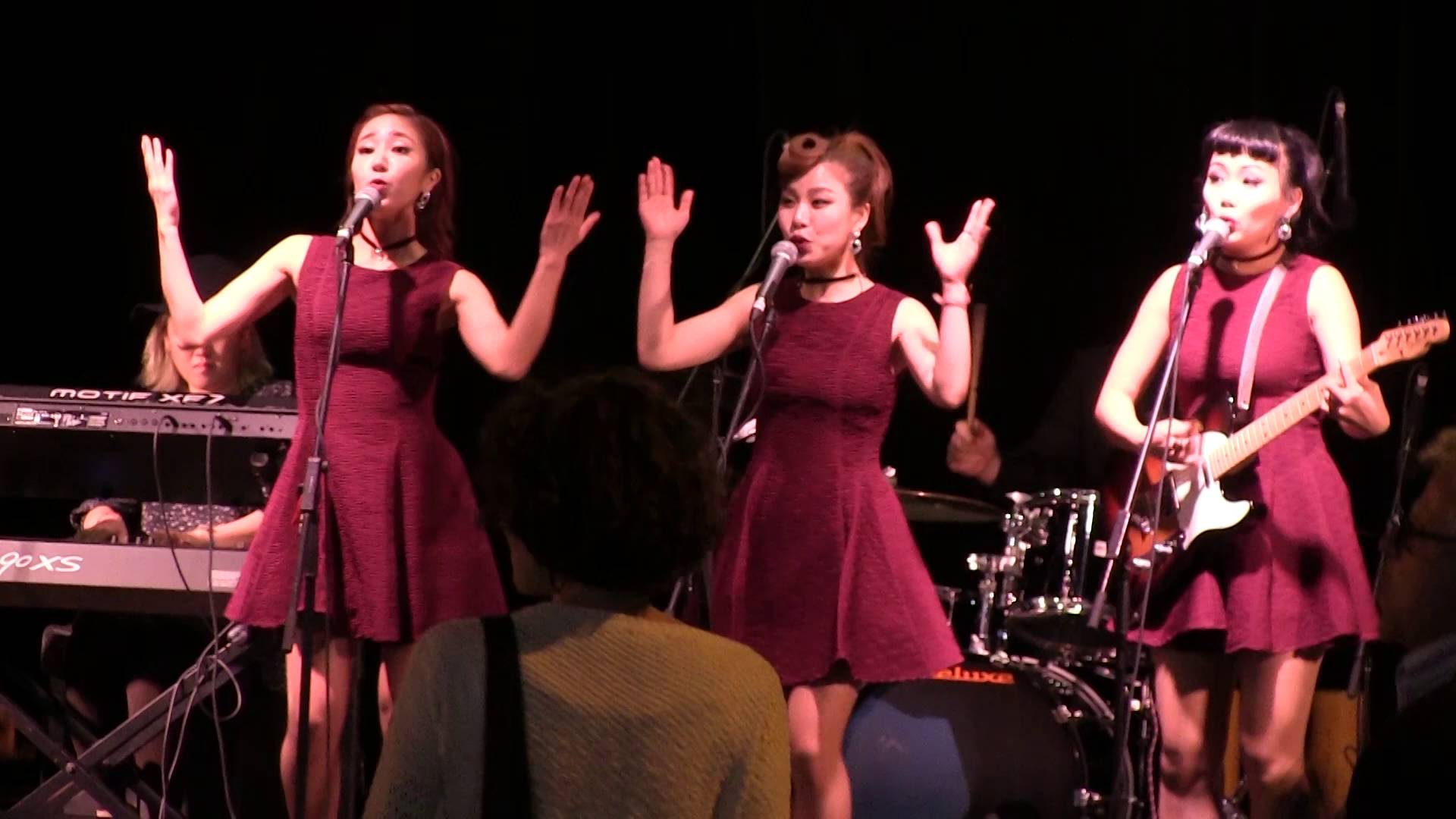 Equally professionally executed and coming from way outa left field Korea, The Barberettes turned in a fun and at times eye-popping set. Setting the scene by walking on in matching satin meets PVC outfits, gleefully singing "This is not your typical K-Pop show", they quickly cued in the backing band and set about proving out the brag with a set of quirky retro pop with room for reimaginings of "Mr. Sandman" and " Be My Baby." They riffed on Sixties girl group pop, doo wop, KPop bubblegum and tight, snappy poprock. Darn fine vocalists they were, romping up and down the scale without losing any power or exuberance. Yes, there was choreography, a crowd-pleasing meld of Motown moves and Seoul style dubstep that helped keep the Lee's Palace throng righteously entertained for a set widely perceived as way too short.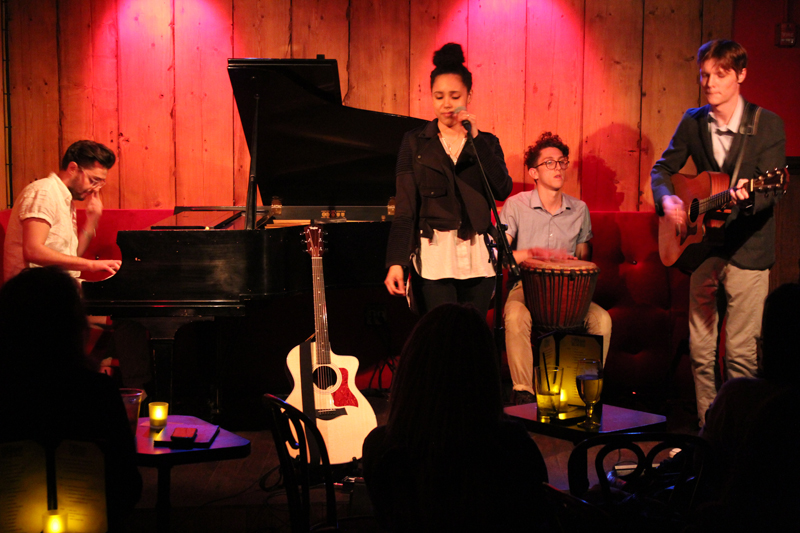 The Academy showcase at Revival brought out some fresh on the rise r'n'b talent highlighted by Brooklyn's Tangina Stone and Brampton's K.Forest. Stone's approach is a hard hitting one, ably abetted by a three piece which left the nuances up to the vocals. The meat of the set was off current album Elevate, songs like 'Matter' and 'Lost Myself' set up to showcase Stone's Erykah Badu meets Stevie Knicks reference points. Unfortunately, a tendency to stay with the same dynamics brought a touch of sameness to the back end of the set. Standout was the up-tempo and very accessible 'Anxious', a co-write with Nelly Furtado.
The 22-year-old K. Forest came fresh from a European tour in support of the Forest Fire album, an eclectic group of songs which expand the T.Dot R&B sound with acoustic guitars and a stronger hardcore rap presence alongside the Teddy Pendergrass and Donna Summer smooth soul influences of his youth. The enticing vocals coupled with some Prince-ly funked up r'n'b had the crowd moving from the get go to Forest's 'spiritualized' take on the genre. The strength of the new material is such that "Guidance" the breakout hit for Travis Scott written by Forest, impacted nicely but didn't overwhelm. A solid outing from a solid new talent with lots more good stuff to come.
Then somebody sprinkled fairy dust and just like that it was Sunday and I was back home sprawled out on the couch on a bed of CDs.