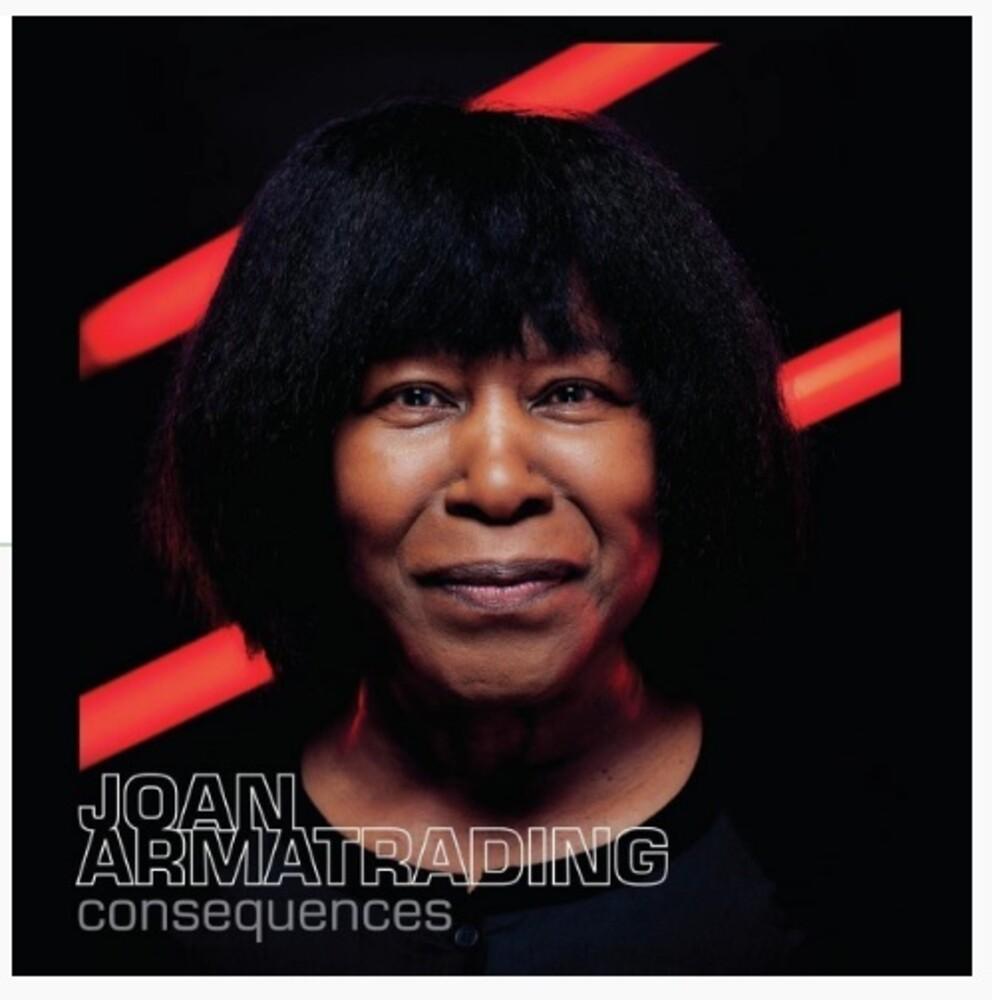 Fri Oct 01, 2021
Joan Armatrading has been a UK singer-songwriter now for around half-a-century, a fact that seems to come as a bit of a surprise to both of us when we hook up for a chat about her career and her latest chart-topping album, 'Consequences.'
Armatrading is the first UK female singer-songwriter to receive a Grammy Nomination. She is clearly extremely proud of this and when I venture to express an expectation that it must have been an extraordinary thing for a black woman to achieve, back in 1980 when it first happened, (she's been nominated three times, so far) she swiftly puts me in my place: "It's nothing to do with being 'black.' That's never been an issue for me. I've never felt any pressure or stress because of that, or because I'm a woman. I'm a writer. I never played covers though my first label did ask if I was going to do some covers of others' songs. That was a short conversation. I don't do that. It's just not going to happen. I'm very self-assured. I have a confidence in what I do, what I write, record and how I work."
"I released my first album, 'Whatever's for Us,' in 1972. But looking back, I worked on it, recorded it in 1971, I think. So that's now fifty years ago!" She laughs at the idea so much time has passed. "It feels great. You know, you don't think when you're young. You just think you can just do it for as long as you want to do it! Back when I started out, somebody said to me, 'I'll give you five years!'  An underestimate, fifty years later, I'm still here. I think I've done alright," she adds again with a rippling laugh.
Originally from St Kitts, Armatrading's mother was from the island while her father came from neighbouring Antigua. She recalls arriving in England aged seven, travelling over herself, as her parents had flown ahead earlier. The story of how she first came to play guitar is well known, and Armatrading confirms its veracity, explaining the overall circumstances that led to her becoming a musician:
"My father played guitar, so we always had one at home. But I was never allowed to even touch it! That just made me want to play it all the more. Well, my mother got a piano, because she liked it as a piece of furniture. So, I could hit the notes, but I still wanted a guitar. My mother then swapped two prams in exchange for a guitar for me. I still have that same guitar!"
When I express surprise that her father never let her play or touch his guitar, she laughs, telling me: "Yea, he never taught me chords or any of that. He never let me near it. But when I got my own guitar, he did teach me, show me how to tune it. Probably the most important thing to get when you first learn guitar. But he tuned it in a way I've never seen anybody else do either since or before."  Again, my curiosity risen, I ask how he tuned it: "I can't explain. It's a funny little tune thing. And it's still how I tune a guitar now."
These days, after around twenty albums and numerous Grammy nominations, Armatrading is relaxed about fame and success but grateful for the support of her peers and the awards circuit: "I get asked what's my personal proudest achievement. Well, I've got an MBE and a CBE, other awards, but getting my BA Honours degree means most. I had to work, do the essays, sit the exams. Honorary degrees are good but that still is most important" And, I suggest, the Ivor Novello Award for Outstanding Contemporary Song Collection in 1996, must also mean a lot, as she first and foremost considers herself to be a writer: "Yea, of course. I'm a writer, it's what I do. It's how it is and how I am. I can never see myself retiring because as long as I can still write, I will. I don't have to perform, I can just write."
Turning to the latest album, 'Consequences,' it's soon evident that Armatrading is pleased with progress. Within a week or two of its launch in July, it shot into the top ten in the album charts, a well-deserved accolade for what is truly a wonderful release: "It's gone so well," she says. "My last album hit the top thirty in the charts. But 'Consequences' went straight into the top ten. So, I'm improving," she adds, with another laugh.
Asked about the recording process, she confirms she is something of a perfectionist, but shies away from any suggestion that she likes to have control: "I like to go into the studio with it all ready. I don't go in hoping I'll have an idea. If I have written, say, ten songs on an album, then I go in with those ten songs. I have it in my mind, how it will sound. For many years, since around 2002, I've played all my instruments. When you hear drums, I've programmed that. These are songs I've written, so it's for me to do them. I know normally a producer or a band member would get the sound needed, but these are my songs, so it's for me to get them done. I always like to know what's going on. I don't go in hoping something will happen when I get there. I know what's going on. That's my job, it's what I do. I go into the studio with the shape already there."
Known for her use of Ovation guitars, Armatrading admits to using a Martin on the latest recording but also confirms she still loves Ovations, both six and twelve-strings, and generally plays them most: "I love playing guitar. It's such a challenging instrument."  A little bit more portable than a piano, I add, and she laughs yet again and agrees: "Yea, a bit more portable. I still play Ovations, though on this album it's a Martin. I have Gibson too. But it depends on the sound, on what the song needs," she explains. "I can hit them very hard at times, punish them." Again, her laughter rings out.
Armatrading has a reputation for guarding her personal life, privacy is always an important strand to her. And although it's always tempting to assume that song lyrics are always deeply personal and possibly ultimately revealing, she is happy to outline her thinking on the subject generally: "'Consequences' is maybe the most intimate album I've ever made. But the songs are not all about me. I like my privacy. With that in mind, why would I suddenly throw all of it out with my songs? Why would I just sort of open up my private life like that? I read somewhere recently that I'd never written a song about me, but that's also nonsense. How can that be possible? We all write about life, what we see, hear, feel, experience. Take the song, 'Better Life,' that's very much me, very much how I think. It's important to recognise yourself, be proud of yourself, be optimistic, not to always compare yourself to other people. That's all very much me. You can always tell the songs that are me, cos they have that positive, optimistic thing about them."
After so long at the top of the music business, Armatrading can glance back and seems delighted by her extraordinary success and global position: "I recall the excitement back when I started out with my career. I never felt that I had to address any real issues. In 1976 with 'Joan Armatrading' then in 1980 with 'Me, Myself, I,' people did take notice. And that was great. But, you know, every album that comes out all have that same excitement for me. I'm excited about my new album ('Consequences'). Almost every album feels like that first album in 1972. Taking it back a bit, I remember being super-excited by my first album. And I feel genuinely super-excited again about this one too. I felt the same about my last one too, so that's a constant."
The Pandemic has made little impact on Armatrading and her music. Save for missing out on meeting friends, eating out and shopping – the normal things of life – she says she has hardly been affected: "I didn't plan any tours this year, when the new album launched, or next year. I did a Livestream gig in July to support the launch of 'Consequences,' but I've been using technology more and more anyway in recent years. So, I can honestly say that the pandemic has had virtually no effect on me, save for going out with friends, eating out at a restaurant or shopping. I have my own studio where I work, so I just get on with it. I've been doing it so long now, it's just normal for me."
For more visit: https://www.joanarmatrading.com/