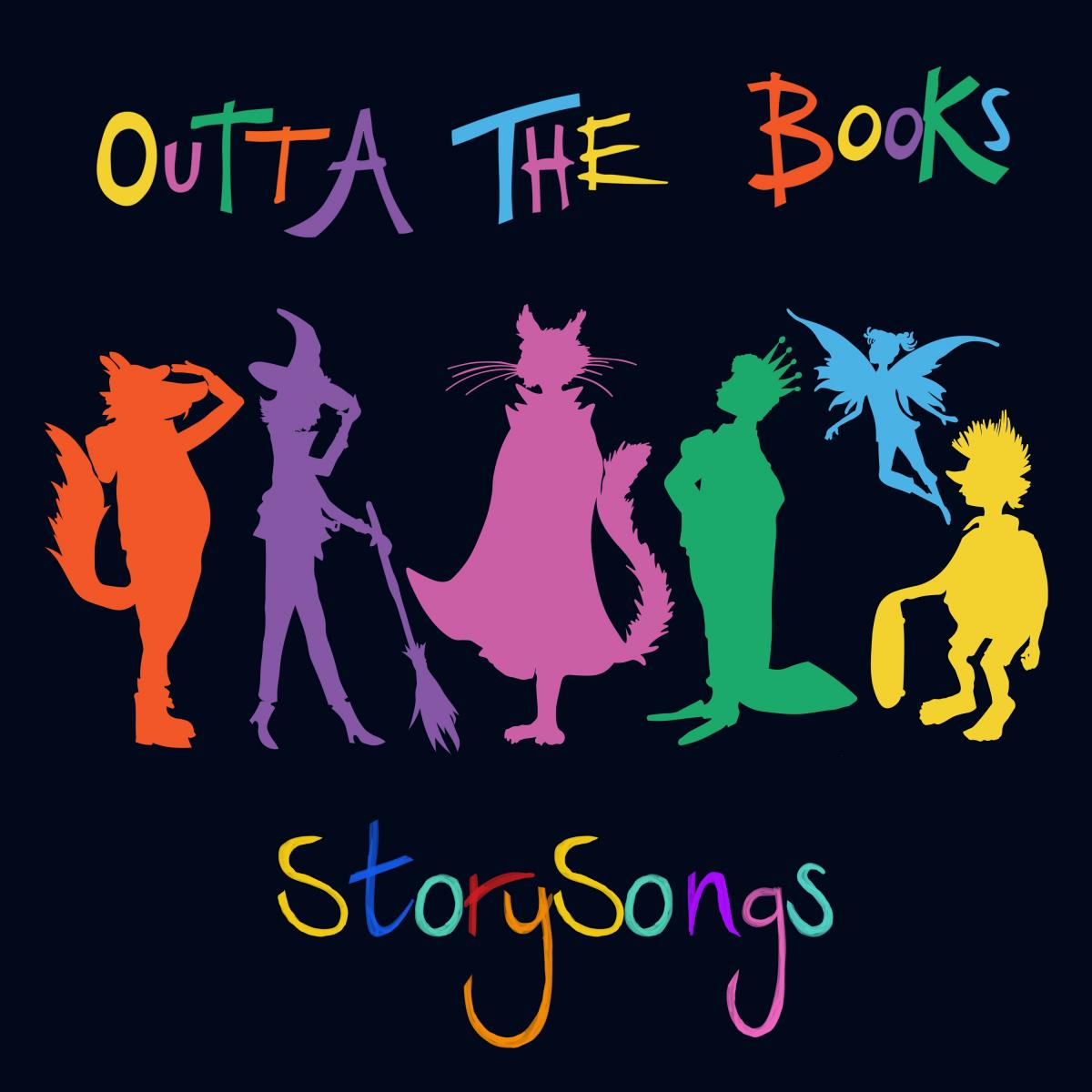 Fri Nov 20, 2020
Composer/musician/producer Brian Banks & Canadian author/playwright/journalist Erica Ehm (MuchMusic!) team up for new children's multi-platform digital series, 'Outta The Books'.
Each award-winning in their own right, American composer and producer Brian Banks and Canadian author, playwright and ex-MuchMusic VJ Erica Ehm have harnessed the power of music and story with the release of a new children's series, Outta The Books — including Chapter 1: "A Wicked Competition".
Check it out here:
Outta The Books: Chapter 1 - A Wicked Competition
Reimagining classic fairy tales in a modern, meaningful way, Outta The Books creates a fun and fresh musical take on long-loved fables by showcasing storylines from some unexpected characters — the "extras," if you will.
The eight-episode Season One run features all-original "StorySongs," with a new episode available every two weeks via YouTube and digital music streaming platforms.
"The characters from Outta The Books are all familiar character types from the classic tales,  they're just not the famous ones," Banks explains. "They're your everyday, run of the mill Fairy, Big Bad Wolf, Witch, Prince… 
"Fairy tales can be mirrors to help us all understand our present lives," Banks considers. "They're also there to educate all children as to how the world works, so using regular characters to retell classic tales helps show that anybody can do great things.
"And because Outta The Books is a band, we're also teaching teamwork.
"This project is rooted in musical theatre and designed to entertain, but I have always believed in the power of art to educate and connect," he adds. "I hope people will see that these wonderful stories are incredibly relevant in the current complex and divided world we find ourselves living in."
First created by Banks (Michael Jackson, Steven Spielberg, Quincy Jones, David Bowie), Outta The Books is directed by Neil Fisher and written by multi-award winning Canadian author, journalist, playwright, publisher, and songwriter Erica Ehm.
The project taps a noteworthy roster of sought-after actors — including Karl Queensborough and Carl Spencer, esteemed cast members of London, England's production of "Hamilton." Additional contributions abound, from character designer Emily Carew-Woodard, editor Johnnie Semerad, costume and prop designer Charlotte Banks, and more.
That said, an inventive multi-platform digi-series was not always the plan for Outta The Books; initially slated to be a theatre production for the Edinburgh Fringe Festival, the show was adapted to accommodate restrictions put forth due to COVID-19.
As such, scenes across all eight "chapters" were filmed entirely on iPhones, the footage elevated with upgraded microphones and the post-production magic of green screens. Actors completed their own make-up, lighting, and camera work, and Banks, Fisher and Ehm attended each shoot remotely via Zoom from their respective bases in Los Angeles, Liverpool, and Toronto.
"This has been an extraordinary journey, and a very different one from the one I had anticipated," Banks shares.
Outta The Books' Chapter 1: "A Wicked Competition" is available now, with new episodes airing every two weeks.
 
// ABOUT BRIAN BANKS
A Los Angeles native, composer, songwriter, producer, educator, and creative techno-wizard Brian Banks has been immersed in the LA music scene all of his life. His musical talents coupled with his mastery of cutting edge technology has led to work with some of the world's most influential artists and filmmakers, including Michael Jackson, Quincy Jones, Steven Spielberg, Giorgio Moroder, David Bowie, Rob Reiner, and Sylvester Stallone. His artistry and creativity can be found on legendary albums like "Thriller" and "Can't Slow Down," and on feature films like The Color Purple, Stand By Me, and War Games.
In 1992, he founded Ear To Ear Music to provide music for commercials, and went on to compose music for campaigns for American Express, AT&T, Anheuser-Busch, Apple, BMW, Ford, GM, Hasbro, IBM, Kodak, Lexus, Mattel, Morgan-Stanley, Motorola, Nike, Nissan, Sprint, Toyota, Visa, and more.
Over the past 35 years in advertising, Banks also created music for children's brands including BARBIE, BRATZ, Disney's The Little Mermaid, and more. It is this focus on music for children and their parents that has led to the creation of StorySongs and Outta The Books.
// ABOUT ERICA EHM
As one of the most recognizable names in the Canadian media and entertainment industry, Erica Ehm has built a multimedia portfolio, including credits as an author, journalist, playwright, and awarding-winning songwriter.
Ehm is Founder and Publisher of YMC.ca, and CEO of digital agency Ehm & Co, both serving the mom market. Under Ehm's leadership, her companies have earned over a dozen prestigious industry awards. She is considered a pioneer in social media marketing and, as a trailblazing leader who inspires and innovates, is in demand as keynote speaker and moderator for corporate and lifestyle events.
// Outta The Books: Season One Synopsis
Chapter 1: "A Wicked Competition"
In the Land of Once Upon A Time, the Treasury of Tales is crumbling because nobody is reading anymore.  The Librarian decides to hold a singing competition called "Once Upon a Tune" to find the best Fairy Tale Character to go out into the Real World and re-ignite the love for stories.
Chapter 2: "Melody Sings the Blues"
The first contestant is Melody, the Blue Fairy.  Having always been ridiculed for being the "Wrong Color Blue", She sings her favorite StorySong (which has some awesome faries in it) where good triumphs over evil - even if it takes 100 years.   Warble the Ogre then shows us how anxious he is to be the voice of the Land of Once Upon A Tune.
Chapter 3: "Ogres and Jokers"
Warble the Ogre shows what he's made of on stage. Then Prince Pollywig gets his turn to shine. And shine he does. He shines his mirror, he shines his crown, he shines his sword.  Let's just say, he's a bit shiny.
Chapter 4: "Good Things Come in Small Packages"
T-Roll, Half Troll and Half Elf, confesses how hard it's been for him to never fit in. He sings a StorySong which shows that if you have faith in yourself, you will ultimately find your way and be accepted by all.
Chapter 5: "Pretty Evil"
Trixie the Witch can't make up her mind if she's a good witch or a bad witch.  So she sings a StorySong that features a really really BAD witch.  Maybe this helps her decide?  Then Princess Euphony Shows us that her Beauty is only skin deep!
Chapter 6: "The Big Good Wolf"
Having come from a long line of Big Bad Wolves, C Major is out to become a new kind of wolf.  Not driven by bad impulses, he is careful and thoughtful.  His StorySong is all about keeping steady and focusing on your goals.
Chapter 7: "Spellbound"
Time for The Librarian to make that big decision as to who will be the winner of the "Once Upon A Tune Talent Contest"!  But can the contestants influence her decision???
Chapter 8: "Witch One Wins"
Do we have a winner?  Are we happy with the result?  Will the Treasury of Tales be saved?  Somebody's going to have to Think Outside The Books!
For more visit:
outtathebooks.com/
facebook.com/OuttaTheBooksBand/
instagram.com/outtathebooksband/
open.spotify.com/artist/2a9obSeVJXffyi6obiMvAi