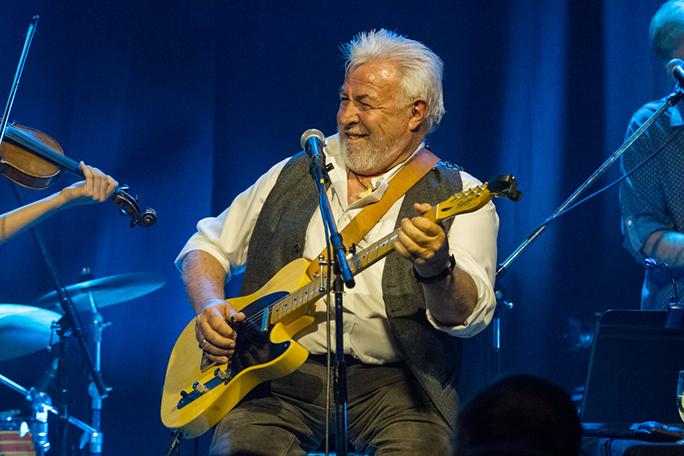 Fri Jun 26, 2020
White Rock, BC's Blue Frog Studios has announced their exclusive early-Summer live concert lineup — including Jim Byrnes, The Kingpins, and more!
The homegrown 'first-and-only of its kind' series of live-streamed concerts from the British Columbia-based broadcast and recording theatre are an experience for the ages, and feature everything audiences traditionally enjoy from a live show: premium production, incredible acoustics and stunning visuals.
Jim Byrnes
Saturday, July 4th @ 7pm PST / 10pm EST
The Kingpins
Saturday, July 11th @ 7pm PST / 10pm EST
Ladies Sing the Blues
Saturday, July 18th @ 7pm PST / 10pm EST
Tickets for Blue Frog Live Streams
"This is a way for audiences to support and enjoy live music from their comfy couch," Blue Frog Studios co-owner Kelly Breaks says. "We connect Canadians with performers and immerse them in the best concert sound they'll ever experience at home."
Artists agree: GRAMMY and JUNO Award-winning singer/songwriter Dan Hill says "I want to kidnap Blue Frog Studios and take it around the world with me. I can't wait to come back!" while Platinum-selling and one of Rolling Stone Magazine's Greatest Singers of All Timers Paul Rodgers says "LOVE Blue Frog… What a great room."
Located in the west coast beach town of White Rock, Blue Frog's state-of-the-art concert theatre was already a jewel on the Canadian concert scene long before COVID-19 and the resulting concert cancellations factored in. Able to accommodate up to an 80-piece orchestra plus an intimate 100-seat audience, the studio provides world-class sound, lighting, video and audio recording technology — all helmed by an unparalleled production team.
Tickets for concerts at Blue Frog Studios can be purchased in advance for individual shows, or music lovers can subscribe to the Studio's Blue Frog TV. The $7.99 monthly 'ticket' of sorts includes a virtual seat to all upcoming live streams, exclusive behind-the-scenes content, and extended access to Blue Frog's full library of archived shows — including the Philosopher Kings, Jane Bunnett, Kenny "Blues Boss" Wayne, Crystal Shawanda, Jefferson Starship, Sue Foley, Daniel Wesley, Powder Blues, and (many) more
For tickets visit: https://www.bluefrogstudios.ca/live-streams.html
For more visit:
bluefrogstudios.ca/
facebook.com/BlueFrogLive/
instagram.com/bluefrogstudios/
twitter.com/bluefroglive