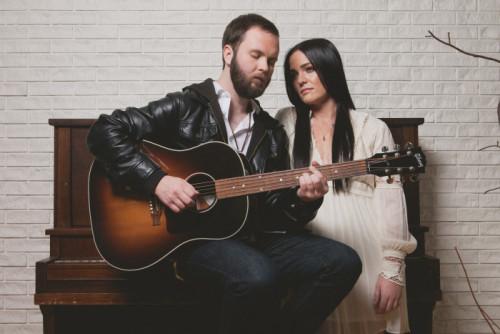 Fri Jun 02, 2017
An early contender for summertime anthem of 2017, "Bright Eyes" – the sunny and outrageously catchy second single from country crossover duo The Orchard's acclaimed third album The Great Unknown – drops June 5 via Royalty Records.
Make space on your seasonal playlist. While The Orchard – a.k.a. singing/songwriting duo Kasha Anne and Mitch Smith – are well known for crafting brilliantly accessible, lyrically driven songs best described as "a cosmic blend of rock, country and pop" – the sheer lustre and lyrical heft of "Bright Eyes" is terrifically new.
The song "encourages you to live in the moment and be more optimistic," vocalist Kasha Anne offers, "which is something we all need from time to time."
Adds Smith, "'Bright Eyes' showcases a rocking groove by our killer band with lots of fun guitar parts. It's probably one of our most energetic singles, and it always gets people on their feet!"
Indeed, the track was a favourite of The Great Unknown producer Jim Scott whose sprawling CV includes work with everyone from Wilco to Tedeschi Trucks Band, Tom Petty to the Foo Fighters. Scott knows a bona fide smash when he hears one.
"Jim Scott loved it so much that we had to find a home for it on the album," Smith confirms. "Plus, it shows yet another side of Kasha's voice. The lyrics touch on the strength and courage it takes to go it alone, and to hold out for a better tomorrow. Appropriate timing for this song in so many ways..."
"Bright Eyes" follows first single "Sometimes I Wonder," which heralded The Great Unknown's arrival to universal praise this spring. Now, as the affable Alberta duo prepares for a hectic summer of touring (scroll down for a complete itinerary), the effervescent, guitar-goosed "Bright Eyes" is poised to soar on patios and poolside from coast to coast.
Says Kasha Anne, "Between the instruments and vocals, there are enough catchy moments in this song that each time you listen you find something new!"
The Orchard Tour Dates
June 10th Relay for Life Sherwood Park AB
June 16th Party in the Park Whitecourt AB
June 23rd Century Casino St. Albert AB
June 24th Century Casino St. Albert AB
July 8th The Station Calgary Stampede Calgary AB
July 9th Coca Cola Stage Calgary Stampede Calgary AB
July 25th Taste of Edmonton Edmonton AB
August 20th Cafe Deux Soilel Vancouver B.C.
August 24th The Roxy Vancouver B.C.
The Orchard
For more information, please contact:
Eric Alper www.ThatEricAlper.com