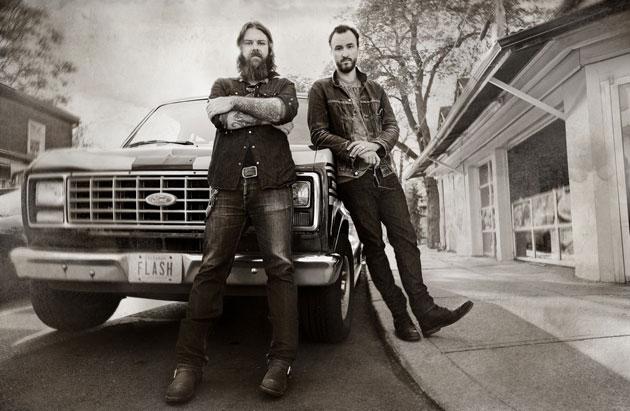 Fri Mar 23, 2018
Always bound by friendship, Darren Glover and Darcy Yates of Flash Lightnin' resolutely refused to officially call it quits when Glover returned to Victoria in 2015, while Yates toured the world as a session player with the Bahamas. While only gathering on occasion for special and memorable shows such as their 10th anniversary in Toronto in 2016, it was finally time to acknowledge the inevitable, but not without a final, incredibly powerful recorded statement.
They are excited to announce that their upcoming EP Homage is set for release on April 6 via Pheromone Recordings. Along with the announcement they have given fans a taste of the EP today with their version of Jeff Beck's interpretation of The Yardbirds' "Shapes of Things."
In the fall of 2015, Glover and Yates gathered with powerhouse drummer Blake Manning at Toronto's Revolution Recording with Ian Blurton at the controls.
Four stone classic rock 'n' roll songs were covered:
Peter Green/Fleetwood Mac's "Green Manalishi"
Mountain's "Never In My Life"
Jeff Beck's interpretation of The Yardbirds' "Shapes of Things"
Cream's "Swlabr"
Simply put the combination of Flash Lightnin', Ian Blurton and Revolution's cavernous Neve room delivered the goods and in spectacular fashion.
We'll leave the last words to Darren Glover: "It took 30 years to finally make the rock and roll record I always wanted to make. Live, real and raw! 60's and 70's rock has been the backbone of my dreams and love for the electric guitar, especially British players like Clapton, Beck and Peter Green. Let's not forget the massive tone of Leslie West who himself was a byproduct of the British blues invasion. This EP represents our life-long passion and respect for the birth of high powered electrified blues."