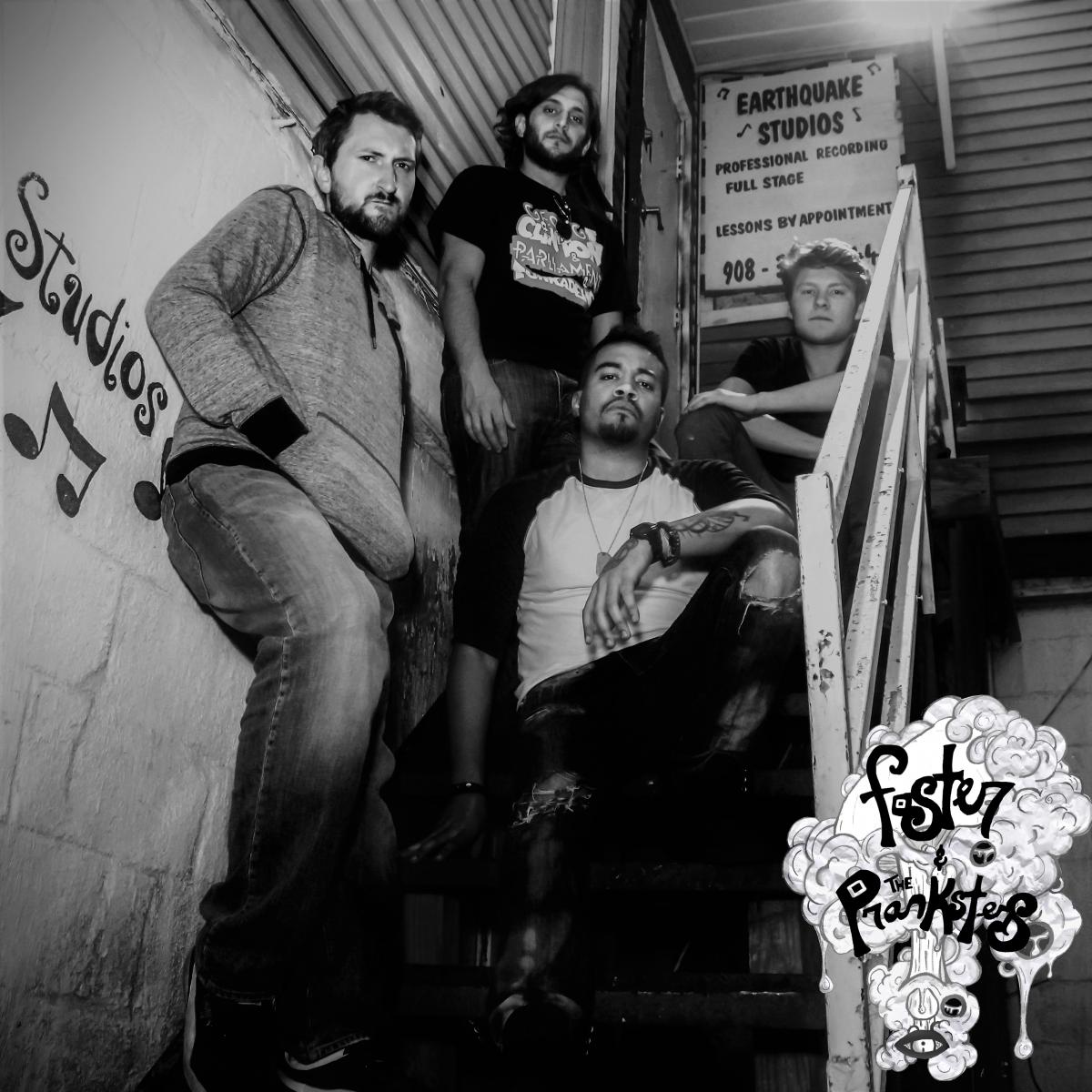 Fri Oct 05, 2018
There are legendary days in every band's history, and nothing could be truer than Saturday, July 28th, 2018 and its resulting 12-hour 'one-take' recording session for New Jersey-based rap garage rock collective Foster & The Pranksters.
The results produced the group's freshest single, "Live As It Gets [Prankster Remix featuring Royce Da 5'9]", as well as their newest EP, La Honda — available now!
Equally influenced by hip-hop heavyweights like Kanye West and The Roots, and rock icons like The Strokes, Jimi Hendrix, and The White Stripes, Foster & The Pranksters — including Foster the Prankster (vocals), Mike Chowanec (guitar), Steve Padelski (bass), and Chris Stadler (drums) — create a sound that feels familiar, yet completely original, all at once.
But getting that signature sound out to the masses? That would prove to be the collective's biggest challenge yet. Following the release of 2016's "Think Me A Fool" — the band's debut single — Foster & The Prankster's hit a rough patch. "We couldn't find the perfect drummer," Foster recalls. "We were bouncing between studios in New Jersey. We were trying to piece together recordings that would be 'worthy' of an EP."
After a long, open-ended audition to find a suitable stickman, things started to come together following Stadler's recruitment in early 2018. "We decided then to go completely DIY," Foster continues. "We said, no more expensive studio sessions with engineers who couldn't achieve the sound we were looking for. Instead, we purchased an 8-track recorder and a stock of quality microphones. We were ready to get to work, until..."
It was as if the Universe was playing a prank on them. In one final blow to their now-resuscitated timeline, the band was unceremoniously kicked out of their monthly rehearsal room and left with no space to record.
"La Honda was a spur-of-the-moment decision, borne of musical frustration, anxiety and a need to let our signature sound be heard," Foster shares. "In Steve's parents' basement, we were able to perform every track, from a collection of songs we had written over the past year, from B-sides and cuts from our live set-list..."
"While housesitting for my parents, we set up some mics and laid down a few jams that we'd been sitting on for the past year," Padelski confirms. "What we recorded that weekend were some of the rawest cuts I've ever been a part of."
Over the course of a single marathon session, Foster & The Pranksters recorded La Honda in its entirety.
"We wanted the raw energy of performing live takes — no punch-ins — the way many of our favourite bands of the 60s and 70s had done it," Foster chimes in. "Ironically, it ended up being one of the best choices we've made as a band. This EP was created for our true supporters and fellow Pranksters, with no regard for the current climate of popular music."
With Saturday's marathon session wrapped, Foster recorded vocals before mixing and mastering the six-track collection over the course of the next six days. La Honda was released directly to fans on August 10th, 2018.
"Since joining the band in April, I've been excited to be a part of something that I'm proud of," says Stadler. "Recording La Honda was an amazing opportunity to see what we can really do as a group when we put our energy into something creative."
"Writing & recording La Honda was a feeling of pure creativity in every sense of the word," Mike agrees. "From the early conceptualization stages, until the moment we finished this project, all I thought about was the music. We shut off the outside world and just focused on our craft and vision of bringing real music that we would love, as fans; to the rest of the world. I am extremely proud of La Honda and all of the hard work that every member of the band put in."
La Honda is available now.
For more on the band visit: www.bandofpranksters.com
For more information, please contact:
Eric Alper www.ThatEricAlper.com