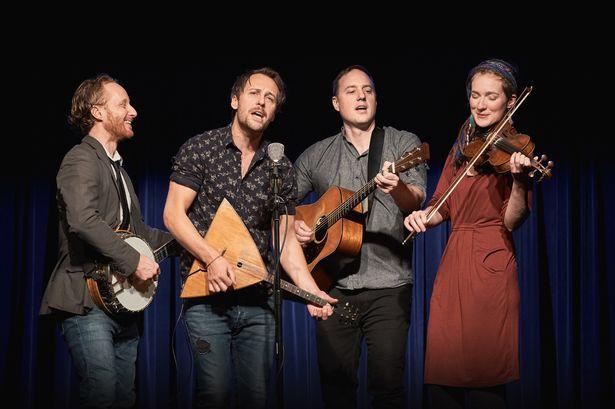 Fri Jan 05, 2018
The Fugitives are a modern folk group based out of Vancouver, BC. They have released three full length albums and two EPs, with a new full length, "The Promise of Strangers", released last fall. Recent highlights include touring to twelve countries, being nominated for multiple Canadian Folk Music Awards and a Western Canadian Music Award for Best Roots Album, opening for Buffy Sainte-Marie across Western Canada, and playing UK's Glastonbury Festival.
When not touring as musicians, current frontmen and songwriters Brendan McLeod and Adrian Glynn are active in other artistic pursuits. McLeod is an award winning novelist and former Canadian SLAM poetry champion, while Glynn is a working actor who received rave reviews for his role in Chelsea Hotel, a play based on the songs and poems of Leonard Cohen. Their band is similarly eclectic, boasting prominent former members like Mark Berube and CR Avery, and current violinist/vocalist Ali Romanow, a singer-songwriter in her own right, and multi-instrumentalist Steve Charles.
This diversity has carried over to their records and live performances. Their first full-length received a Canadian Folk Music Award nomination for "Pushing the Boundaries" of contemporary roots music, and their follow-up was praised for being "eclectic and exciting" (See) , "poignant" (Uptown), and "infectious" (CBC). They've gone on to sell out shows at venues as diverse as the Vienna Literary Festival, the Winnipeg Fringe Theatre Festival, and the Vancouver Jazz Festival, while maintaining a frequent spot on the Canadian folk festival circuit. As McLeod puts it, "We're like Broken Social Scene. But acoustic, and way less famous."
Bigger than Luck, the EP precursor to Everything Will Happen, spent ten weeks on the top ten Canadian folk charts. Everything Will Happen was nominated for a Western Canadian Music Award for best roots album (duo or group). Their upcoming release is entitled The Promise of Strangers.
THE FUGITIVES COMING TO HUGH'S ROOM LIVE
WEDNESDAY, JANUARY 31 • DOORS 6PM/ MUSIC 8:30PM • $25 adv/$30 door
2261 DUNDAS STREET WEST, TORONTO • 416.533.LIVE (5483) hughsroom.com