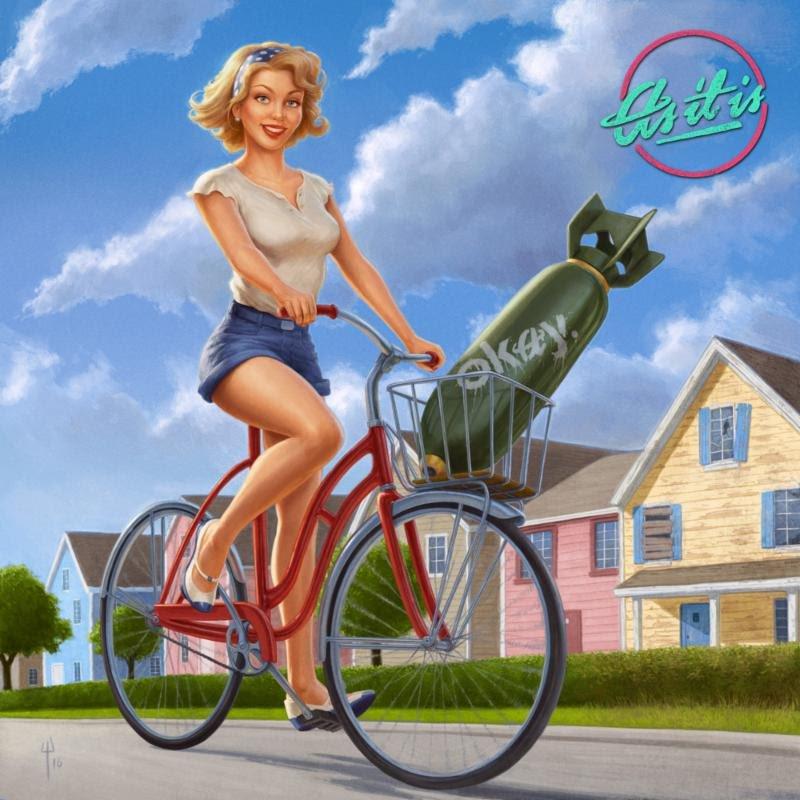 Fri Dec 02, 2016
Brighton, UK's, As It Is, has released the third track, No Way Out, from their highly-anticipated sophomore album, okay., set to release January 20, 2017.
Digital and physical pre-orders are availablenow, where singles Okay, Pretty Little Distance, and No Way Out are all available as instant downloads with each pre-order.
No Way Out follows the album's title track, and Pretty Little Distance, and deals with the same events and feelings that inspired the first single. Vocalist, Patty Walters, states, "No Way Out is about the desperation and exhaustion from struggling, when your best intentions and attempts seemingly lead you nowhere. Musically, the song is fast, dark, and aggressive, so we wrote lyrics that would parallel and compliment those qualities. Overall, our lyrics on this record are more honest and vulnerable than ever, and this song's bridge especially is a prime example of that."
The release aims to bring a truly relatable and deeply personal story to the band's audience -- a conceptual world that puts listeners in the band's shoes and conveys a common realization that it's 'okay' to not be 'okay.' Working with producer Mike Green (Pierce The Veil, All Time Low), As It Is use the record to trek through intimate experiences surrounding their personal lives and everyday battles that they hope will resonate with fans in a unique way, leaving them with lasting encouragement and inspiration.
As It Is will kick off a string of headline dates in Australia on January 31, before heading out on an EU/UK tour as support to State Champs, starting on February 21. Scroll down for a full list of tour dates.
About As It Is
The transatlantic pop-rock quintet hails from Brighton, UK, consisting of Patty Walters (vocals), Benjamin Biss (vocals, guitar), Andy Westhead (guitar), Patrick Foley (drums), Alistair Testo (bass). As It Is has successfully established an ever-growing, devout fan following with their heart-on-sleeve, honest and relatable lyrics, charged with pop-rock melodies, and has steadily built their reputation as one of UK's brightest new names with the 2015 release of their debut album, Never Happy, Ever After, which was noted by Rock Sound as "everything a modern pop-punk album should be," and by Outburn Magazine as "an impressive first outing that sets the stage for As It Is' bright future." The band was noted as one of Alternative Press' 100 Bands You Need To Know in 2015, voted Best British Newcomer by Rock Sound in their Reader's Poll, and lead singer Patty Walters was featured on the cover of their New Music Issue. The band has crisscrossed the U.S. as a standout act on the Vans Warped Tour 2015, have shared the stage with Mayday Parade, Real Friends, and This Wild Life, among many others, and were nominated for Best International Band in the Alternative Press Awards 2016. With the release of their second, full-length album, Okay., As It Is push themselves both musically and lyrically to craft their most personal and honest record to date, and stand poised for their biggest year yet.
AS IT IS TOUR DATES
JAPAN HEADLINE
Jan 26 - Osaka @ SOCORE FACTORY
Jan 27 - Nagoya @ 3STAR
Jan 28 - Tokyo @ GARRET
AUSTRALIA HEADLINE
Jan 31 - Perth @ YMCA HQ
Feb 1 - Perth @ Rosemount Hotel
Feb 2 - Brisbane @ The Brightside
Feb 3 - Brisbane @ The Lab
Feb 4 - Sydney @ The Lair
Feb 5 - Sydney @ The Lair
Feb 7 - Newcastle @ Drone
Feb 10 - Melbourne @ The Evelyn Hotel
Feb 11 - Melbourne @ The Evelyn Hotel
Feb 12 - Adelaide @ Fowler's Live
w/ STATE CHAMPS
Feb 21 - Bilbao, Spain @ Stage Live
Feb 22 - Barcelona, Spain @ Razzamatazz
Feb 23 - Madrid, Spain @ El Sol
Feb 25 - Paris, France @ La Boule Noire
Feb 26 - Amsterdam, Netherlands @ Melkweg
Feb 28 - Cologne, Germany @ Luxor
Mar 1 - Hamburg, Germany @ Logo
Mar 2 - Berlin, Germany @ Bi Nuu
Mar 3 - Vienna, Austria @ Arena
Mar 5 - Milano, Italy @ Legend Club
Mar 6 - Karlsruhe, Germany @ Die Stadtmitte
Mar 7 - Antwerpen, Belgium @ Trix
Mar 9 - Southampton, UK @ Engine Rooms
Mar 10 - Bristol, UK @ O2 Academy
Mar 11 - Manchester, UK @ O2 Ritz
Mar 13 - Newcastle, UK @ Riverside
Mar 14 - Glasgow, UK @ Garage
Mar 16 - Leeds, UK @ Beckett Uni
Mar 17 - Birmingham, UK @ O2 Institute
Mar 18 - London, UK @ O2 Forum
For more information please contact: Indoor Recess Inc.