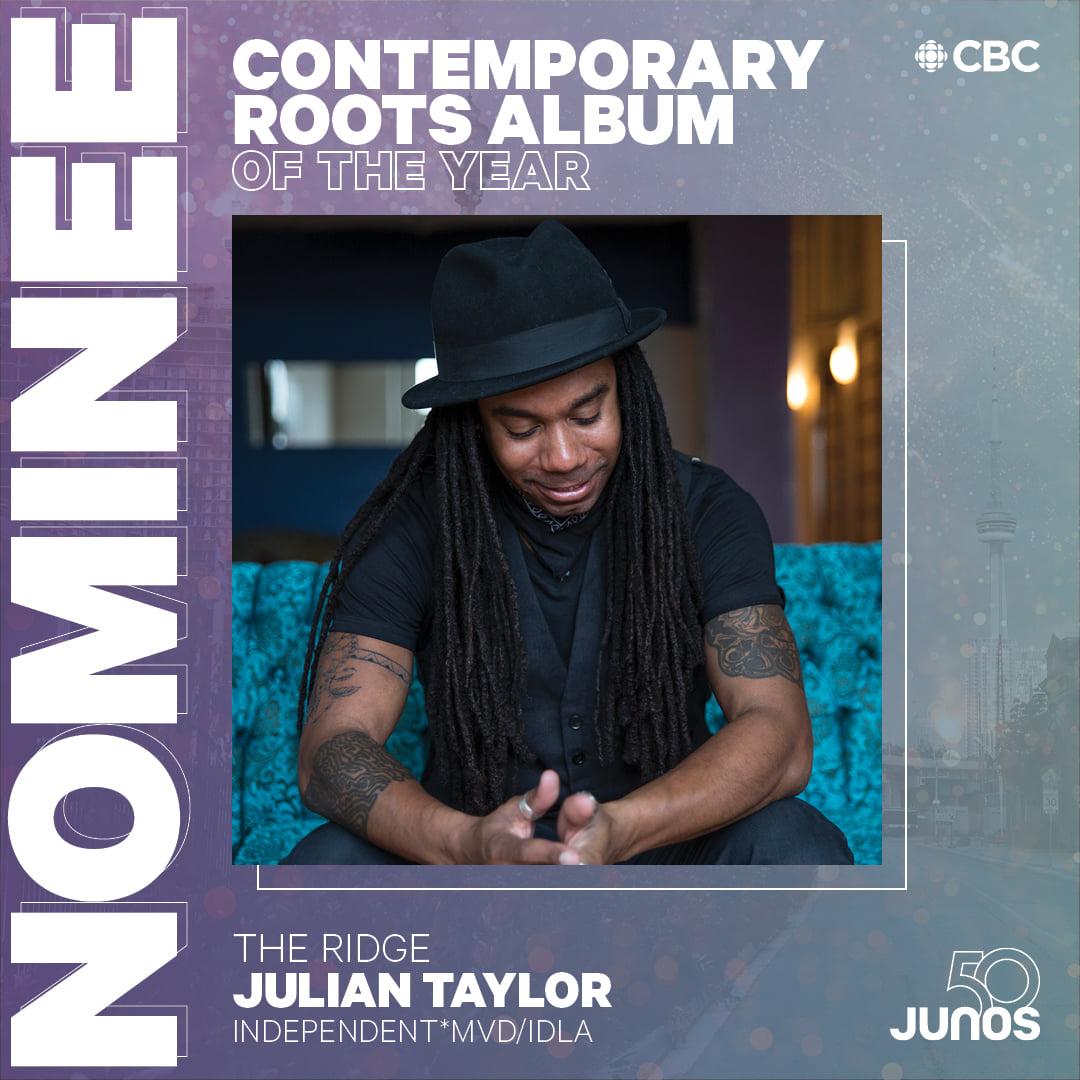 Fri Mar 12, 2021
I make no attempt to hide the fact that I am a huge Julian Taylor fan. I have been for a long time now and am continually impressed by his stage show,  his songwriting and his recordings. I've always said Julian Taylor is one of the most underrated talents in Canada. But now I can stop saying that he's underrated as finally after twenty years of recording Julian is now a Juno nominated artist. And he's not just once but twice nominated; one for Contemporary  Roots Album of the Year for "The Ridge". and once for Indigenous Artist or Group of The Year.
Catching up with Julian at his home in Toronto he had this say about this announcement; "I am so honoured to have received two Juno nods for my album "The Ridge".  It's been a long, strange trip and I feel blessed and very grateful for the love and support of my friends and my family and the folks like Cashbox Magazine who have supported me from the beginning.  I feel happy and I am proud.  It's a little bittersweet too.  I wish the people that I've lost along the way were here to see this.  I know they are in spirit and I hope that everyone is celebrating this with me because this is not about me.  It's about the community of special people that surround me."
Julian enjoyed a breakthrough year in 2020, when his second solo acoustic album The Ridge earned more than 2 million plays on Spotify, praise from the likes of Jim Cuddy and fellow nominee William Prince, as well as airplay from America to Australia to the U.K. The title song and first single from the album – which hit #1 on the Indigenous Music Countdown, among other accolades – was premiered in American Songwriter magazine, which said, "Lyrically, brilliantly, 'The Ridge' exudes innocence." Exclaim! magazine said, "Julian Taylor strides along in 'The Ridge', weaving masterful lyricism with songs as warm as the summer breeze."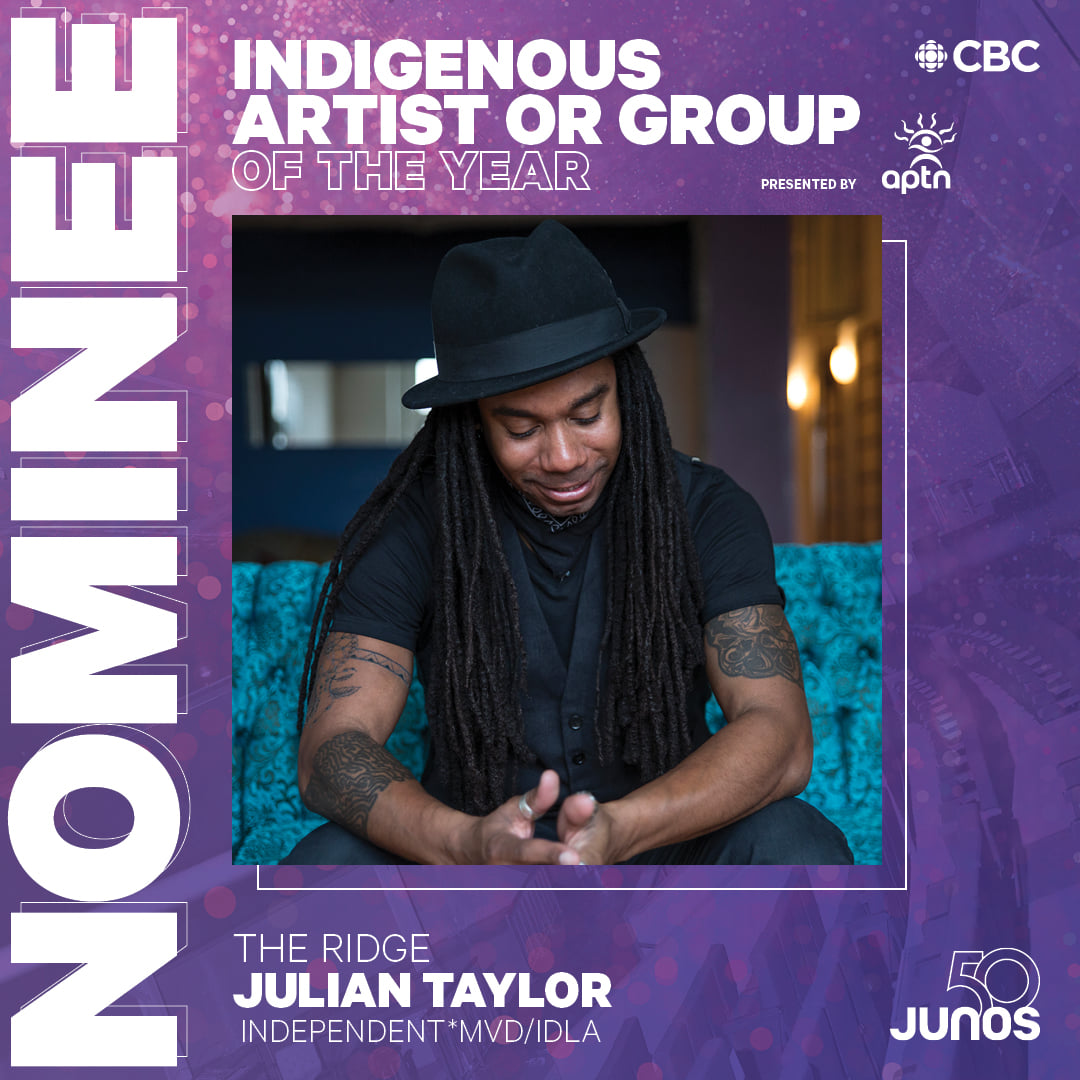 CBC Radio One gushed, "All eclectic and all-encompassing; well-crafted songs, resulting in incredibly entertaining performances." Canadian Musician magazine says, "Julian Taylor's 'The Ridge' is an album so lyrically and sonically rich that it feels like a balm for these jarring times." Cashbox Magazine Canada said "The Ridge' is some of the finest work of this multi-talented Canadian treasure."
Taylor is a mix combination of  Mohawk and Caribbean lineage and is a major label veteran, Toronto music scene staple, and musical chameleon. His versatility as a songwriter is signature; one minute he's onstage playing with his band spilling out electrified rhythm and blues glory, and the next he's featured at a folk festival delivering a captivating solo singer-songwriter set. Taylor's professional music story begins with his band Staggered Crossing, which was formed in 1997 and signed to Warner Music Canada in 1999. This year, 2021, is actually the 20-year anniversary of Taylor's very first album release with the band.
Julian has toured across Canada many times and has shared the stage with huge acts including Nickelback, Jeff Healey, Midnight Oil, Collective Soul, Blue Rodeo, and many others. The Julian Taylor Band has played to thousands of people at a time at the Festival d'Été de Quebec, the Mariposa Folk Festival, Ottawa BluesFest, and more.
Julian is excited to announce his next show will be on May 1, 2021, live-streamed from The Horseshoe Tavern, his home away from home, in what promises to be memorable performance with the Julian Taylor Band. Advance tickets available here: https://www.eventbrite.ca/x/julian-taylor-band-tickets-144472827115
Best of luck at the Juno Awards on March 27/28, 2021, no one deserves it more than you Julian.
For more visit: www.juliantaylormusic.ca