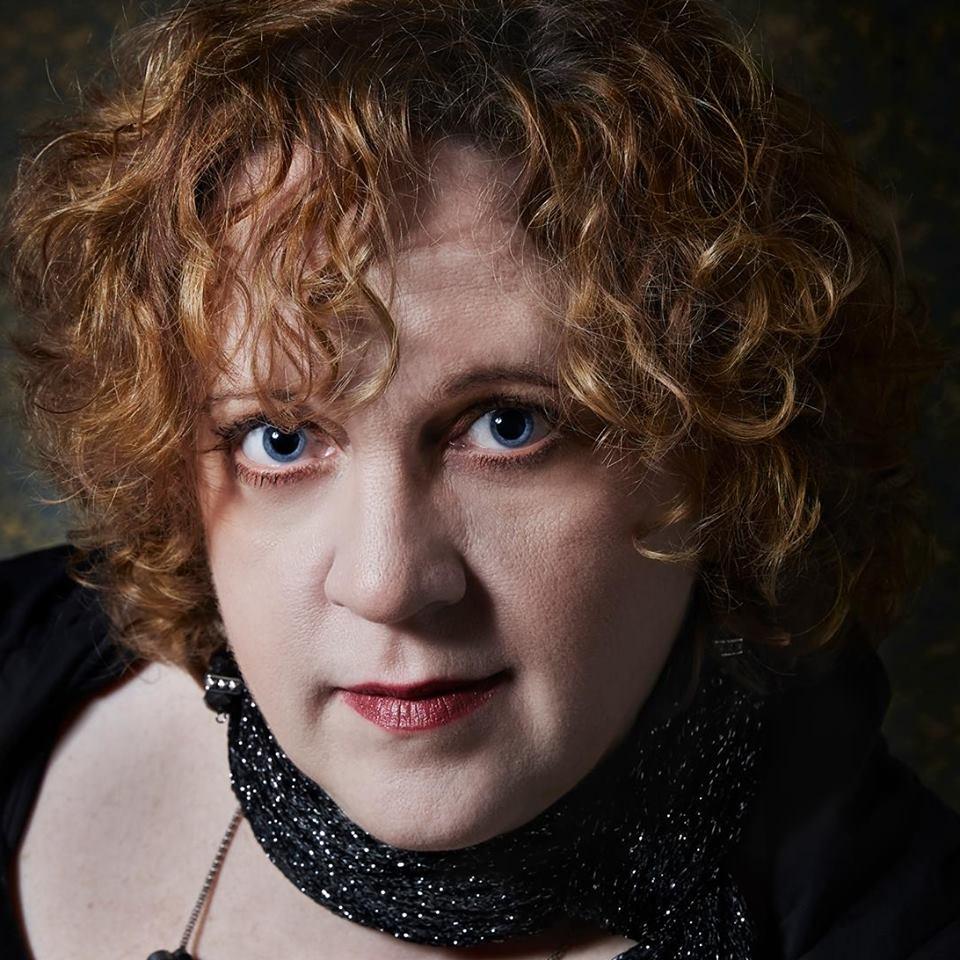 Fri May 12, 2017
Singer-songwriter and storyteller Kim Doolittle steps forward from a complex and musically evolving past and INTO THE BLUE, her new album that she'll release at Hugh's Room Live on Thursday, June 8 at 8:30 pm. The blues singer with the serious pipes will be joined by guests Ken Whiteley, Tom Leighton, Bucky Berger, Victor Bateman, Rob Quail and Pat Carey.
"I love to sing, write, play and tell stories about a life I had perfectly planned," says Kim Doolittle. "Those plans went more curly than straight, teaching me that too many plans are laughable, while those curves inform my Muse."
After a life filled with many dramatic twists and turns, Doolittle's ninth studio album Into the Blue, is the sum of her 43 years as a singer, songwriter and onstage storyteller, for whom "music is my life" – and her salvation. The album comes straight from her heart, and the songs reflect a true survivor's deep desire to both move forward, and look back, with an authentic eye. They're thoughtful, reflective, written about the relationships that have informed and enriched her life. The songs are intended to create hope and optimism through strength, perseverance, trust and spirit. "We cannot get enough of that in the world," she says.
Kim found herself waxing nostalgic about her upbringing in rural Nova Scotia, and recalling some of her younger years in Toronto, where a small-town girl had to sink or swim musically in a city of millions. Looking at the tapestry of her life, Kim found herself coming full circle, as old friends started to orbit back into her world, and musical comrades of younger days found their way back onstage with her.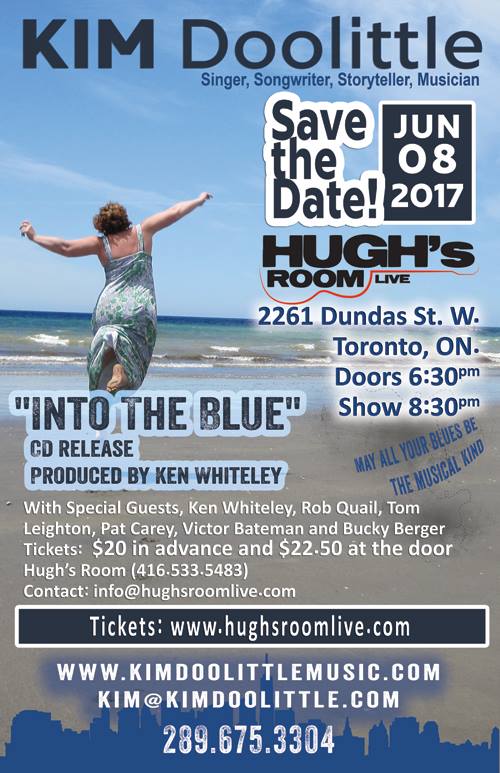 Doolittle has worn many musical hats in her 43-year career, but has finally made herself at home with a sound steeped in blues, roots and folk.Into the Blue is tastefully produced by Ken Whiteley, who mentored Doolittle even as he shepherded the recording to its fruition. The expert playing is tight and hot throughout the album, as provided by Kim's musical friends, including Ken, Ben and Chris Whiteley, Suzie Vinnick, Pat Carey, The Levy Sisters, Victor Bateman, Bucky Berger, Radim Zenkl, John Snowdon and Jimmy Bowskill. "I'm really pleased with the album," she says. "It's the kind I've always had in my mind."
The title song, "Into the Blue" is a feel-good opening song with a smokin' harmonica, sung in the voice of a survivor who's finally reached the sky, with "grey clouds lifting, new horizon coming into view." "Under a Memphis Moon," full of local references to the city, is a moody, minor-key tune, with a captivating guitar solo and catchy horn charts, about going out to get back in the groove, in the wake of a broken relationship.
"Let Love Be Your Goal" and a cover of "Amazing Grace" both capture the Gospel feel that was part of Kim's early musical inspiration, and offer great showcases for her glorious voice. "Let Love Be Your Goal" strongly advises, "don't cry over someone who won't cry over you," while Kim's arrangement of "Amazing Grace" moves from the sacred to the more earthy and worldly, as a bluesy shuffle, and then back again.
"Poor Boy (Oh My My)" and "Snowball's Day in Hell" are both light, playful songs, the former a percolating, up-tempo, romantically enthusiastic song bolstered by a Cajun accordion (named after the New Orleans "Po' Boy" sandwich), while the latter is about Kim not taking requests anymore, and why – though she appreciates the song – she won't ever sing "Me and Bobby McGee" again.
The sweet ballad "Let the River Run" offers a pretty memory of Kim's youth, seen from her mature perspective. Written about the Annapolis Valley River and its ever-present flow, as a metaphor for passing time, it's also the place she called home as a child. The song's being placed for a Canada 150 video promoting Riverfest in Bridgetown, Nova Scotia – where Kim will be singing it when she plays the fest this summer. The song has also been used by a local Annapolis Valley politician to represent the area, during a visit to China.
"A Friend in Need" and "It Just Don't Work Like That" offer some hard-earned life lessons. The first song recommends that we forget social media, texting, and being Facebook friends, in favour of being face-to-face friends, in person. The second offers advice on how to keep love going after the initial fire has cooled somewhat.
"Long, Long Way from Here" is as lovely a song as you'll hear this year, a slow ballad about how memory can preserve the presence of a loved one who's departed, possibly even deceased. It's a beauty, with the genuine ring of timeless truth coursing through its words and music.
"It's all about the music, the connection with the audience, and being real," says Kim. "I look forward to sharing my musical diary with all of you onstage and in song."
Thursday, June 8, 2017
@Hugh's Room Live, 2261 Dundas St. W. Toronto, ON
Doors 6:30 pm /Music 8:30 pm
Tickets: $20 in advance, $22.50 at the door | info@hughsroomlive.com
Dinner Reservations Guarantee Seating | 416-533-LIVE (5483) www.hughsroom.com
For more information please visit: www.kimdoolittlemusic.com
MEDIA CONTACT:
Beverly Kreller, Publicist