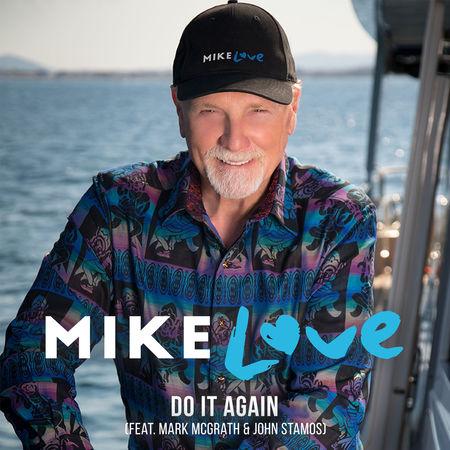 Fri Jul 07, 2017
Legendary Rock and Roll Hall of Fame Inductee, Grammy Winner, New York Times Best-Selling Author, and Co-Founder of The Beach Boys, Mom e Love, is set to release a new studio version of the 1968 Beach Boys classic, "Do It Again," featuring the vocals of Mark McGrath of rock band Sugar Ray and honorary Beach Boy John Stamos on drums. "Do it Again" is streaming and available for download worldwide beginning today, July 4th on iTunes, Apple Music, Spotify, Amazon, and more. To listen to the song, click here: http://smarturl.it/MikeLove-DoItAgain.
The single is set for release via BMG as The Beach Boys headline a special Fourth of July concert on the West Lawn of U.S. Capitol in Washington D.C. McGrath and Stamos will join the concert which will be broadcast on PBS as part of the annual "A Capitol Fourth" special also featuring The Blues Brothers, The Four Tops and Sam Moore.
"Do It Again has been a staple of our live shows since 1969- it evokes memories of past summers while looking forward to new beginnings. I think we capture that feeling in this recording with the multi-talented Mark McGrath, and our honorary Beach Boy, John Stamos," said Love.
Currently, Mike Love is on the Wild Honey World Tour with The Beach Boys. The band now features lead singer Mike Love, Bruce Johnston, Scott Totten, Jeffrey Foskett, Brian Eichenberger, Tim Bonhomme, and John Cowsill. The band continues to perform over 150 sold-out shows year-round across the globe.
In 2016, The Beach Boys embarked on a 50 Years of Good Vibrations Tour, in tribute to the band's 1966 track, "Good Vibrations," which celebrated its 50th Anniversary. Notably, the iconic song was penned by Love en route to the recording session of "Good Vibrations."
Additionally, Mike Love released his memoir on September 13, 2016. Love's book, GOOD VIBRATIONS: My Life as a Beach Boy, was published by Blue Rider Press, a member of Penguin Group (USA) and a subsidiary of Bertelsmann. The memoir quickly made its way onto
The New York Times Best Seller list. The paperback version of GOOD VIBRATIONS: My Life as a Beach Boy will hit shelves on September 12, 2017.
Listen here and buy on iTunes
Do It Again Mike Love Featuring Mark McGrath and John Stamos
http://smarturl.it/MikeLove-DoItAgain