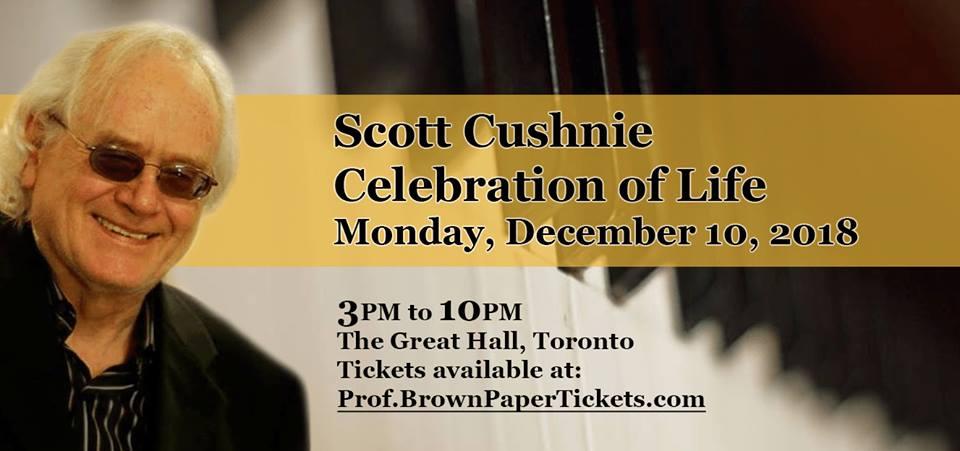 Fri Nov 23, 2018
Scott Cushnie, known as Professor Piano, went missing in August 2018, and for months his close friends, family and musical peers all executed search parties, plastering much of the area that he went missing a King and River Street to no avail.
Around the same time another family was trying to find a missing relative and in the bizarre case of mistaken identity, that family was subsequently contacted by the authorities regarding an elderly man who had died in hospital, after falling and injuring himself while walking downtown. The family identified the deceased as their missing relative and a funeral was held. But this past month, the man they believed they had buried reappeared — alive — leaving the police and chief coroner to determine the true identity of the body in the grave. With a strange twist, it was determined it was actually the beloved Professor Piano who was buried in error.
Close friend, Andrea Reid, Reid had been leading the search for him ever since she went to his home on Aug. 29 and only found his phone and wallet. For those of us who had the pleasure, I being one of them, agree with Andrea that the Prof would actually find this all quite outrageously amusing. "He had a very unique life, and for him to have the most unique ending is a little bit appropriate," Reid said. "He basically just fell and an ambulance saw him fall and tended to him. He was taken to Sunnybrook and immediately succumbed to his injuries."
Mitch Lewis, another friend, said he has known Cushnie since 1978. He said when he got word that Cushnie had gone missing he couldn't imagine what could have happened to him. "He was in good mental and physical shape, really good shape for 80-years-old," Lewis said "I always called him a national treasure."
Although it is not the ending everyone wanted it is now time to celebrate the incredible man we all knew as Scott 'Professor Piano' Cushnie.
From Scott's friends and organizers:
Our amazing friend Scott 'Professor Piano' Cushnie has left us to play the ivories in the sky.  We will be celebrating him with a day of musical tributes at The Great Hall in Toronto.  Doors open at 3pm for an afternoon of casual musical tributes and the headline performances will begin at 6:30pm 
Cash Bar, a selection hors d'oeuvres and light fare will be available throughout. Tickets purchased will help to cover the cost of this event and we greatly appreciate it, but if that is prohibitive in any way or you are a musician wishing to perform, please reach out to us at CelebrateScottC@gmail.com

Please note - This event will be filmed - by attending you are consenting that your image and presence at this event may be included in a film on Scott Cushnie.
Scott Cushnie
A Celebration of Life
Monday December 10,2018
The Great Hall 1087 Queen St West
Toronto , ON
3 pm – 10 pm
Tickets Available @ Prof.BrownPaperTickets@com
Or for other information contact CelebrateScottC@gmail.com
Editor's Note: To read more about  Scott Cushnie visit a previous article we wrote about Professor Piano in our Proudly Canadian section:www.cashboxcanada.ca/4505/proudly-canadian-scott-%E2%80%98professor-piano%E2%80%99-cushnie