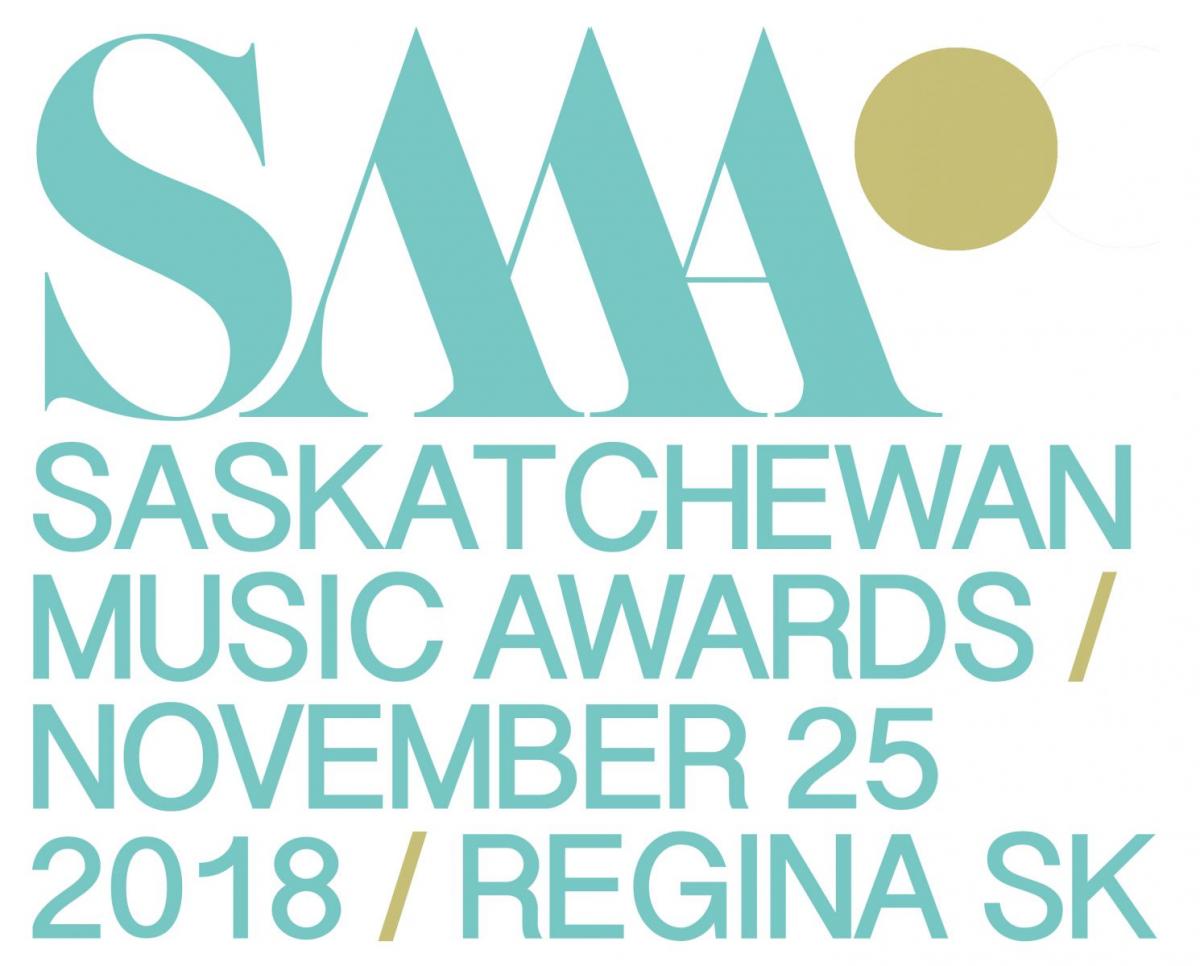 Fri Nov 30, 2018
On November 25, 2018, SaskMusic presented the winners of the 2018 Saskatchewan Music Awards with a live event held at The Exchange, Regina. A capacity crowd was in attendance for the debut event. The awards kick off the week designated as Saskatchewan Music Week in the province by the Government of Saskatchewan. The Saskatchewan Music Awards were created to honour excellence and celebrate the achievements of our music industry members.
Award show hosts Kris Alvarez and Jayden Pfeifer led the evening, with performances by artists Andino Suns, Megan Nash, Eekwol and T-Rhyme, Chris Henderson with Poor Nameless Boy, Natural Sympathies, and Factor Chandelier.
In addition to eight genre-based Artist of the Year categories, Indigenous Artist of the Year, Single of the Year, and three industry-focused awards, the Derek Bachman Foundation presented their first "Breaking Borders" Award. The recipient for 2018 was Megan Nash. The award, presented in memory of musician, community builder and SaskMusic Executive Director Derek Bachman, recognizes an artist who is hard working, with a positive spirit; produces high-quality products (whether recordings, tours, etc), and is successfully exporting.
The Long List of the Best Saskatchewan Albums of 2018 was also revealed, with online public voting commencing November 26 to determine the Top 10 (www.bestsaskatchewanalbums.com). The Long List this year consists of 42 albums curated by an industry jury from among all known commercially released albums by Saskatchewan artists (November 1, 2017-November 1, 2018). The voting deadline is midnight, December 11, 2018.
As part of Saskatchewan Music Week, SaskMusic is inviting artists and industry professionals to attend the Very Prairie: Saskatchewan Music Summit, taking place November 28-December 2 in Saskatoon. A contingent of local, national, and international industry panelists will be discussing a variety of subjects of interest to artists – including marketing and release strategies, revenue, tour booking, mental health, and much more.
Official 2018 Saskatchewan Music Award Winners
Alternative Artist of the Year: Close Talker
Avant Garde/Experimental Artist of the Year: respectfulchild
Country Artist of the Year: Jess Moskaluke
Electronic Artist of the Year: Natural Sympathies
Hip Hop Artist of the Year: Factor Chandelier
Indigenous Artist of the Year: Joey Stylez
Metal/Loud Artist of the Year (Two Recipients): Altars of Grief and Shooting Guns
Rock/Pop Artist of the Year: The Sheepdogs
Roots/Folk Artist of the Year: Kacy & Clayton
Single of the Year: Hunter Brothers: Born and Raised
Breaking Borders Award, presented by the Derek Bachman Foundation: Megan Nash
Venue of the Year (Two Recipients): Ness Creek Music Festival, Big River and The Broadway Theatre, Saskatoon
Producer of the Year: Bart McKay
Industry Achievement Award (Two Recipients): 91.3FM CJTR, Regina Community Radio and Shann Gowan
The Best Saskatchewan Albums of 2018: Long List
Abscission - Palimpsest
Alex Bent + the Emptiness - Vanilla Blue
Altars of Grief - Iris
Anna Haverstock - Coasting In Dreams
Autopilot - Afterglow
Bears In Hazenmore - Atlas
Belle Plaine - Malice, Mercy, Grief and Wrath
Black Hell Oil - Choke on This
Blue Youth - Dead Forever
Brian Baggett - Bookmarks
Colter Wall - Songs of The Plains
Conrad Bigknife - A Tribute to Country Legends
Dagan Harding Band - I Learned How
Dayda Banks - Vagabonds
Dayda Banks & Filth the Enabler - Emulator
Del Suelo - The Musician's Compass: A 12 Step Program
Eli Barsi & Doris Daley - One Upon the West
Etienne Fletcher: Side A / Face A
Factor Chandelier - Wisdom Teeth
Hell Hounds - Paint the World
Hook & Nail - Ghosts of Taylorton
HYV - Times Are Tough
Into Eternity - The Sirens
Jack Semple - Can't Stop This Love
Jay Semko - Never Sent
Jesse Brown - Sadness
Joey Stylez - The Star Chief
LOA - Tide EP
LTP - Zenith
Marie-Véronique Bourque - une porte s'ouvre
Nick Faye & The Deputies - Stumbling Distance
Pimpton - The Pimpton LP
Rosie & The Riveters - Ms. Behave
The Sheepdogs - Changing Colours
Shooting Guns - Another WolfCop OST
Sleepwreck - Hypersigil Megaprayer
Snake River - Tread on to the Unknown You
Toria Summerfield - Planet X
Untimely Demise - No Promise of Tomorrow
West of Mabou - The Bridge
The Wolfe - Strange Words
Yellowsky - Mixed Medicine