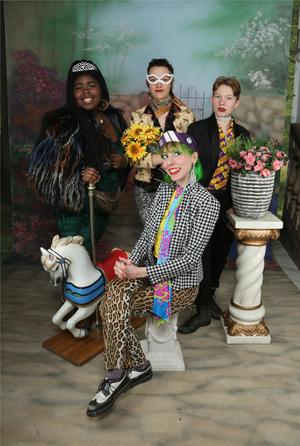 Fri Oct 26, 2018
Submitted to Cashbox Canada
New York, October 24 - Find a van. Drive to upstate New York. Record a new album in two days. Eat tuna sandwiches. Swap the tuna with hummus. Too spicy. Throw away expired half and half. Come back to New York. Enjoy the fruits of your labor. Wait, no, that's not right. Wait a year to release the record. The perks of being an indie band.
Your favorite indie queens T-Rextasy are back with Prehysteria, ten bangers that are the result of that fateful trip upstate. The much-anticipated follow-up to their critically acclaimed Jurassic Punk debut, Prehysteria is out 1/3 on the digital maze we call the internet. Everything and nothing has changed: their songs are still pop-punk empowering anthems, blistering with unhinged humor and quirky lyrics, mixing theatrical smarts with a streetwise attitude. Hints of ska, reggae, and pop-punk powered by Lyris Fanon's idiosyncratic voice and impeccable riffs make for a high energy, hard-rocking but sugar-coated new record about growing up and realizing high school never ends.
"Hysteric women are ungovernable and un-penetrable by cis male gazes, ideologies, and practices. Women deemed hysteric, in my opinion, are liberated and in control of their story, however, they need to tell it. And for this album, I think we are weaving a story together in a way that is both "hysterical" and painfully truthful for all of us. In this album we are on a journey of owning our "madness" and loving it," states Ébun, drummer for T-Rextasy.
Like a 60s girl group hopped up on surf punk, T-Rextasy uses melodic guitars, catchy harmonies, piston-like drums, and bluesy horns on The Zit Song to look at adult angst through the lens of teen drama. "You'll never be the prom queen or the teen dream…" they sing, giving voice to everyone's deepest anxieties about not fitting in.
Annie (bass), Ébun (drums), Lyris (vocals), and Vera (guitar) remain raw, yet playful, madcap in spirit and performance, but technically tight and synchronized. Live, their campy, rambunctious sets bring to mind acts like The Raveonettes, The Yeah Yeah Yeahs, The Ramones, the Slits, Le Tigre, and B-52s. Their radiant synergy blew up countless stages across the country, and in 2019, they'll be supporting Prehysteria in an upcoming January tour and rocking the too-cool crowds at SXSW.