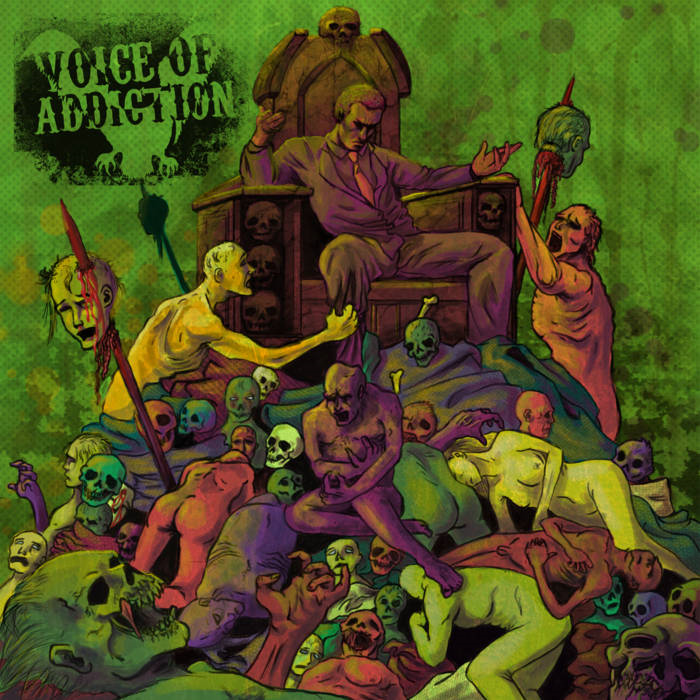 Fri Mar 16, 2018
Voice of Addiction hasn't released a new studio album in a number of years, but The Lost Art of Empathy doesn't betray even the faintest signs of extended layoff. Ian Tomele's engagement with both his immediate surroundings and the world at large is every bit as vital as ever and manifests itself in twelve songs ranging in duration but all packing the same impressive punch. Tomele and his bandmates can connect with you in a number of different ways and, despite the band's punk rock sound, there's subtlety in this collection on both a musical and lyrical level listeners are well advised to not miss. The Chicago punk scene has always been close-knit and vibrant, but they've produced few bands with the staying power and ever-growing pedigree we find with Voice of Addiction. The evocative title of the album reflects Tomele's social concerns but, moreover, his attitude towards our modern life in a way each of these songs reflects.
"Rustbelt" opens The Lost Art of Empathy with a song undoubtedly very personal to Tomele's heart as it, in essence, takes on his home base of Chicago and other cities in the region. The thwarted, underappreciated lives depicted in his lyric finds perfect musical expression in Tomele's fierce bass playing, drumming from Dennis Tynan, and ferocious guitar work from Jake Smith. Tomele wisely brings in some backing singers for an
extra vocal punch from guitarist Smith and Luke Ostojic that's a hallmark of a lot of classic punk. "Dead by Dawn" features another condensed musical setting and lyric, but Tomele gets his point across vividly despite the brevity. There's a perhaps surprisingly hopeful or idealistic message buried in this song that may get lost in the energetic musical attack, but it's well worth paying attention to Tomele's lyrics here and elsewhere. There isn't much in the way of instrumental breaks on The Lost Art of Empathy, this music isn't about that, but the album's first two songs show plenty of instances where the musicians work subtle flourishes or deviations into their compositions that further spike the musical energy.
There's a more outright hopeful vibe heard from the third song "Unity", but it's mixed well with the same brash sense of defiance fueling other songs on this release. Tomele is more than capable of summoning up a bone-chilling yowl from his lungs that gives these songs real razor teeth and few of them pack more bite than his singing for "Unity". We hear a slightly dissonant edge on the introduction to "Petty Schemes" before the song tumbles head over heels into another wild, careening musical arrangement anchored by Tomele's bass and Dennis Tynan's drumming.
Some of the metal presentation in the band's musical makeup comes through on the song "Lockwood" after an, for Voice of Addiction, extended instrumental introduction. It's then when some of the hardest charging staccato riffing on The Lost Art of Empathy emerges and bulldozes anything in its path. The personal touch informing that song, drawn straight from Tomele's autobiography, continues with the last song "Are We Even Human Anymore?", but it isn't a placid look back in tranquility. He doesn't have to convince me that he's sacrificed a lot to make music – any awake listener can hear the palpable passion in his performances on The Lost Art of Empathy from the outset and it never relents.
BANDCAMP: voiceofaddiction.bandcamp.com/album/the-lost-art-of-empathy-2