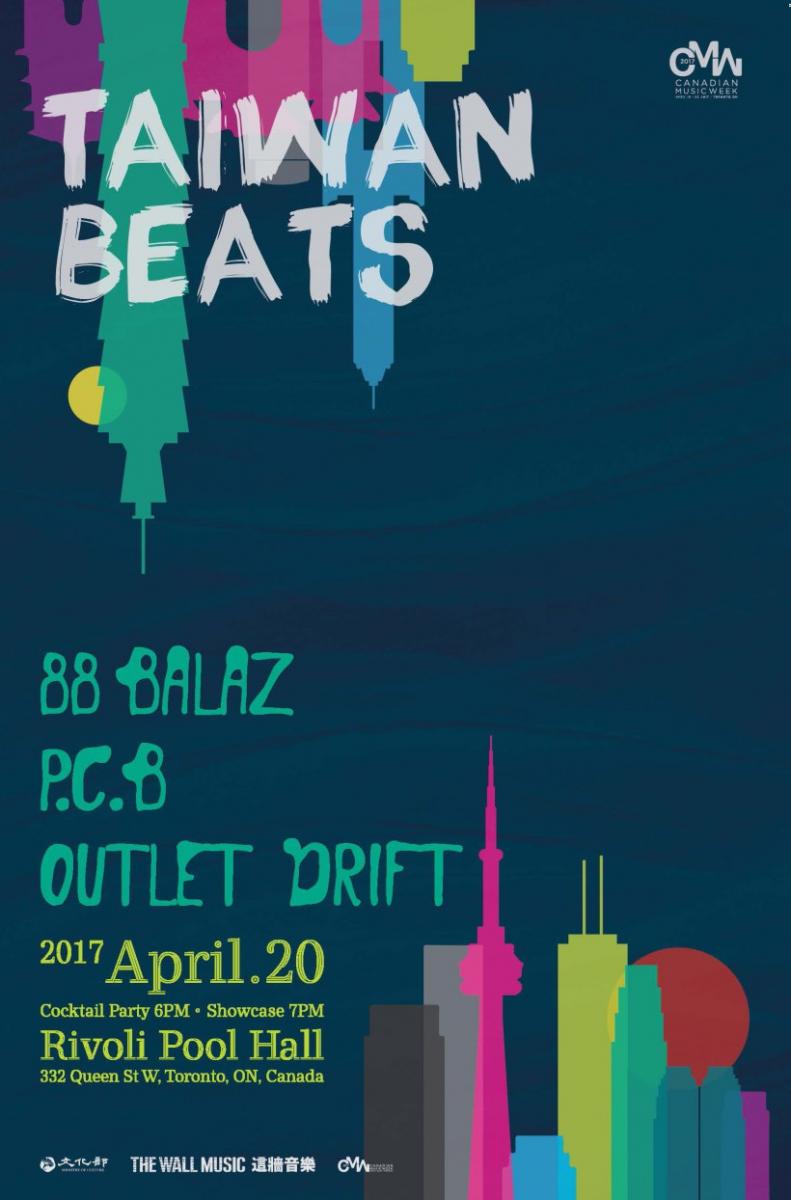 Fri Mar 24, 2017
The Wall, one of Taiwan's premiere event hubs, is bringing an exciting lineup of bands to the Rivoli on Thursday, April 20th for an exclusive showcase during Canadian Music Week. "Taiwan is a small island, but full of energy and passion," says The Wall's CEO, Orbis Fu. "People are nice, kindly, friendly, and this comes through in the music."
The showcase, aptly titled Taiwan Beats, is highlighting three bands on the lineup, including bluesy garage band, 88 Balaz, Indigenous group, Outlet Drift, and electro-indie outfit, P.C.B. See complete details below.
88 Balaz have been rousing audiences, and sparking interest in locals and expat crowds alike, since they formed around 1998. Known for their energetic stage performances, 88 Balaz attract large crowds at festivals and live house events alike. Between songs, singer A-Chang engages the audience with a straightforward sincerity, and then goes nuts on his acoustic when the band sparks up. Bassist, Guang Ling, and drummer, Lin Yu An, keep a cool steady rhythm throughout the set before guitarist, Chen How, ends up doing a patented somersault solo leaving his posterior upright! Both A-Chang and Guan Ling did stints in the spunky indie pop group Braces, but left to focus on 88 Balaz. While the band is credited as winning the first ever Ho-Hai-Yan Indie Music Awards, their first album came out nearly eight years later with the Taiwan Colors Music 044 release of The 44 Stone Lions. However, previous tracks including the Stooges-inspired, Clock People, can be found on TCM collections such as the 2001 Independent Compilation and the 2001 Ho-Hai-Yan Music Awards.
Outlet Drift is comprised of three Indigenous Taiwanese youths from Taitung that love to jam together, united by their shared love of modern and avant-garde rock and grunge music. Once lost and under the influence of other cultures, they have finally found their identity in their own indigenous culture and through music are hoping to make an emotional impact. Thumping double bass drums, grungy bass and psychedelic guitar sound as if a little boy is running and screaming through a creepy, foggy woods. You can delve into their sound on Tooth In A Plastic Bag, which has a music video. This is a band that blends traditional Indigenous Taiwanese tunes with experimental folk, grunge, psychedelic and metal. Clad in traditional Amis (indigenous clothing), their live shows are an audio-visual experience that you won't forget.
P.C.B. delivers a different vibe to the showcase, sampling 8 bit sounds and graphics from Nintendo games, creating tracks through styles that range from Electronic, Techno, Drum and Bass to Dubstep. They mix these genres together and take it to the dancefloor, where their sound can be defined as electro indie.
TAIWAN BEATS SHOWCASE INFO:
Thursday, April 20
The Rivoli
6:00 pm: Doors and cocktail reception
7:00-7:40 pm: Outlet Drift 7:55-8:35 pm: 88 Balaz 8:50-9:30 pm: P.C.B
More info: www.cmw.net/music/shows/taiwan-beats
CMW SHOWS:
88 Balaz – April 19 @ Stop Drop & Roll – 9:00 pm Outlet Drift – April 21 @ Cherry Cola's – 8:00 pm P.C.B. – April 21 @ The Painted Lady – 2:00 pm
About THE WALL MUSIC
THE WALL MUSIC was founded in 2003 as an adventurous gamble by a few individuals who really cared about music, and now it has grown to become a major cultural force throughout Taiwan. We have established top quality live houses in the three cities of Taipei, Kaohsiung and Yilan and produced Taiwan's top music festivals in Formoz and the Megaport Festival. Through these activities, we have built up an environment for live performance, cultivated audiences, and greatly expanded Taiwan's market for indie music. For Taiwan's increasingly ravenous music fans, THE WALL MUSIC is a staple in the rock-n-roll diet. Its efforts have unleashed a passion for live performances that Taiwan's music industry never thought possible.
www.thewall.tw