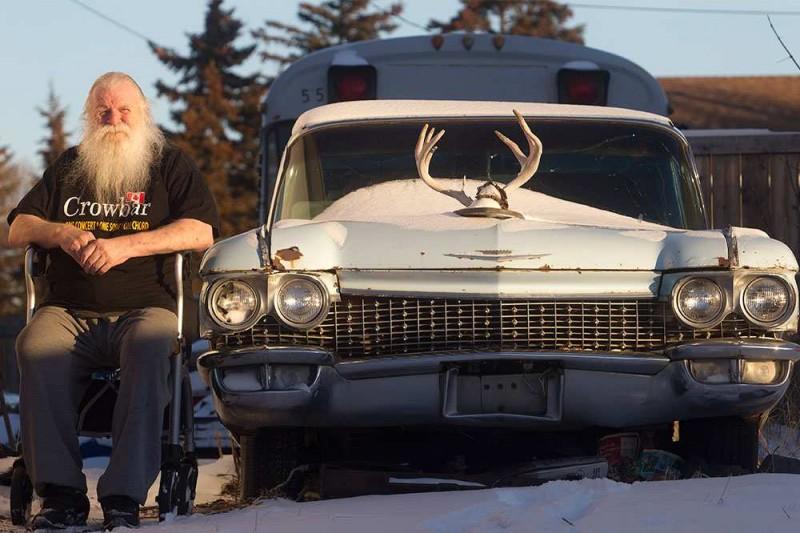 Fri Jun 14, 2019
Editor's Note: Since the writing of this article Kelly Jay has passed away. His daughter Shawna posted this on Facebook. "My mum called the big guy home to her this morning. Together forever. Dance among the stars. Sing your heart out to her (as she called you "the voice") embrace one another and dad, kiss and hug her for me. Play the piano in front of all the angels. Watch your little girl tiff boogie the night away. RIP daddio"
Kelly Jay, Canada's legendary band-mate of Crowbar fame has suffered a stroke which has no chance of recovery for him. His family is raising money for his funeral expenses in advance to celebrate his life at https://www.gofundme.com/kelly-jays-celebration-of-life
Please read their post here and considering donating for a rock n roll legend.
As many of you know, Kelly Jay, who played keyboards for the 1970s band Crowbar and co-wrote their smash hit Oh, What a Feeling, has had some hard times over the past few years. Between medical emergencies, financial burdens, and the loss of his wife of 15 years from heart complications, his health and ability to play music deteriorated over the recent decade making it difficult to 'Keep on Rockin'.
This includes being admitted into the Peter Lougheed Centre multiple times for Cellulitis, resulting from Type II Diabetes, a broken hip, COPD and then finally, Parkinson's. Bills started to accumulate. We kept abreast of trying to get back on our feet financially, mostly from his friends and families incredible generosity.
On Sunday, June 9th, 2019 Kelly's daughters Bella and Shawna, his sons Hank and Randy and their loving partners arrived at Foothills Hospital in Calgary Alberta to gather around Kelly and hear the news. Kelly Jay has suffered from a severe stroke affecting the left side of his brain that he will not recover from. Our family is devastated, this is such a tragic loss for so many. Kelly Jay was so much more than a beloved musician, but a friend, a love and a brother to so many. On behalf of the family, we are so sorry to everyone, as we were all together waiting anxiously in hope for news of a better outcome.
Kelly Jay was so proud to be part of Canadian rock and we're all so grateful that his voice, image, and talent will be celebrated long after he does pass. "Mr.Lee is dead and the neon lights keep on shining".
Our hearts ache at the thought of Kelly Jay going without a celebration of his life. Due to the spontaneous nature of life, and the unexpected recent events Kelly's immediate family are not in the position financially to be able to organize such a celebration despite their best attempts. After contacting the funeral director we were made aware that the funeral has reached a budget accumulating to a total of roughly $12,437.25, not including any fees that have not been listed or accounted for as of the start of the campaign.
The goal with this campaign is to help alleviate some of the burden associated with the loss of a loved one, and ultimately to celebrate the passing of such an amazing person.
In the future our goals include working on organizing his vast collection of rock memorabilia and more importantly trying to complete his book that he was writing slowly before the tragic event so everyone will have one more thing to remember him by, and can look into the life of a Canadian Rock Icon. As well as plans to release an unreleased album written, recorded, produced, and edited by Kelly Jay and his son Hank titled 'Milk, Honey and Wine".
Thank you for taking the time to read our Campaign. So many of you have asked how you can help and I do think this is it, supporting even the smallest amount means a LOT to us.
If you would like to support even more please feel free to send a letter with a story about you and Kelly, or how you and Kelly met, or some way Kelly has influenced you and we will do our best to compile his writing and the stories of his closest friends, fans and family into the book he always wanted to complete (and was very close). You can even help by sharing! Crowdfunding campaigns are heavily dependent on social media and word of mouth.
If you would like to send Kelly a personalized card, or flowers to his hospital room he is located in Foothills Hospital in Calgary, Neurosurgery floor, Unit 112 - Kelly Fordham. You can also contact Bella Fordham, or Hank Fordham on Facebook for contact info to send directly.
We will do our best to update people through this campaign and on Facebook as time moves forward. We hope you have a good night and hug your families tight.
In closing, I would like to leave a quote, written by Kelly himself in regards to his friends keeping him afloat -
"I am truly humbled, I have seen and experienced the vastness of the internet, reawakening friendships thought long lost, tears in my eyes caused by photos of loved ones. This is something else, the depression we were suffering caused by the money trap triggered by a series of unavoidable charges plunged us into the deep end of the pool without a paddle,,,that's when you showed up to SAVE the day with this marvel called crowdfunding friends and people who care enough to throw my family a lifeline we made our total,,,and saved the ranch with your indulgence we will let it run a little longer and allow me to finish my book.,,the relief in my heart has spread to my brain I will never forget this, what a grand birthday (Dec 1 1941), Merry Christmas and Happy New Year on behalf of my family Hank,Randy,Bella,Shawna - OH WHAT A FEELING still loving"
- Kelly Jay of Crowbar aka Henry Blake Fordham