Fri Oct 08, 2021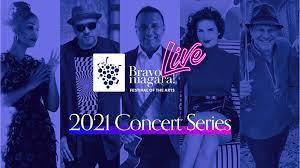 Bravo Niagara! Festival of the Arts invites audiences to join them as Canadian treasures take centre stage this Fall and Winter as they announce their 2021 TD Jazz Series and Voices of Freedom Concert!
Laila Biali Trio
October 16th
Sultans Of String: Refuge & Sanctuary Double CD Release
Annual Voices of Freedom Concert
November 13th
Robi Botos Trio w/ Special Guest Joanna Majoko
November 19th
Pavlo: Home For The Holidays
December 16th
Molly Johnson: This Holiday Season
December 20thTaking place at St. Catharines' FirstOntario Performing Arts Centre, the five forthcoming events kick off with JUNO Award-winning singer/songwriter Laila Biali and her Trio this October 16th performing selections from her latest release Out of Dust.
From there, and within the series, multi-award winning and NY Times-charting Sultans of String will mark Bravo Niagara!'s Voices of Freedom Concert — an annual event dedicated to amplifying underrepresented voices and histories through the arts.