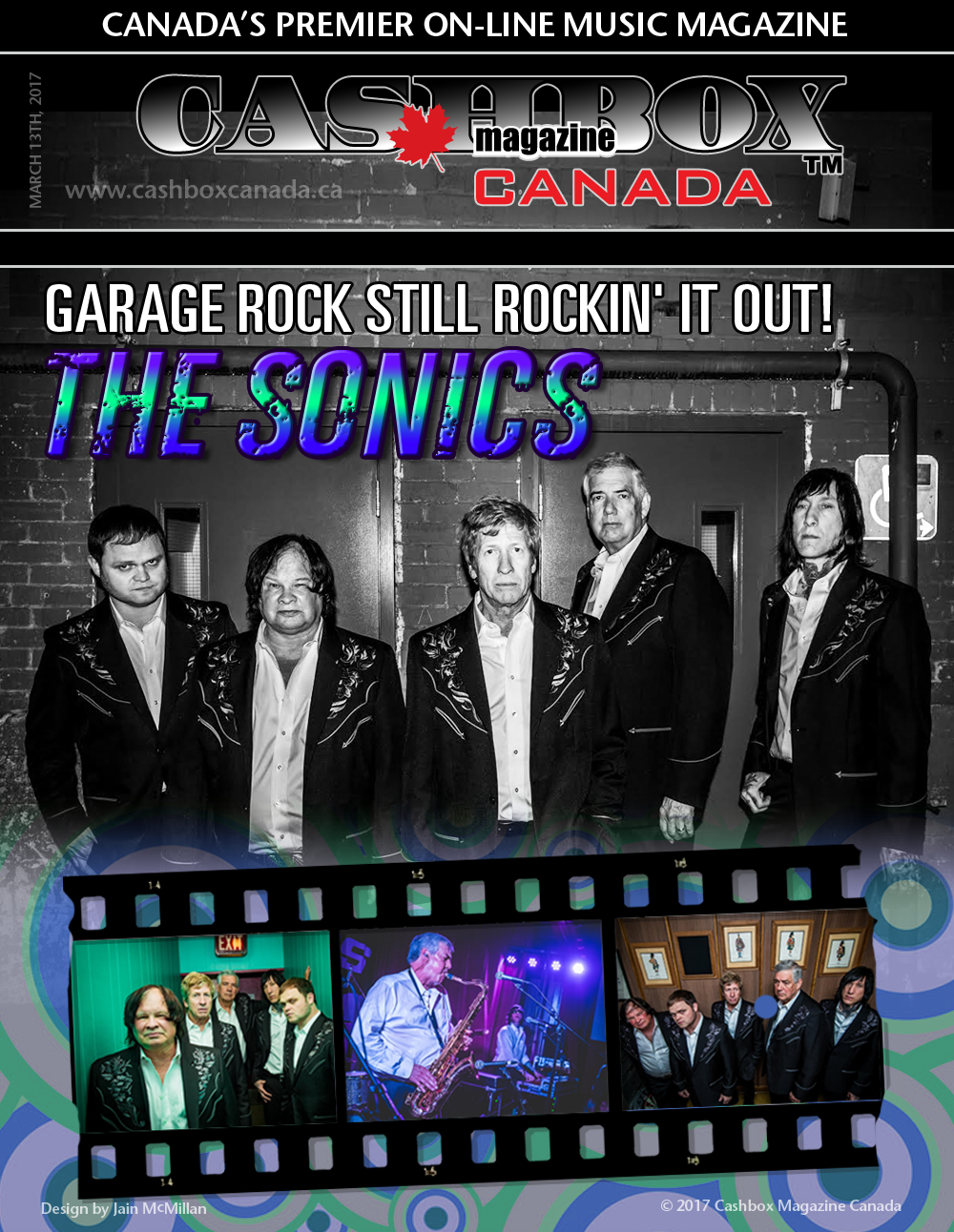 Fri Mar 10, 2017
The Sonics formed in 1960 in Tacoma Washington, just 25 miles from Seattle where the grunge movement would start years later. Many of the grunge and punk rock bands would credit The Sonics with influencing their sound and style. Cashbox Canada caught up with Rob Lind, the sax/harp player and founding member to talk about the band and their upcoming tour and specifically their Toronto date ay the Danforth Music Hall.
"It's interesting to know that we influenced people and that some people credit us with starting the grunge/punk movement. That was never our intention. We were influenced by Little Richard and Jerry Lee Lewis, we just thought of ourselves as a rock 'n' roll band. Now granted we were in Tacoma, kinda like the working-class Liverpool to Seattle's hip and slick London. My dad was a blue collar worker on the waterfront and our lifestyle and our music was more working class grind it out rock 'n' roll. Make no mistake, there were some fabulous musicians in Seattle but their style of music was a bit more jazz oriented and sophisticated than ours. Being a sax player I really noticed it. These guys were playing all this complicated jazz stuff and I was a straight rock n roll sax player. We were working class guys who just wanted to rock."
The Sonics did have a style all their own. Forceful and straight hard pounding beats, maxed out amps, the forerunner of punk rock. They also built a large and loyal fan base in the Northwest club scene, where the disenchanted youth would go to drink. Early in 1965, Etiquette released the Sonics' debut LP, 'Here Are The Sonics', which was produced at Audio Recording in Seattle,Washington. It was recorded on a two-track tape recorder, with only one microphone to pick up the entire drum kit. It was here that they began to pioneer some of their groundbreaking recording techniques. The Sonics hit their peak opening for groups like the Beach Boys, Jan and Dean, and the Kinks in Seattle.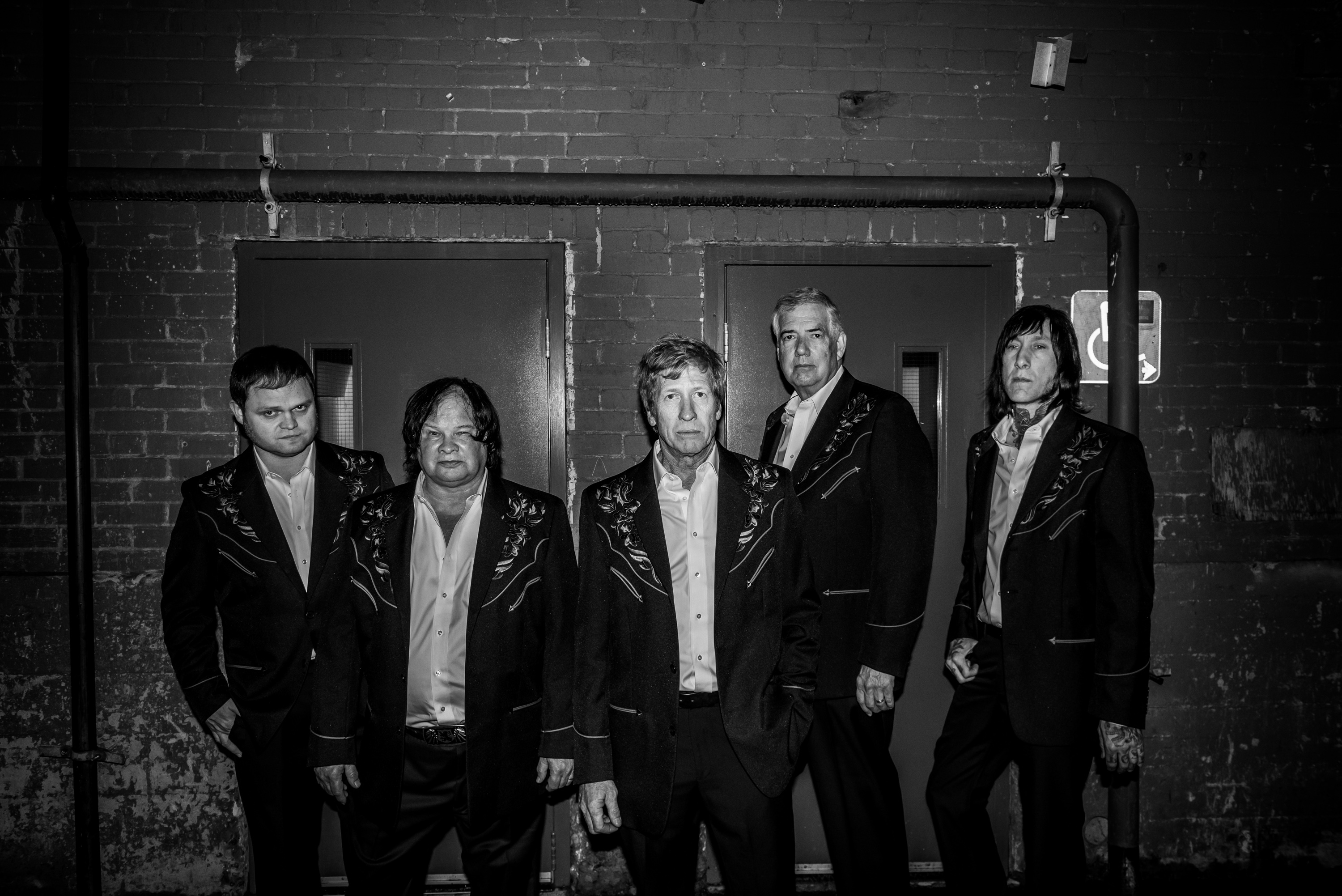 "We loved the sound of the Kinks, those hard driving guitar riffs of "You Really Got Me" and "All Day and All of the Night". We recorded a Kink song 'The Hard Way' as an homage to them. The Sonics broke up in 1967. "I was drafted into the Army and everybody sort of went their separate ways," Lind explained. They all spent the next forty years focusing on families and careers, salesmen, teachers, and, in Lind's case, an airline pilot.
Punk rock was beginning in the late '70s and grunge was emerging in the '90s which led to new interest in The Sonics, and a lot of their material was re-released by labels in the US and Europe. Larry and Andy Parypa continued performing with various bands in the Northwest, while Roslie, Lind, and Bennett pursued careers outside of music.
A further surge of interest in The Sonics was sparked by the use of their hard-rocking version of Richard Berry's "Have Love, Will Travel" in a 2004 Land Rover TV ad.
Kurt Cobain of Nirvana said in an interview, "I have to admit... The Sonics recorded very, very cheaply on a two track you know, and they just used one microphone over the drums, and they got the most amazing drum sound I've ever heard. Still to this day, it's still my favorite drum sound. It sounds like he's hitting harder than anyone I've ever known."
The White Stripes named The Sonics as one of the bands that influenced them the most, calling them "the epitome of '60s punk" and claiming they were "harder than the Kinks and punk long before punk".
Bruce Springsteen and the E Street Band have frequently covered the Sonics' rendition of "Have Love, Will Travel", notably on the 1988 Tunnel of Love Express tour.
Nicholaus Arson of The Hives cites The Sonics' version of "Have Love, Will Travel" as a favorite his band's song "Main Offender" and is essentially a rewrite. In addition, members of The Hives played with the reunited Sonics on one occasion. "Lind remembers first meeting The Hives, "We were playing in Stockholm after we reunited and this Swedish rock band asked if we allow them to have a picture taken with us. I have to admit I didn't know who they were but they were sharply dressed and very respectful. I was duly impressed once I knew who they were and have since jammed with them. Nice guys."
The Cramps covered "Strychnine" on their debut album, 'Songs The Lord Taught Us'. The Flaming Lips also covered "Strychnine" on their album 'The Day They Shot a Hole in the Jesus Egg'. The Fuzztones made a tribute to them 'The Fuzztones Boom' in 2006. The Swords covered "He's Waitin'" as a bonus track in the Japanese edition of their second album, 'Gods of the Earth'.
In 2007, The Sonics reunited again, this time for the Cavestomp garage rock festival in Brooklyn, New York on November 2–4, 2007. "We had been getting calls to play again but we kept saying no thanks. We didn't want get up there and not be good enough to live up to our standards. We rehearsed for about 10 weeks and got to a point where we thought 'Yes! We can do this!" The new line up featured original members Gerry Roslie on vocals and keyboards, Larry Parypa on guitar, and Rob Lind on tenor sax, with Ricky Lynn Johnson of the Wailers on drums and Don Wilhelm of the Daily Flash on bass and vocals. The new guys have around about 10 years so essentially they have been in The Sonics longer than the original guys who are no longer there."
In 2008, The Sonics recorded a live session for Mark Lamarr's BBC Radio 2 show God's Jukebox on March 22. They played their first ever shows in London on Friday March 21 and Sunday March 23. Later that year, "Have Love, Will Travel" was prominently featured on the soundtrack of Guy Ritchie's hit film RocknRolla.
And now they are about to embark on a new tour that will see them in Chicago, Cleveland and Detroit before heading up to Toronto Canada on March 25 and then off for a week in Texas and then back to Europe. "We tour in a tour bus now so everything is comfortable and we get some rest .A far cry from riding shoulder to shoulder in a crowded van." This band loves to perform and still kickin' it 50 yearslater ." The one comment I hear the most is 'How do you guys do it? You always look like you're having fun. Answer? We are ! More fun than ever ."
If they are in your town and you hear a Boom, that'll be The Sonics.
Tour dates:
Thu., March 23 CHICAGO, IL Reggies
Fri., March 24 CLEVELAND OH Beachland
Sat., March 25 TORONTO, ONT Danforth Music Hall
Sun., March 26 DETROIT, MI El Club
Thu., April 6 HOUSTON, TX The Continental
Fri., April 7 DALLAS, TX Gas Monkey
Sat., April 8 AUSTIN, TX Rod and Custom Round Up
Sun., April 9 AUSTIN, TX The Continental
Thur., May 18 ATLANTA, GA Masquerade
Fri., May 19 CHARLOTTE, NC Neigborhood Theater
Sat., May 20 NASHVILLE, TN Muddy Roots Fest