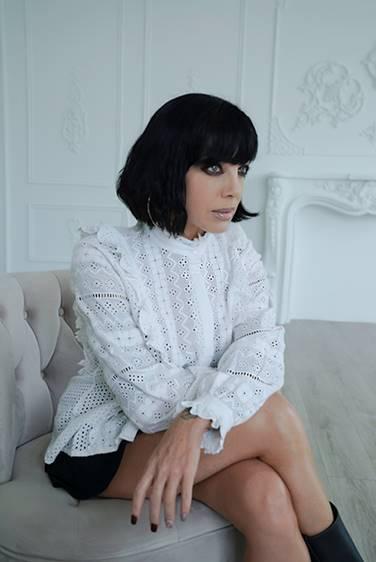 Fri Jan 31, 2020
Starting off this week with music for causes.
Gold and Platinum-selling
Canadian rock star, author, songwriter, manager, producer, and human and animal rights activist, yeah it's Bif Naked and she's got a brand new bag. It's the launch of her new organic CBD boutique, MonaLisaHealing.com.
Touted as the 'Renaissance of CBD', the online e-com shop celebrated its North American debut throughout both Canada and the U.S. in the Fall of 2019.
"I finally followed my own advice," Bif says of the passion-driven project developed with her longtime team at Her Royal Majesty's Entertainment. She will discuss the premiere endeavour at Vancouver's 2020 The Wellness Show this Saturday, February 1st and Sunday, February 2nd — each at 2:00 p.m. — for the panel "An Enlightening Discussion" (Saturday) and talk "Personally Taking Control & Managing Our Health Outcome" (Sunday).
As detailed in her highly personal, Internationally best-selling memoir, I Bificus, the Canadian 'Princess of Everything' — and notably, a vegan who lives a straight-edge lifestyle — has arm-wrestled breast cancer, heart surgery, and kidney failure.
Then there's the music thing. Bif is set to release a brand new single, "JIM" this February 14th — ahead of a highly-anticipated next studio album — as well as podcast series, New Riot Girls, and a book of poetry and illustrations later this year. A book designed to help empower patients and their families while navigating cancer treatments and the Canadian healthcare system, is also in the works.Bif has documented her journey in a deeply personal, highly relatable and inclusive way, covering topics that allow her truths to be a source of empowerment for fans.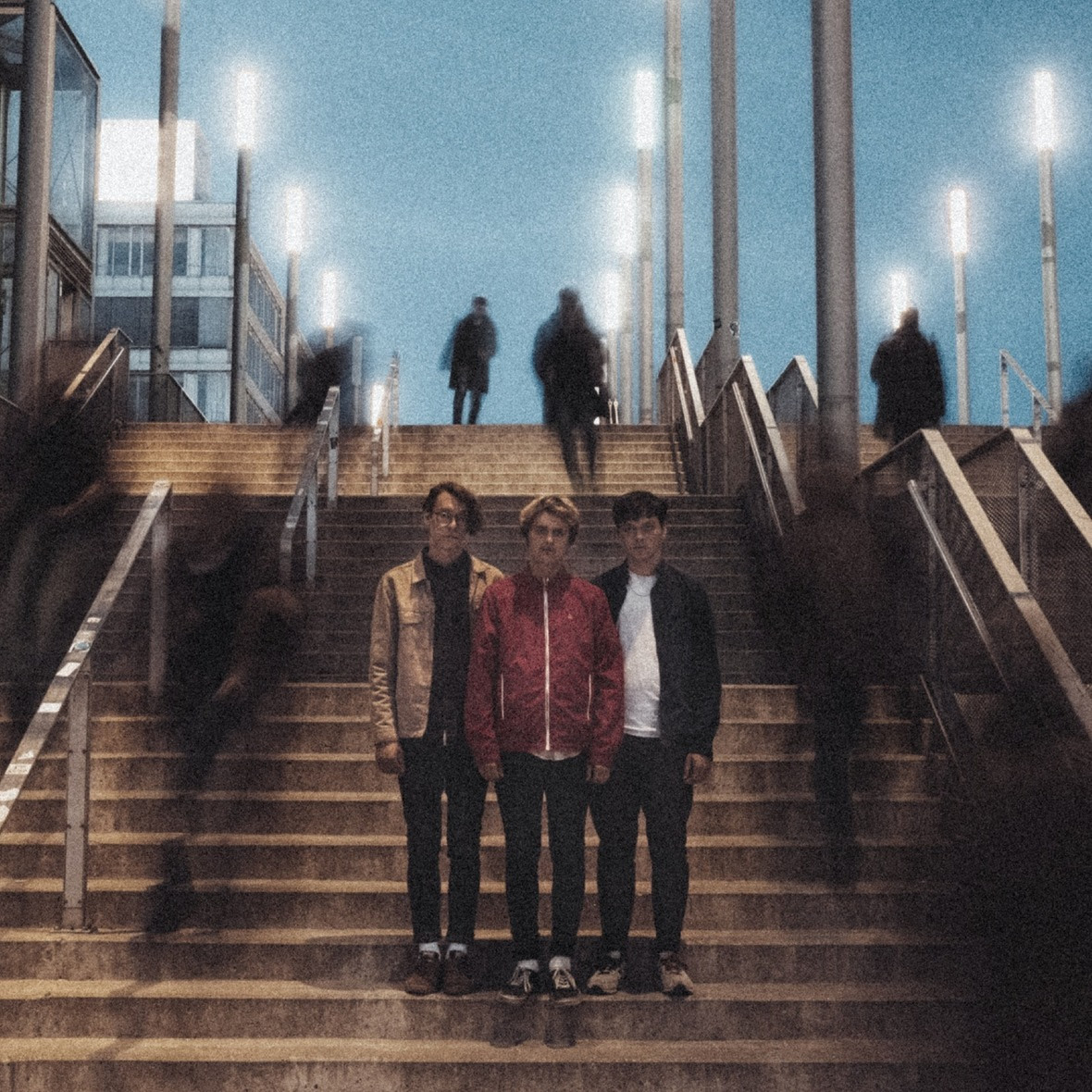 Next up is mental health, something of an obsession with German altpunks The Deadnotes.
"Talking about mental health can be difficult at times. Depression often goes unseen, unrecognized, and undiagnosed. This video is about pausing, overcoming fears and having the COURAGE to face each other and yourself."
They've dropped the latest single from their forthcoming album 'Courage', out 14th Feb 2020 through their own label 22Lives Records.
Check the "Never Perfect" single and video here: https://orcd.co/neverperfect.
'Never Perfect', is a candid and revealing song in which mental health plays a key theme. The single marks the beginning of a charitable partnership with two organizations offering help to people affected by mental health issues, especially those in the music and arts industries through Help Musicians / Music Minds Matter and Ni9ht- H3lps-Mental Health Support from Germany.
The band will begin their efforts by donating 1€ of every tour ticket and 3€ for every turquoise vinyl sold via their band shop, as well as collecting donations at live shows and with more contributions planned for the near future.
"Mental health has always been an important topic for us personally and as a band in the last few years. With "Never Perfect" we decided to explicitly talk about the numerous situations we have come across, where either we ourselves, befriended bands or people we are in contact with working in the music industry have struggled with mental health. We sadly have to admit that we find more and more people not being able to cope with these situations", singer/guitarist Darius Lohmüller. "I believe it's still something that's not talked about enough yet. It's very important to listen to each other, take care of each other, be attentive and also consider getting help from professionals if you're affected."
The music video was shot in Dublin by Paul Ambusch accompanied by Darius Lohmüller and portraits a person escaping the city to find comfort in the rural and natural landscapes surrounding Dublin in order to cope with struggling in everyday life.
Still in their early 20s, the list of achievements that The Deadnotes have racked up over the last few years is impressive. They formed the band at just 14 years of age and haven't taken a moment's rest since, self-releasing both an EP and their debut album, and relentlessly touring through over 25 European countries.
To support the release of 'Courage' the band will take to the road for an extensive run of shows drawing in crowds across Germany, France, Austria, Czech Republic and Switzerland before coming to an end in April with five specially selected UK dates.
The Deadnotes On Tour
"Courage" Tour 2020
27.02. Oberhausen (DE), Druckluft
28.02. Bremen (DE), Tower
29.02. Münster (DE), Sputnikcafé
01.03. Cologne (DE), Tsunami Club
03.03. Stuttgart (DE), Juha West
04.03. Frankfurt (DE), Nachtleben
05.03. Leipzig (DE), Conne Island
06.03. Berlin (DE), Cassiopeia
07.03. Hamburg (DE), Astra Stube
09.03. Munich (DE), Feierwerk
10.03. Vienna (AT), Rhiz
11.03. Prague (CZ), Rock Café
12.03. Lucerne (CH), Schüür
13.03. Freiburg (DE), Waldsee
14.03. Ulm (DE), Musikmarathon
17.03. Rouen (FR), Le 3 Pièces
18.03. Bordeaux (FR), Le Fiacre
19.03. Toulouse (FR) La Cave à Rock
20.03. Lyon (FR), L'Ambuscade
21.03. Paris (FR), Le Gambetta Club
15.04. Nottingham (UK), Alberts
16.04. Glasgow (UK), Bloc+
17.04. Manchester (UK), Gullivers NQ
18.04. Leeds (UK), LS6 Café
19.04. London (UK), The Old Blue Last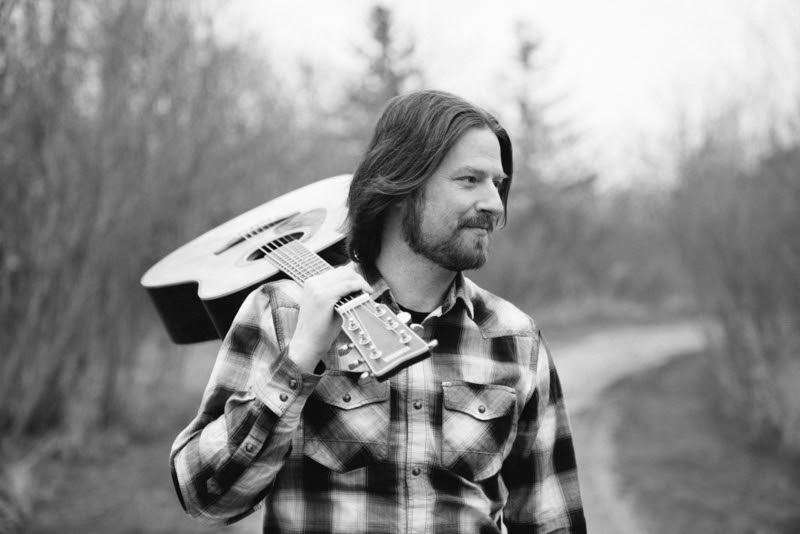 Since the release of his latest album Be in late 2019, Toronto singer/songwriter Matt Zaddy has been winning over new fans with a brand of heartfelt folk-rock spiced up by just the right amount of vintage soul. He's about to release the album's second single, "Brighter Days," timed to help support Bell Let's Talk Day across Canada on Wednesday, Jan. 29.
"When I wrote 'Brighter Days,' I was thinking about some people in my life that were going through some hard times, specifically mental health," Zaddy says. "Sometimes when we are in the thick of our problems, it can feel like we're trapped and it can be difficult to talk to anyone about.  Especially in those times, it is so important to remember that things can get better, and there are people in our life that care about. There will be Brighter Days."
 He adds, "I applaud #BellLetsTalk for taking the initiative to talk about mental health in a very open and public way, and to help end the stigma that so often surrounds it. Considering what inspired my song, I could think of no better time than to release this single to coincide with their efforts. I hope my song can contribute to that cause, and help make someone's day a little brighter."
Indeed, it's impossible not to get caught up in the positive vibes on Zaddy's latest collection, produced by Ross Citrullo (The Sheepdogs, Julian Taylor Band, Samantha Martin & Delta Sugar) and featuring a combination of Zaddy's trusted live band and local session stars.
Matt Zaddy's Be is available at mattzaddy.com and on all digital platforms via Distrokid.
Check out Brighter Days from Be here: https://youtu.be/HXNlD1NLEFE
The cause motivating the next band is I guess dreamgaze, of which Estonia's Pia Fraus is a standard-bearer. Think psychedelic shoegaze, and fans of Yo La Tengo, Stereolab, Wild Nothing and Pale Saints will totally get it.
Check 'Hidden Parks' https://youtu.be/Aqb-FsgNj2c
Pia Fraus is Eve Komp, Kärt Ojavee, Rein Fuks, Reijo Tagapere and Joosep Volk. Formed in 1998 between six art school students, Pia Fras has released five studio albums and a handful of EPs on various record labels. They boast a subtle uplifting mixture of dream pop, shoegaze and lush electronica, blissfully topped off with shimmering layered male-female vocals in tandem.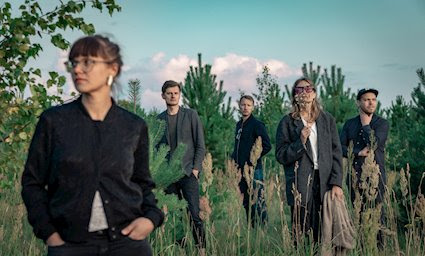 Produced and mixed by John McEntire (Stereolab, Broken Social Scene, Teenage Fanclub) at Soma Electronic Music Studios in Nevada City, California, and mastered by 21 time Estonian Music Award winner Lauri Liivak,´Empty Parks´ was recorded in two separate kitchens and a windowless basement, as well as bassist Reijo Tagapere's barn. The end result is Euro folk-rock with an Eighties sheen.
"This is the poppiest album we've ever made. It's melancholy and happy at the same time - definitely happier than our latest 'Field Ceremony' album. To work with John McEntire was my teenage wet dream.  I have been a massive fan of John's work over the years, and I never thought that one day I have a chance to sit next to this guy and make my own record. Of course, it was quite challenging and stressful for me," says frontman Fuks.
"Although the process of making this album wasn't the easiest, I associate this album mostly with the feeling of happiness and positivism. The awareness of being able to be hopeful and make jokes about life even if everything seems to be going downhill" says vocalist Eve Komp.
Drummer Joosep Volk adds, "Personally, Empty Parks means a lot. It's sort of a homecoming to me. 16 years has passed since I last played with the rest of the group and when Rein asked me to return, I never thought twice. Understanding that sometimes things do fall apart and you just have to pick yourself up and deal with it. Life is deviously clever, we just have to endure.
The 'Empty Parks' LP is out now via Seksound (worldwide) and on Vinyl Junkie in Japan. The album is being distributed by Darla Records in the USA. It will be available on limited Orange Vinyl (200 hand-numbered and signed copies), Black Vinyl (500 hand-numbered and signed copies), and limited Compact Disc (500 hand-numbered and signed copies). It will also be available digitally everywhere, including Spotify. It can be ordered directly from the artist via Bandcamp.
Pia Fraus On Tour
Jan. 28  Tokyo, Japan - LUSH, Shibuya (with Bertoia, Seventeen Years Old And Berlin Wall)
Jan. 30  Nagoya, Japan - Tightrope, Aichi (with Ringo Deathstarr)
Jan. 31  Osaka, Japan - americamura FANJ twice (with Ringo Deathstarr)
Next artist is all about empowerment.  JUNO Nominated Métis artist Amanda Rheaumehas a strong new single, all about feeling a sense of empowerment, called "The Best". Produced by Robyn Dell'Unto, the track features the incredible Kinnie Starr. Dell'Unto and Starr also co-wrote the song with Rheaume. The single is complemented with a visually compelling video directed by Stephano Barberis. Catch Amanda in Toronto on March 19th at the Burdock, and at a hometown show in Ottawa on March 21st at the NAC Fourth Stage.
"This song is for anyone that has ever felt less than. Anyone that has ever had an intuitive feeling and gone against it because they were scared or manipulated or not believed;" shares Rheaume. "Too often we allow others to take our power. We feel we have to apologize for being ourselves… messy, empowered, insecure, confident or not. Forget that. We are human, we can work on ourselves. I want to try my best to find compassion, understanding, and forgiveness… slowly and mindfully shed any and all ideas of who or what anyone else thinks we should be doing or how we should be acting. I am still practicing this every day. Fighting those demons."
From director Stephano Barberis; "I was asked to write a treatment for this song between flights, and was fatigued from a busy week and didn't think I could find the time or brain firepower between flights, so I started writing an "I'm so sorry but I'm too tired and have no time" letter as I played the song for the first time... but I loved the song so much that I deleted the email, called my producer, and started writing some ideas down.
"The song is a brilliant pop song - an undeniable, feel-good radio hit that gets lodged in your head immediately. What makes it even more fun is that it's an empowering tune about letting your own freak flag fly and emancipating your true self. I wanted the video to mirror that vibe of embracing one's authentic self and weaponizing it, so the video is about various people who arebeing stepped on by their significant others but bloom into beautiful monsters like an atomic bomb of flowers and otherworldly organisms."
Check 'The Best' here   https://www.youtube.com/watch?v=pv8xQquiLnc&feature=youtu.be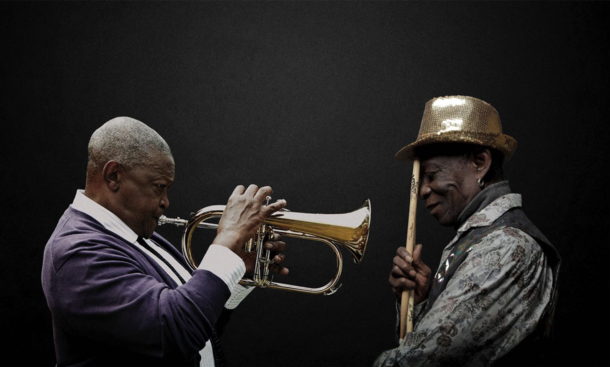 Next up is a celebratory album of heft. Rejoice, a special collaborative new album from legendary African artists Tony Allen and Hugh Masekela, is set for release on March 20 via World Circuit Records. In celebration of the album—Masekela's first posthumous release following his death in 2018—the track "We've Landed" is available here:   https://www.youtube.com/watch?v=XMOJg16oHdI
The single finds Allen, in addition to his unique drumming style, contributing a hushed but celebratory, semi-spoken commentary. "The song is dedicated to today's youth," explains Tony, "the lyric addresses people at seventeen, eighteen, nineteen years old, who are slowly becoming more mature, finding out who they are and realizing that it's their generation's turn to wake up!"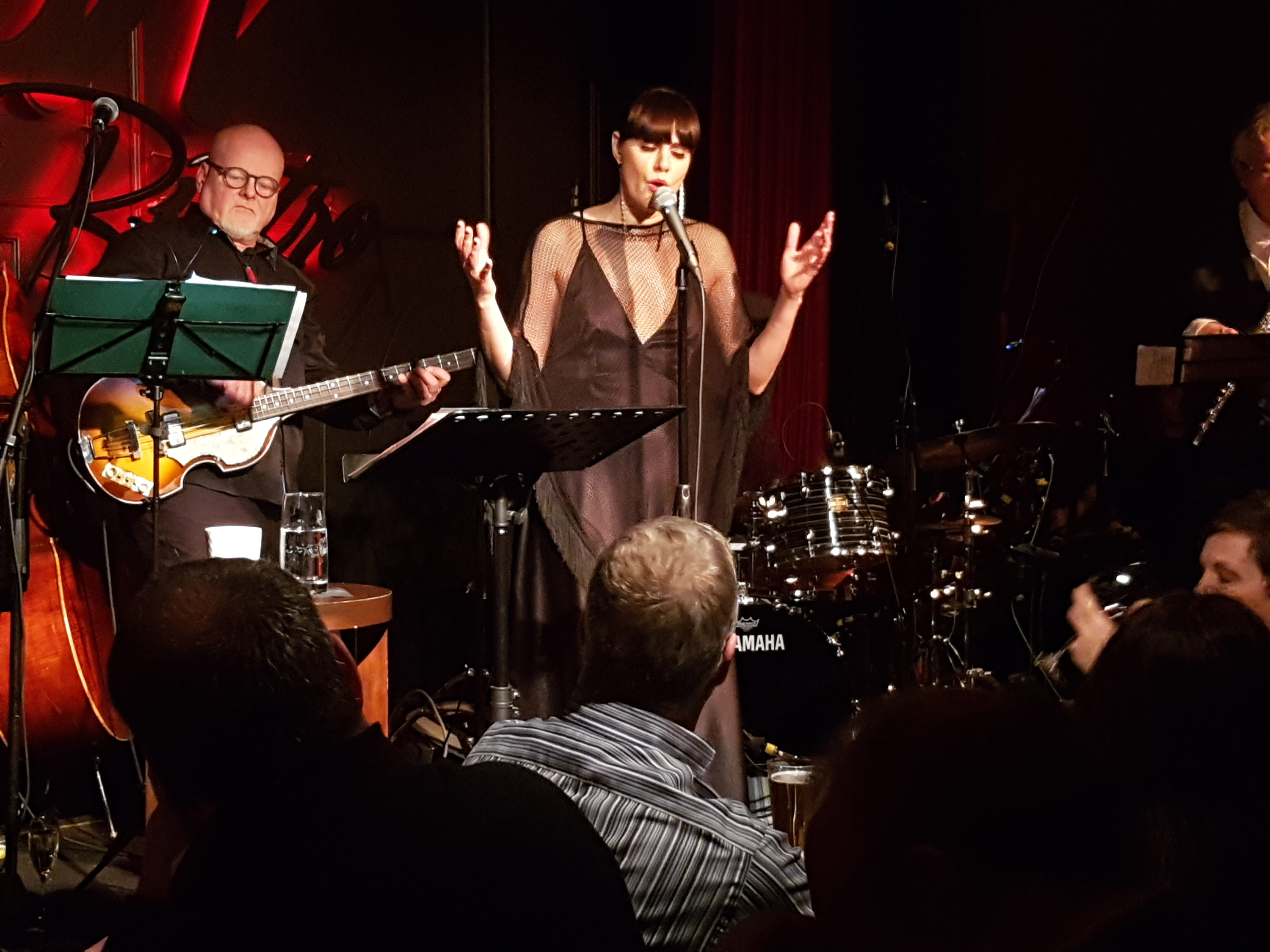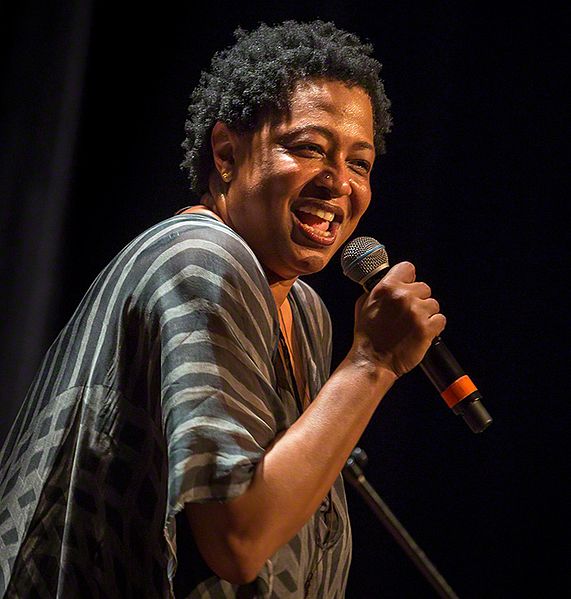 BITS'N'PIECES Loaded to the eyeballs on meds and in the company of a responsible adult, ventured out to check the new Geneviève Gigi Marentette show at the Jazz Bistro. The concept is a wholesale jazzification of hits from 1969; the 50-year-old material was roughed up at times, tarted up at others and given the eclectic song choice, a dice roll throughout. With the well-rehearsed unit of Bill McBirnie– flute,  Ben Wittman– drums, George Koller– bass and Attila Fias– piano at her back, Gigi set the tone with a take on 'Space Oddity' that went from towering to tragic, serving notice she'd be pressing all the buttons as required. Got so quiet you could hear a mind change as the woman went from harsh to lush ina breath and from the wistful cadences of 'Easy To Be Hard' to the ominous, unrestrained vocalizing of 'She's Come Undone.' Lots of minor-key beauty in the way the unit arrived at such disparate destinations as 'I Talk To The Wind' and 'Bird On A Wire.' Gigi delivering the goods from a persona somewhere between Montreal boho chick and Parisian bistro chanteuse from the Swinging Sixties. The primal peak was achieved by a breakdown segment where Gigi repeated Spinning Wheel's 'catch a painted pony' line in diff keys, diff volumes and diff intensities, a riveting incantation to restless forces beyond the song's landscape, stripped of its original meaning and emerging clothed in catchy conundrums……..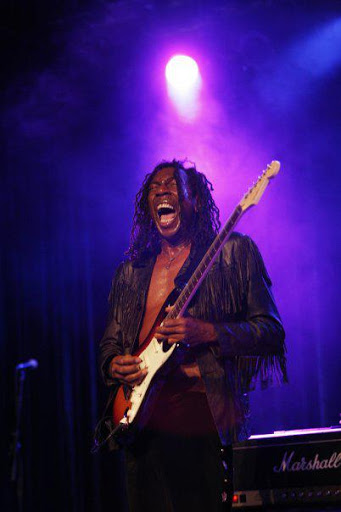 Lisa Fischer & Grand Baton Koerner Hall Toronto Jan.31…Wild T & The Spirit  Dakota Tavern Toronto Feb.1… Roadside Scarecrow The Carlton, Halifax Jan.31…Mark Bragg Black Sheep, St.John's Feb.7….Songwriters Circle.Bruce Guthro, Terry Kelly, Jodi Guthro, Matt Minglewood Delta Prince Edward, Charlottetown Jan.31.
Support live music. Anywhen.