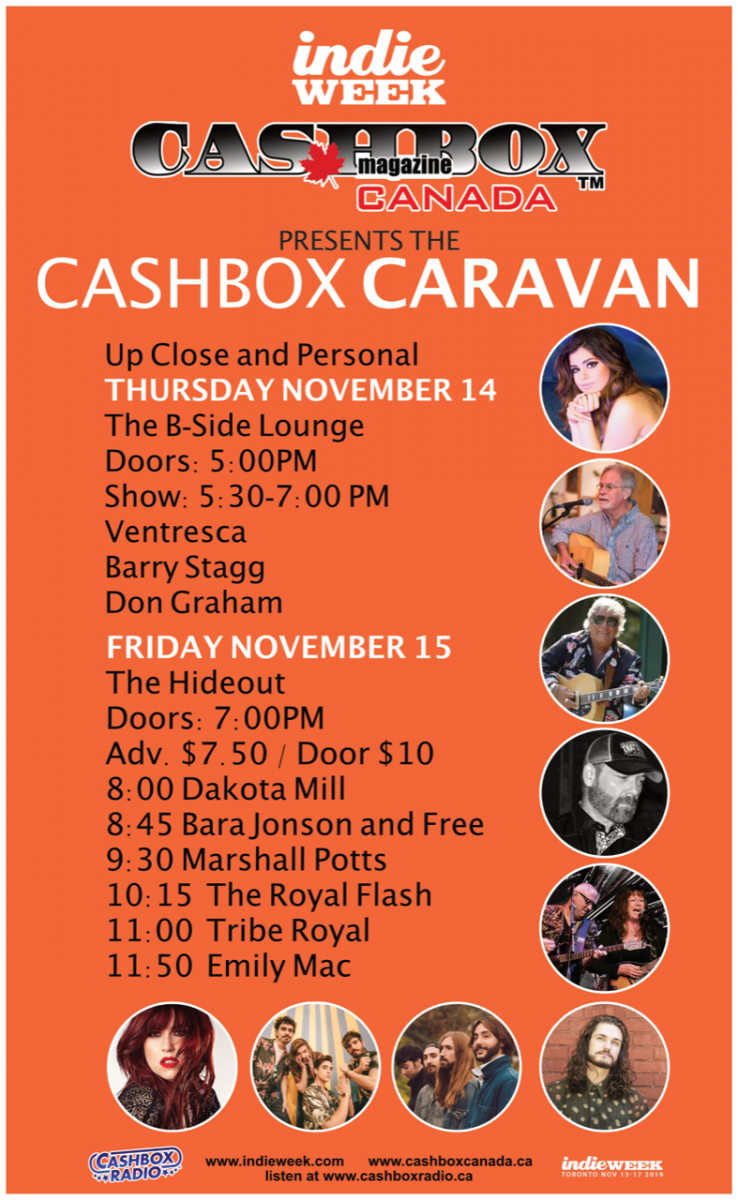 Fri Nov 08, 2019
The Cashbox Caravan continues its journey, having stopped in France (MIDEM in Cannes, France) and Orebro, Sweden (Live at Heart Sweden) and ending our year back here in Canada at the ever-popular Indie Week 2019.
"The idea behind the travelling Cashbox Canada Caravan was to give indie artists a chance to showcase at major events and have the opportunity to perform for agents, pr people, and labels with first-class sound and on professional stages all on a global level," says organizer Sandy Graham. "We are proud to be able to offer an alternative way of showcasing at major events where the competition for submission is so high."
Now the third event this year of the Cashbox Caravan will be back in the country of origin for the magazine, Toronto, Ontario, Canada.
"Indie Week has given us the opportunity to bring talent from other areas in the world so we will be able to have acts from not just Canada, but Sweden, Spain and the USA," Graham says.
The first CASHBOX CARAVAN SHOWCASE is at the cocktail hours of:
5 pm – 8 pm
Thursday November 14
B-Side Lounge (669 College St)
Doors: 5:00pm
Free Tickets RSVP here:
https://www.indieweek.com/cashbox-caravan-rsvp/?fbclid=IwAR2wQ-dgbC4SYAYPI-Vrj7q08rV0BXtj9NopD8mmls4rjfV3l4ceDW0BnW8
Featuring:
VENTRESCA
Toronto, Ontario CA
"Ventresca", was born on Jan. 3, 2002, in Toronto Canada and studied vocal lessons at the Royal Conservatory of Toronto. Her first song, "Craving" got the attention of former Sony, Arista Canadian recording artist/composer Cindy Valentine, turned manager for The Star Groomer who immediately signed her to her management company.
BARRY STAGG
Toronto, Ontario CA/North Carolina USA
Barry Stagg is a seasoned performer who has a current Barry Stagg with a current CD entitled "One Heart At a Time" that garnered Showcase performances at MIDEM 2019 in Cannes, France and Live at Heart Sweden and is set to perform in Toronto at Indie Week.
DON GRAHAM
Toronto, Ontario CA
Don Graham is a Canadian singer/songwriter with decades of experience as a performer and a songwriter.  He has recorded in Montreal, Toronto, Nashville and Muscle Shoals, Alabama and has toured around the world. Legend Eric Andersen says "Don Graham is a marvellous writer, musician and performer. It was an honour to share a stage with him"
The Artist/Band CASHBOX CARAVAN SHOWCASE is
8pm-1am
Thursday November 14
The Hideout (423 College Street)
Doors: 7:00PM
Adv. $7.50 / Door $10
indieweek.com/cashbox-canada-rsvp/
8:00 DAKOTA MILL
Toronto, Ontario CA
Dakota Mill is a Toronto based singer-songwriter. During his travels, he has found himself sharing the stage with artists such as a Reuben and the Dark, Birds of Bellwoods, The Zolas and many more. Dakota draws influence and inspiration from ongoing, everyday experiences which he is then able to transfer into his songwriting and live performances.
facebook.com/dakotamillofficial/
8:45 BARA JONSON AND FREE
Kristianstad, Sweden
BjF has become a frequent feature on the live stages around Sweden. Their tours have also reached into Denmark, Holland and Germany.
They did a Newfoundland Tour Spring 2019 and attended CMW. In June 2019 they did an official showcase at MIDEM in Cannes and in the Fall of 2019 they performed at Live At Heart Sweden in Örebro for the third consecutive year and will also be doing their second Live At Heart Newfoundland.
9:30 MARSHALL POTTS BAND
Kamloops, British Columbia CA
That's How it Starts Album heralds a new beginning for Marshall Potts and his music. It's about life's ups and downs, and learning to find something positive in the negative. He delivers a universal message of positivity and optimism—while rocking out like a supergroup. Marshall Potts is currently in pre-production for his new album. His motto is Take Back Your Power, Live In The Moment. The Journey Starts Here!
10:15 THE ROYAL FLASH
Madrid, Spain
The Royal Flash is the insane rock & roll band from Madrid, Spain with nearly 300 shows to date. An electrifying mix of riffs, rhythms, beats and pure energy. Catchy lyrics, a touch of psychedelia, choruses and sharp guitars that will blow your mind. 2019 highlights including being a support act for Delorentos.and their 1st performances outside of Spain at the Sziget Festival, Hungary, and Live at Heart, Sweden.
11:00 TRIBE ROYAL
Ottawa, Ontario CA
Building on the energy of working with legendary Producer Norbert Putnam of Muscle Shoals; 2019 is looking to be another exciting year for Tribe Royal. The band is currently preparing to start the recording of their new album with exciting news coming soon. With appearances on a global level in France, Portugal and Sweden TR is happy to be back in Canada and ready to rock it out at Indie Week.
11:50  EMILY MAC
Toronto, Ontario CA
With her raw powerful voice, bold confessional lyrics and sexy rock swagger Emily Mac has captivated audiences across North American from NYC's Rockwood Music Hall and The Bitter End to festivals like CMW and Indie Week. Nominated for a TIMA for the best original song and she is currently writing and recording her debut album.
Support Live Music! Visit indieweek.com/ for more info.