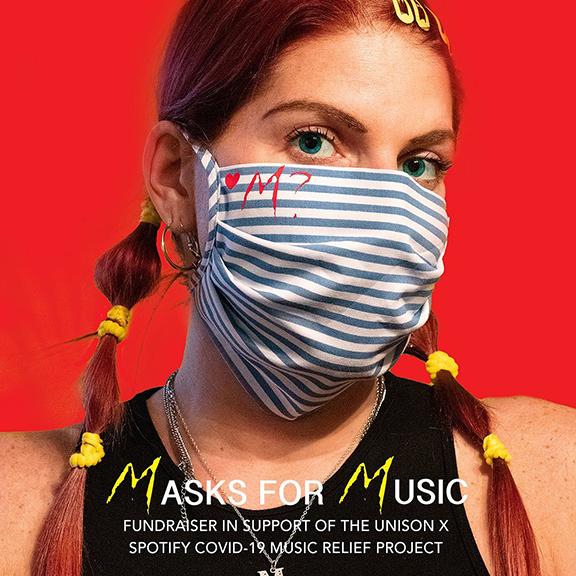 Fri May 29, 2020
CLASH Magazine calls Canadian artist MELANIE? "defiant in her outlook, staunch in her approach, and completely, utterly ruthless in her execution." If that's the homegrown Toronto-based artist's approach to her day-to-day blues-rockin' play, you can only imagine her new initiative — Masks for Music, a fundraising sale in support of Spotify's COVID-19 Music Relief Project and the Unison Benevolent Fund — is given the same gusto.
"One of the communities that has been most impacted by COVID-19 is the one I'm a part of: Artists and musicians," Melanie says. "With tours, live shows, and festivals cancelled — not to mention collaborative studio and writing sessions on hold and creative productions delayed — musicians and artists who were already struggling to make ends meet or access important resources are in need of even more assistance.
"We have an ambitious fundraising goal," she adds, noting the campaign's aim to raise $10,000 in the span of three weeks time. "Spotify Canada has pledged to match any donations made to Unison dollar for dollar, up to a collective $10 Million, so any money raised will be doubled!"
And so goes the genesis behind MELANIE?'s Masks for Music Campaign, featuring stunningly crafted, 100% cotton non-medical grade masks complete with filter pockets and her signature M?
"We have created about 200 custom masks, and each of them are for sale with a minimum donation of $10," she says. "We've also partnered with 18 local companies in the GTA to reward our donations above $100 with a number of goods and services. There's everything from personal training to clothing, jewelry… Even fresh, handmade pasta!"
The effort is almost there, exceeding 70% of its initial goal as of the time of writing.
Businesses featured include Alexandra-Jo Hastings, Bad Taste, Broken Cage Gallery, Cherry Gardens, Essentials by Temi, Greenhouse Juice Co., Jolene Melissa Officinalis Apothecary & Hand Dyed Goods, Laylow Bar, Lokey Cozy, Madison Makepeace, Noodle Perfect, Paulyy Fitness, Ripe X Homegrown Juices, Sam & Lance, Spin Master, Stitch n' Bitch Apparel, Terra Media Design, and Your Clothes Friend.
"The Unison Benevolent Fund's work is incredibly important, with or without a pandemic," Melanie considers. "In times of darkness and despair, we have seen the light that shines through when people and communities come together.
"We want to be a part of that story."
MELANIE?'s Masks for Music are available via GoFundMe here.
For more on Melanie? Visit:
melaniemediakit.com/2020-fnl/
instagram.com/squeezemymel/
facebook.com/squeezemymel
music.apple.com/ca/artist/melanie/1285963215