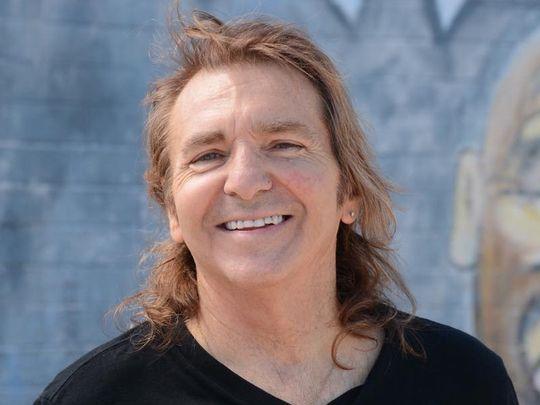 Fri Mar 09, 2018
Story Credit Ed Masley The Republic azcentral.com
Joshua Glass says he always loved watching his father, Arizona Blues Hall of Famer Jim Glass, play guitar."I can honestly say those are the times that I could see the pure joy on his face," he says. "When he was playing."
Jim Glass died Feb. 26 after suffering a massive heart attack. He was 70.
"He had a heart attack a couple years ago," his son recalls. "And that pretty much did a number on him. He never quite fully recovered. There were some issues in his lungs, and then he had another massive heart attack on his way to a doctor's appointment and it was just too much."
Michele Robins, a jazz announcer at KJZZ, met Glass in 1984.
"When I first heard Jim play," she says, "I thought he sounded like a cross between Eric Clapton and the Allman Brothers, such a pure, sweet tone. He always told me that the sign of a great blues guitarist was less notes, not more. His passion was playing the blues and I'm so happy he was able to share this love with Arizona for such a long time. He truly was the best blues guitarist to have ever graced the Arizona music scene."
Beyond his chops, Glass brought a certain presence to the scene that did not go unnoticed.
"I'll never forget his charm," Robins says, "those beautiful blue eyes, how much he loved cats (he had eight cats at one time living with him!) and that incredible sound coming from his vintage Les Paul."
Bob Corritore, who owns the Rhythm Room, recalls, "He always had a smile for everybody. I lost touch with him in recent years but he came by the Rhythm Room a few months back and it was a big smile as always. He was just one of those guys. He was a good man, a good player and one of the true personalities in our blues community. He had a universal kindness and we all were the recipients."
Genevieve Castorena, a Valley harmonica player who performs as Gypsy Wild at Heart, was touched by Glass's generosity and willingness to share his talents at her blues jam.
"He was an all-around musician that could have any job in town and yet could come down to a jam where there are people that don't play that good," she says. "He was always working and worked well with everybody. He never had the fear of sharing his musicianship with everybody. We all hoped to be like Jim."
Like Corritore, she notes that Glass was "always with a smile."
Then, with a laugh, she adds, "And always a beautiful woman on his arm. He was a good-looking guy."
Born in Winnipeg, the guitarist developed his love of the blues in San Francisco, where his family moved from Canada in 1967. He was still in high school at the time, and after seeing Albert King and other legendary artists at the Fillmore, he took up the guitar and started playing.
Joshua says, "He had to get a fake ID because he was too young play in bars. After they kicked him out a couple times, he went and got a fake ID so he could keep playing."
Jim Glass was always on the move – from San Francisco to L.A., then Chicago, then back to L.A., where he worked with the Preacher Ellis Band.
A guitarist-needed ad for Prescott's Down Home Band brought Glass to Arizona, where he moved in 1977, living in Paulden at first.
By 1986, he'd moved to Phoenix, joining Drivin' Wheel and, six years later, Big Pete Pearson & The Blues Sevilles.
Glass moved a few more times before settling in 2003 in Peoria, where he was living at the time of his induction into the Hall of Fame in late 2013.
Along the way, he's played with Tommy Dukes (off and on since the '70s), HoneyBoy Dupree & the Smokehouse Players, Jimmy Peyton's Midnite Blues, Rena Haus in the Glass-Haus Band and Tina Bailey in the Bailey Glass Band.
When Corritore first moved to Phoenix, Glass had already established himself on the Valley blue scene.
"He was in a band called Drivin' Wheel and it had Small Paul as the leader," Corritore recalls. "It was really a great band. They recorded a 45, which I have. And then he played in Big Pete's band for years at the Rhythm Room. He played with Tommy Dukes and a whole bunch of people. He was always just a part of many important and legendary bands here in town."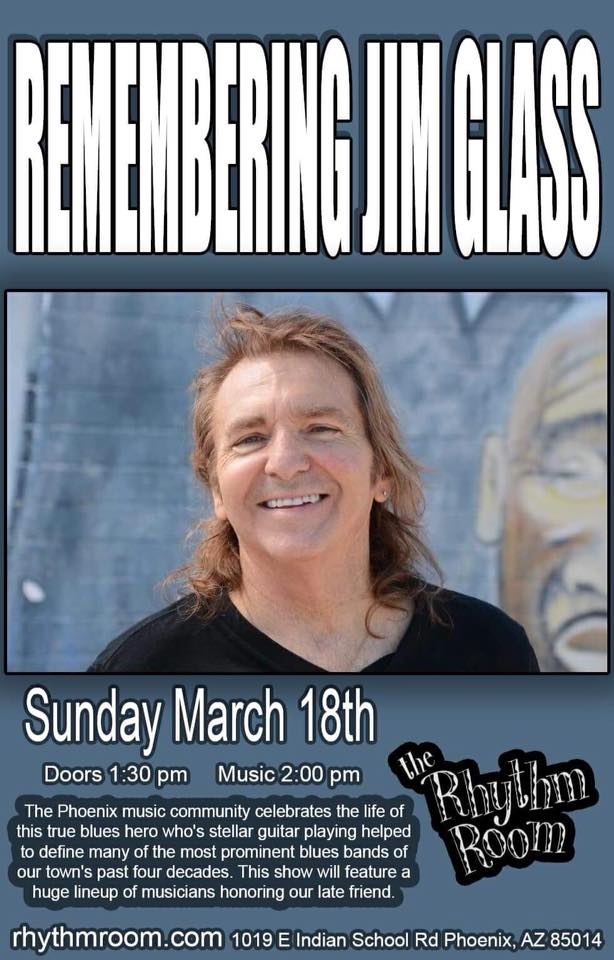 Dukes recalls Glass as "a nice guy" and "a damn good player" who was fun to be around. The two had played together off and on since Glass moved to Arizona.
"And no matter where I played," Dukes says, "if I would see him walk through the door and I would be up on stage playing, I would point down at my guitar. He'd come on up, I'd give him the guitar and keep on singing. I didn't do that to anybody and everybody, you know. But he could follow me. He could play what I play. I don't call people up there that can't do nothin'.  Jim was right on, man."
Joshua Glass recalls his father's love of music.
"There was always music playing in our house," he says. "Man, I remember one time, we were getting up, getting our coffee and doing the morning thing, getting ready to go into town and he had this Gary Moore CD, 'Still Got the Blues.' It was playing on the home stereo. Then we went and got in his Camaro, he started it up and he had the same CD playing. He would get on a kick with an artist where he would just listen to them over and over. He just loved the blues and all the people that he got to play with."
Naturally, Joshua picked up the guitar as a child.
"I can jump up and play with somebody," he says, "if they want to pull me up on stage. 'Cause my dad used to do that. He would ask his band members if it was OK if I jump up and do a song. ... He was cool like that."
Jim Glass is survived by six children: Jeremy Callies, Joshua and Bailey Glass, Benjamin and Daniel Hossa, and Amanda Rose.
Asked if his father had been playing recently, Joshua, who lives in California, says he's seen pictures on Facebook of his father playing "but not much at all, hardly ever."
When he went to his father in the hospital after this last heart attack, he says, "the doctor gave us the rundown on what our options were and it didn't look good. So I walked over to the side of his bed and I reached down and felt his fingertips. And the calluses were gone. That had a lot to do with the decision that he made. If a musician is gigging, his fingertips are callused. That's just the way it is."
A tribute show is planned for 2 p.m. Sunday, March 18, at the Rhythm Room.
"You know, he touched a lot of people with his music," Joshua says. "There's gonna be a lot of people there. It was just a joy growing up around someone that good."