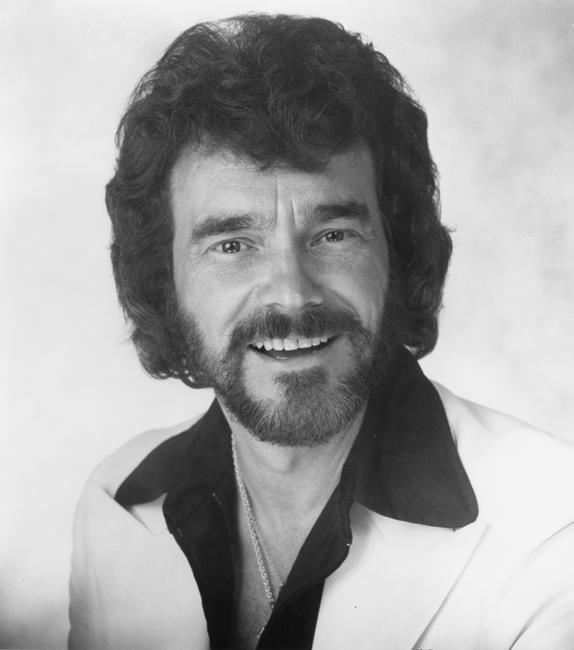 Fri Mar 02, 2018
Canadian born country singer/entertainer, comedian and musician Ronnie Prophet has passed away at age 80.
Ronald Lawrence Victor Prophet, who charted 23 singles from 30 albums in a career that spanned 60 years, died with loving family and friends at his side on Friday, March 2 at age 80, following cardiac and kidney failure. Survived by his wife of 32 years, Glory Anne Carriere Prophet, sons Tony (Kitty) Prophet, Vancouver, BC, Jimmy (Emily) Prophet, Nashville, TN, stepchildren Rhonda (Bill) Paisley, Nanaimo, BC, Warren (Lesa) Carriere, Regina, SK, Tamara Greer, Estevan, SK and 12 grandchildren - Justin, Joey, Jake and Patrick Prophet, Josh and Victoria Paisley, Meagan and Stephanie Carriere, and Brooklyn, Ryan and James Greer.
His longtime friend and Agent of 38 years, Paul Mascioli commented "Ronnie was an international star who transcended all boundaries with his big heart and superb showmanship. He was a working man's entertainer and loved by people of all ages. We'll truly miss him but will never forget him".
The versatile Ronnie Prophet was not only a country music singer, but also a gifted impressionist, an entertaining storyteller, and an emcee. He was born in Calumet, Quebec, the youngest of three children. As a musician, he began playing square dances throughout the province. He immigrated to the U.S. in 1966, wintering in the Bahamas and performing at the Jack Tar Hotel. The Ronnie Prophet Waiting Room at St. Jude's Children's Hospital in Memphis came about as a result of his performances and charity work with Danny Thomas, Perry Como and Frankie Valli. Soon he began playing at Boots Randolph's Carousel Club, in Nashville, which later became Ronnie Prophet'sCarousel Club. In the early 1970s, he made his television debut on the long-running CBC series The Tommy Hunter Show.
Eventually, he had his own show, which ran until 1981. He next hosted Grand Old Country on the CTV network and the British series Ronnie Prophet Entertains. In 1975, Prophet made his recording debut when his first hit single "Sanctuary" made the Top 30 and was quickly followed by three more charted hits. Over the next 40 years, he continued to appear on television and toured internationally throughout the United States, Canada, the UK, and New Zealand as well as with the USO in Europe. In 1997, he and his singing partner/wife Glory Anne moved to Branson, MO, and performed there in various theaters until their retirement in 2015, after which they settled down in sunny Tavares, FL.
Canadian country legend Michelle Wright posted on her Facebook page "As a young artist coming up I had the pleasure of doing a variety of shows with Ronnie Prophet. What an entertainer. He was so talented and so funny and simply one of a kind. He was also always very kind to me. Thank you, Ronnie, for all the years of music and laughter you shared with all of us. Rest In Peace"
Some of Ronnie's awards and accolades include:
1978: winner, Juno Award, Country Male Vocalist of the Year,1979: winner, Juno Award, Country Male Vocalist of the Year,1980: nominee, Juno Award, Country Male Vocalist of the Year,1984: winner Canadian Country Music Duo of the Year with Glory-Anne Carriere,1984: winner Canadian Country Music Entertainer of the Year,1985: Ottawa Valley Country Music Hall of Fame,1987: nominee, Juno Award, Country Male Vocalist of the Year,1999: inductee, Canadian Country Music Hall of Fame,2015: Pioneer Award – The Terry Awards, Branson, MO2018: Honorary Doctorate Of Music – Antioch College & University of Missouri
In lieu of flowers, the family has requested donations be sent to St. Jude Children's Research Hospital