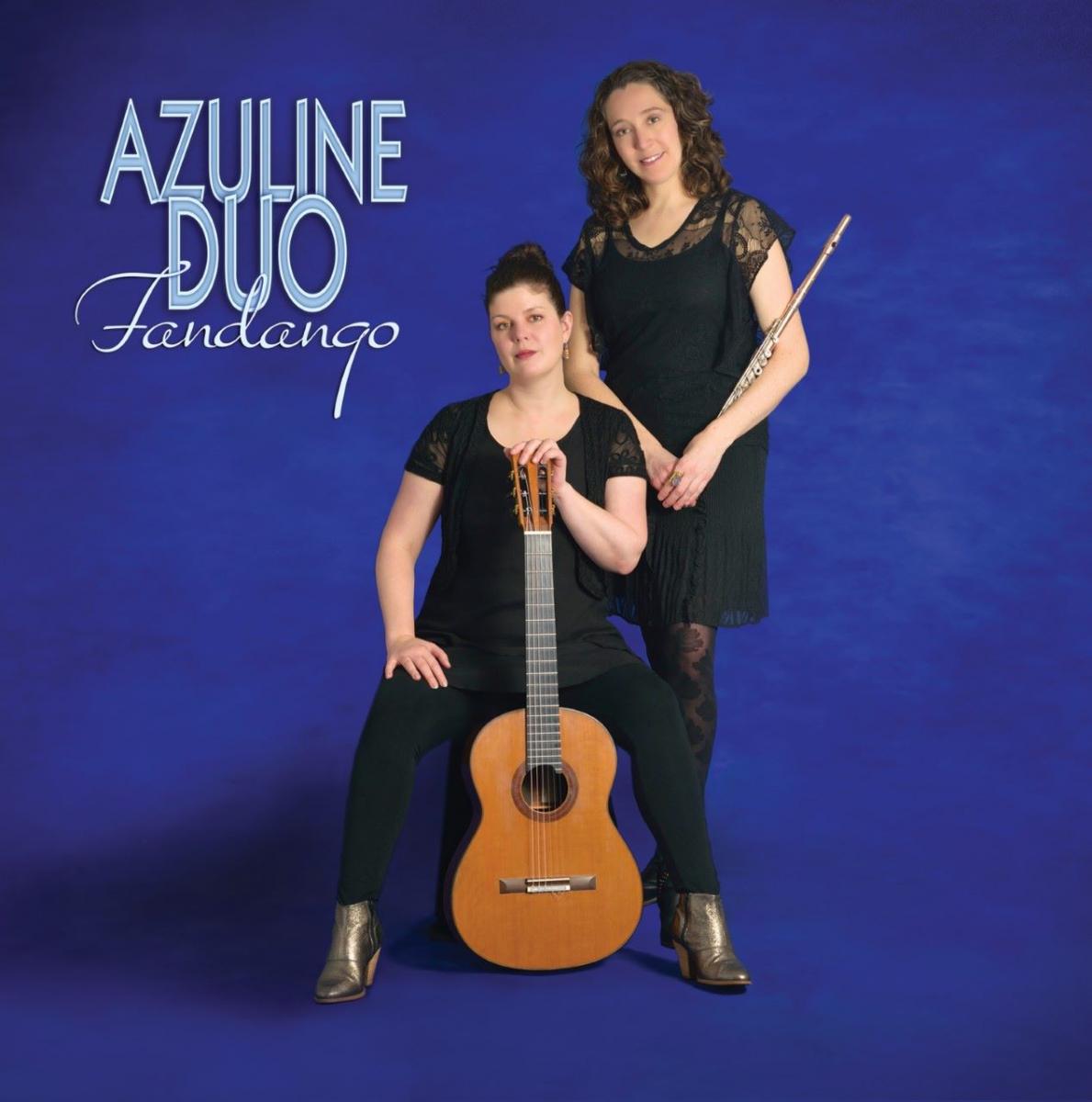 Fri Feb 12, 2021
Following their 2016 debut, Romanza: The Music of Spain and South America, Azuline Duo — the Hamilton-based ensemble — has just released its eagerly awaited sophomore album, Fandango. The record features 15 unique performances of music by some of the world's finest classical composers, including Gerald Garcia and Santiago De Murcia.
The classical/folk-inspired ensemble features two award-winning, versatile musicians: guitarist Emma Rush and flutist Sara Traficante. In their career together, the two have always aimed to push the boundaries of their instruments and conventional programming with unusual and rarely heard repertoire and a dynamic onstage presence that engages audiences right from the very first note. They are a sonic force to be reckoned with.
Fandango includes Azuline Duo's take on two works by the renowned Brazilian musician Chiquinha Gonzaga: "Lua Branca" and "Atraente." "When we're writing arrangements, we love finding all the different ways to use our instruments to bring the music to life — whether it's singing through the flute, or recording percussion on the guitar," they said. "Anything goes!"
For the grand finale of this exciting new album, the talented women incorporated some music by Canadian classical guitarist, Jeff McFadden with the premier recording of his work "Aguardiente." On playing music by the famed Hamilton composer, Azuline Duo said "it was thrilling" to be able to feature the tune and have the added opportunity to add some vocals into the mix.
Before the ongoing COVID-19 pandemic, Azuline Duo toured regularly across North America and lived by their mission of bringing exciting live classical music to venues across Canada and the United States. From the small nooks of Vancouver Island to the concert stage in Texas, the ambitious duo have covered a lot of territory and continue to make a lasting impression on exhilarated audiences across the continent.
Through the continuously increasing restrictions on social gatherings and events, Azuline Duo has been live streaming concerts for the Philadelphia Guitar Society, Guitarfest West and various other organizations.
Outside of Azuline Duo, Emma and Sara both actively pursue their own musical endeavours. Sara is not only a founding member of genre-bending trio Vox Metropolis, but she is heavily in demand as a clinician and collaborator on projects from traditional classical to film scores and indie rock. She even plays all flutes and whistles on CBC and Netflix's "Anne with an E."
Emma, on the other hand, has just released her third solo album. It's called Wake the Sigh and is a showcase of relatively unknown female-written guitar compositions of the 19th century, including works from Emilia Giuliani, Delores de Goñi and Julie Fondard. Though she's not been able to tour to help promote the record, she has made regular appearances at major guitar festivals in the past, in countries like Germany, Mexico, Sweden, China, the U.S. and Canada.
Emma Rush has been invited to showcase her music at Future Echoes in September in Sweden.
The two virtuoso performers are also part of the faculties of two of Hamilton's most prestigious institutes: Sara at McMaster University and Emma at Mohawk College. On top of that, their musical efforts have been supported individually by not only the Canada Council for the Arts, but the Ontario Arts Council, Hamilton City Enrichment Fund and FACTOR.
Azuline Duo's "Fandango" is now available through Bandcamp.
Watch and listen to the beautiful piece Heman Dubh from Five Celtic Pieces arranged by Gerald Garcia here:
For more visit:
azulineduo.com/
twitter.com/azulineduo?lang=en
facebook.com/azulineduo/
open.spotify.com/album/2UHTUkz5Nu0fp4IntR1o4N?si=FezBTubMR0WRhaakJ_H9FA