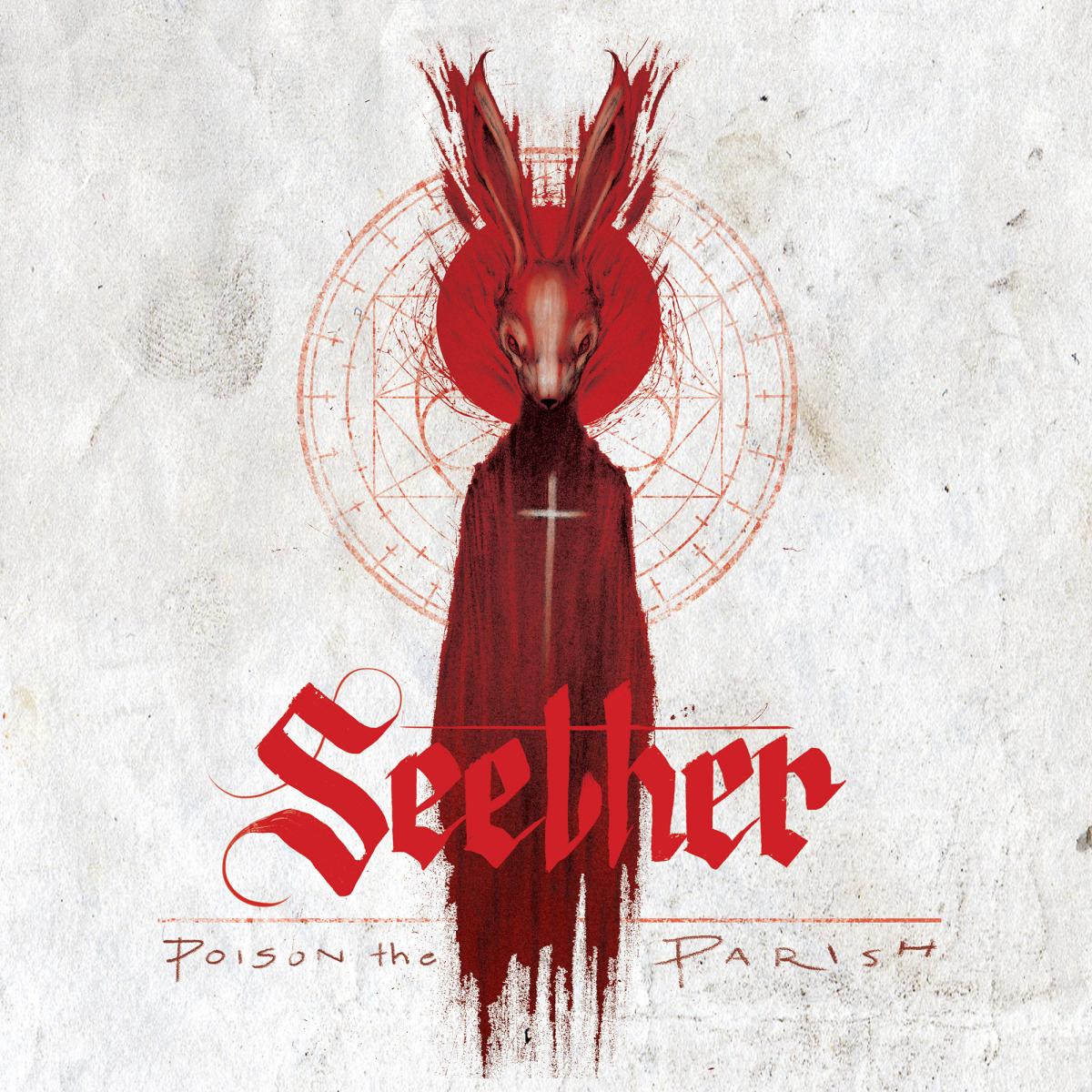 Fri May 12, 2017
SEETHER , (Shaun Morgan, vocals/guitar; Dale Stewart, bass/vocals; John Humphrey, drums) have shared a new track called Nothing Left from their upcoming album Poison the Parish, due out May 12th, 2017 through Morgan's new Canine Riot Records via Concord Music Group.
Poison the Parish was recorded at Blackbird Studio in Nashville, Tennessee, and marks the first album produced in its entirety by front man Morgan. Among the heaviest and emotionally pure efforts of the Seether's illustrious career, the new album embodies the band's newfound ferocity and resolve. "In a time when it's easy to tune out all the monotonous rock, Seether's Poison the Parish proves the South African outfit still grooves, crushes and rocks harder than all," affirms REVOLVER. Alternative Press was similarly impressed stating , "Poison the Parish is a return to the darker and heavier style of music that Seether built their name upon."
Lead single Let You Down , has quickly leapt into rock radio's Top 10 and shows no sign of slowing down. The band also previously shared Stoke the Fire , which debuted via Revolver.
Seether is preparing to embark on the first leg of the Poison the Parish World Tour, which includes headline shows and festival appearances throughout the spring and summer. Every ticket purchase comes with a physical copy of Poison the Parish. Additionally, a portion of all tickets sold for the Poison the Parish World Tour will benefit the Rise Above Fund, which is a subset of Suicide Awareness Voices of Education, the largest suicide prevention organization in the country, and the band's partner on the Rise Above Fest.
Now in its fifth year, the Rise Above Fest has expanded to two days in 2017, on Saturday, July 22nd and Sunday, July 23rd, at Darling's Waterfront Park in Bangor, Maine. Performers include Seether, Korn, Shinedown, Stone Sour, Skillet, Halestorm, Falling in Reverse, and more.
Seether Tour Dates:
4/29 — Ft Meyers, FL — Monster Energy Fort Rock at JetBlue Park*
4/30 — Jacksonville, FL — Monster Energy Welcome to Rockville at Metropolitan Park*
5/2 — Lancaster, PA — Chameleon Club**
5/3 — Lancaster, PA — Chameleon Club**
5/5 —Tuscaloosa, AL — Druid City Music Hall**
5/6 — Nashville, TN — War Memorial Auditorium
5/7 — Charlotte, NC — Carolina Rebellion 2017 at Charlotte Motor Speedway*
5/9 — Asbury Park, NJ — Stone Pony**
5/10 — Asbury Park, NJ — Stone Pony**
5/11 — Wallingford, CT — The Dome at Toyota Presents Oakdale **
5/14 — Boston, MA — House of Blues - Boston**
5/16 — Clifton Park, NY — Upstate Concert Hall**
5/17 — Niagara Falls, NY — Rapids Theatre**
5/19 — Pittsburgh, PA— Stage AE**
5/20 — Columbus, OH —Rock on the Range 2017 at Columbus Crew Stadium*
5/22 — Grand Rapids, MI — Monroe Live**
5/24 — Detroit, MI — St. Andrew's Hall**
5/25 — Detroit, MI — St. Andrew's Hall**
5/27 — Omaha, NE — Sokol Auditorium**
5/28 — Pryor, OK — Rocklahoma*
6/1 — Boise, ID — Knitting Factory Concert House***
6/2 — Portland, OR —Waterfront — RoZone Stage /KFBW Radio Show*
6/3 — Seattle, WA — 2nd Annual Crazy Beverage Bash at Showbox SoDo*
6/5 — San Francisco, CA — The Fillmore***
6/6 — Anaheim, CA — House of Blues***
6/7 — Tempe, AZ — Marquee Theatre***
6/10 — Saint Louis, MO —The Pageant***
6/11 — South Bend, IN — WRBR /The Bear's Big Growl Six*
7/15 — Bridgeview, IL — Chicago Open Air at Toyota Park*
7/16 — Indianapolis, IN — Egyptian Room at Old National Centre^
7/18 — Cincinnati, OH — Bogart's^
7/19 — Cleveland, OH — House of Blues ^
7/22 — Bangor, ME — Rise Above Fest at Darling's Waterfront Pavilion*
7/24 — Baltimore, MD — Baltimore Soundstage^
7/25 — Baltimore, MD — Baltimore Soundstage^
7/27 — Philadelphia, PA — The Fillmore^
7/29 — North Myrtle Beach, SC — House of Blues - Myrtle Beach^
7/30 — Cherokee, NC — Harrah's Cherokee Event Center^
8/1 — Oklahoma City, OK — Diamond Ballroom^
8/2 — Springfield, MO — Gillioz Theatre^
8/4 — Saint Paul, MN — The Myth^
8/5 — Milwaukee, WI — The Eagles Ballroom^
8/6 — Peoria, IL — Limelight^
8/8 — Kansas City, MO — Uptown Theatre^
8/9 — Sioux Falls, SD — The District^
8/11 — Glendive MT — Dawson County Fairgrounds ^
8/14 — Boulder, CO — Boulder Theatre^
8/16 — Wichita, KS — The Cotillion^
8/17 — Dallas, TX — House of Blues^
8/19 — San Antonio, TX — The Aztec Theatre^
8/20 — Houston, TX — House of Blues^
*Festival Date
**Featuring Letters From the Fire + Kaleido
***Featuring Through Fire + Kaleido
^Featuring Letters From the Fire + Big Story