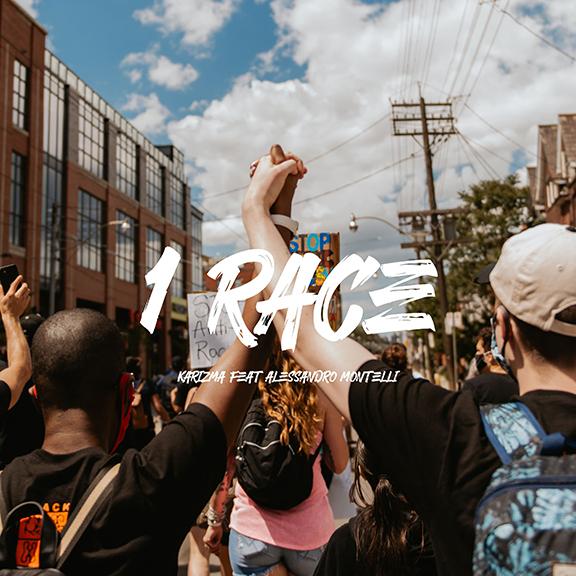 Fri Sep 18, 2020
At 10,000 streams across platforms, Karizma and Alessandro Montelli continue to amplify messages of equality, justice and humanity in their new collaborative track, "1 Race" — available now!
"This is a song that represents the change we want to see in the world right now," they say. "It's inspired by everything that's been going on in our world with police brutality, racism, and injustices.
Karizma feat. Alessandro Montelli - 1 Race (Official Music Video) here:
"It also looks at the tough times, especially recently, and is wishing for everyone to stay safe and keep social distancing for a better world to minimize the spread of COVID-19."
Having met in April 2020 during a street performance in partnership with Kisani Hub and Canadian Stage, Montelli jumped at the chance to work on the song that had yet to be finished by Toronto-based rapper Karizma (Brent Doctolero). They recorded in Montelli's home studio with final production credits extending to James Taylor (Jay-Boz) and mastering by John Longley.
The collaborative foundation of the track doesn't end there; the song's first video is a lyric visual and features a compilation of videos from the pair's fans around the world, as well as recognizable faces from the Canadian scene such as Ezra Jordan, Mike Ruby, Max Parker, Lorraine Lawson, Crash Adams, Nicole Haber, Sheena Osman, Sarah Jordan, Matt Von, Devin Moody, Joshua Sade James, MC Sulek, RRAQS, and more.
"Also, my friend and photographer Daniel Dorta, who edited the first video, had participated in one of the peaceful protests in Toronto and has some shots from the event," Montelli adds. "I asked to pick one for the song's cover art and, as you can see, it worked out perfectly; we couldn't have found a better shot to represent the song and the movement we're trying to create."
"For the video concept in general, it wasn't about us being in front of the camera," Karizma shares. "We didn't want to make an official music video because, for us, it was all about the message of the song; we wanted people to just focus on the lyrics.
"But people were reaching out to us and wanted an official one!"
The result is a secondary video release, filmed and directed by Renjie Li and Akiem Ra-Zhi, featuring on-the-ground footage from this summer's #blacklivesmatters protests downtown Toronto.
For more visit:
alessandromontelli.com/
instagram.com/karizma_humanity/
instagram.com/alessmontmusic/
facebook.com/alessmontmusica