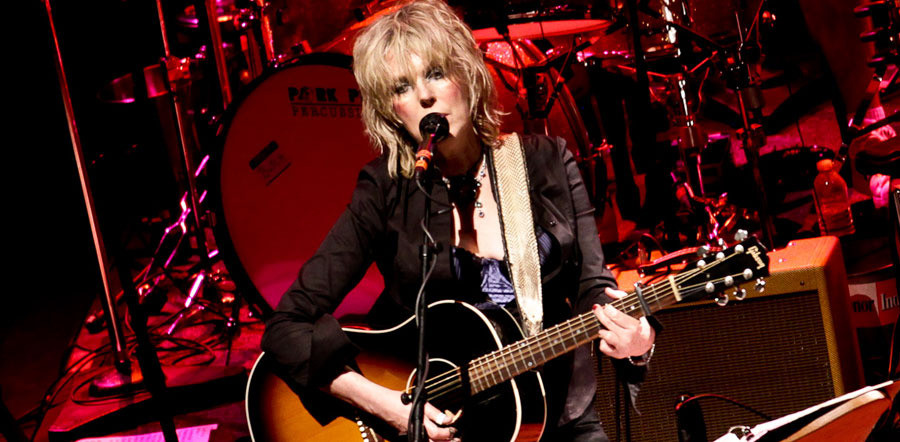 Fri Nov 23, 2018
The crowd awaiting the entry of Miss Rootlessness was much like the songs on Car Wheels on a Gravel Road. There were rockers, roots gals, country fans, lovers of Americana, soulpatched blues dudes and guitar slingers everywhere you looked. All giving it up for Lucinda from the moment she strolled onstage to the final ringing chords. Backed by Buick 6,that being guitar player Stuart Mathis, equal parts sizzling solos and nuanced picking on the downtempo numbers, bassist David Sutton, who alternated between electric and stand-up, and drummer Butch Norton, a former member of Eels and a man with a Jason Bonham style touchon the skins, Williams launched into the tour of the Southlands that's at the spine of Car Wheels…, this night celebrating its 25 anniversary.
On the title track, she sets off from Macon, as the girl she used to be, sitting in the back seat of a car headed toward Jackson for reasons she's too young to understand. Once on the road, she touches down in a juke joint in Rosedale ("2Kool 2 Be 4-Gotten"), pines for a lover in a prison in Opelousas ("Concrete AndBarbed Wire"), sets an ex's soul free in Lake Charles ("Lake Charles"), kicks a no-good man off the tour bus in the middle of nowhere and sends him back to Greenville ("Greenville"), looks for joy in West Memphis and Slidell ("Joy") and finally finds some peace as she travels from Lafayette back to Jackson ("Jackson").
Throughout the evening, Williams felt easy enough with the crowd to talk about their circumstances and the characters involved with almost every song she played.Got topicaland charged up too on"Concrete And Barbed Wire." "They tore theBerlin Wall down and we're trying to put one up," she dryly noted. "We don't need more walls."
Late in the show, she rolled out 2014' Foolishness, with fresh Williams lyrics ("I don't need racism in my life, I don't need sexism in my life, I don't need walls inmylife") her voice gliding to a crescendo as she defiantly punched the air, and the crowd went ape. The second half was instead of a geographical tour, a riffle through the Lucinda Williams songbook, which allowed for a display of genre diversity that the band eagerly embraced.
Beginning with a touching solo performance of "Ghosts Of Highway 20" (inspired by the interstate that runs from Texas to South Carolina), Williams skillfullyconnected the touchstones that signify throughout her impressive body of work.The 2016 song puts her in the front seat, she pointed out, but she's just the same girl she was in "Car Wheels On A Gravel Road"but all growed up.
Highlights included the jaunty"Essence" and "Steal Your Love", all raw sexual desire cut with the Williams sense of playfulness and delivered with a warm authority. Being Lucinda, the curveball came with the first encore, a rip it up take on ZZTop's "Jesus Just Left Chicago" that got just about everybody raving.
The notoriously edgy and irascible Williams was in a mellow space for most of the show, emanating the vibes and gratitude of an artist who still feels she's a messenger bringing word of feelings and visions bigger thanherself and originating somewhere where experience hangs out with spirituality.
Thirteen albums deep and 64 years old, Lucinda remains as productive a songwriter and as compelling a performer as ever. Long may she strap on the six-string and take us rambling down country roads.