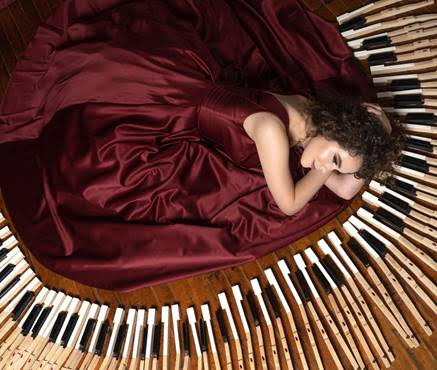 Fri Dec 13, 2019
With a voice CBC calls "incredibly earnest" with an "honest purity," Canadian singer/songwriter Alex Whorms continues to shine in her favourite holiday song, releasing a video covering Joni Mitchell's "River" as the season swings into full-gear. 
"Joni Mitchell's 'River' has been my favourite Christmas song for years," says the Ajax-born, the Hamilton-based artist of her affections for the track, originally released in 1971. "I heard it for the first time when I was about 13… My family was watching an old rerun of 'Ally McBeal' — it was the episode where Robert Downey Jr's character sang it, and I couldn't believe how beautiful the song was. 
"I immediately looked up the lyrics and taught myself how to play it on the piano. 
"I've pulled it out, again and again, every year." 
"It's cool for me that the lyrics mention 'skating away' because I was a competitive figure skater for most of my life," she marvels. "Skating is extremely therapeutic for me… It feels like flying.
Watch "River" here: https://youtu.be/XlqH7o77D8A
"With so many concerts to perform and events to attend, the holidays can start to feel pretty overwhelming for me, so the line 'I wish I had a river I could skate away on' holds real meaning to me."
The video was recorded in one take live with Konrad Swierczek producing the audio and Zach Symak directing the video, and comes at the close of an equally busy year — not just season — for Whorms; she released her second EP, Burgundy, in September, and its premiere single "Sunset" was featured on CBC Radio One's 'In The Key of C.' 
Previously, her debut album — 2017's Our Lives — landed space on CFMU 93.3's Top 20, I Heart Hamilton's Top 5, and WRUW 93.1, and Whorms also received the 2019 Hamilton Arts Award for Emerging Artist in Music, and performed at Canadian Music Week, Hamilton's Festival of Friends, and completed Canada's Music Incubator's Artist Entrepreneur Program. 
For more visit: alexwhorms.com/
facebook.com/alexwhorms
instagram.com/alexwhorms
twitter.com/alexwhorms
open.spotify.com/artist/5hx0matAgNw6vFA3z9an2v