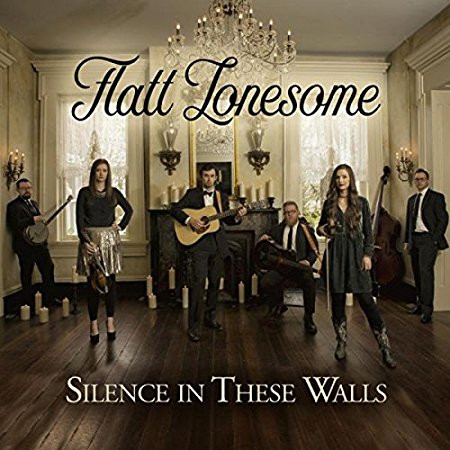 Fri Nov 10, 2017
The six members of Flatt Lonesome have grown a lot as individuals, band mates, songwriters, and musicians in the four years since they first appeared on the scene with a self-titled debut. This distinctive and retro-minded outfit has spent much of the early part of their run pay due deference to the rich history of country music, but these last four years has also found them expanding their purview to include increasingly sophisticated arrangements, more and more original material and discovering a wont for pushing the boundaries of the form while still loyally adhering to its expectations. There's a lot of entertainment value spread out over these twelve tracks, but there's also a feeling of life well lived that goes into these performances and they will likely strike a chord deep within listeners. Silence in These Walls is Flatt Lonesome's best effort to date and sets the bar high for their future releases.
It doesn't begin on a very cheerful note. "All My Life" has tremendous beauty thanks to a variety of factors, but Kelsi Harrigill's vocal is the song's most distinguishing merit. The musical character of the song conforms more to bluegrass than anything else, but there are definitely some bluesier elements coming through both musically and vocally. Those influences are more clearly underscored during songs like "Build Me a Bridge" and the clever songwriting heats up a little more thanks to a chorus that sticks in the memory. "Cry Oh Cry" casts a similar spell as there are many elements of the song that bear repeated listening and the vocal talents of Buddy Robertson and Kelsi Harrigill come together quite magnificently during this performance. They look back to the 1970's country scene, the first year of the decade in particular, and offer up a solid cover of Glen Campbell's "Where Do You Go". There are some obvious differences, for those who know both tunes, but it's impressive how Flatt Lonesome manages to capture the spirit of the original while never pursuing the same musical ends in any meaningful way.
"Gently Please Tell Me Goodbye" is the album's best ballad, hands down, and the trio of Kelsi, Buddy, and Charli Robertson emote with such unusual and apparently inexhaustible ease that everything they touch takes on an, at least mildly, dramatic air. We get a light dose of playfulness with Kelsi and Charli's vocals on the song "Happy 'Til He Comes" and we continue the good vibes throughout the remainder of the release. The last track, another cover, brings Silence in These Walls to a memorable close. "You're the Reason" is a country classic familiar to any long time fan but, like "Where Do You Go", Flatt Lonesome engineer a strategy that gives both songs a remarkably elastic grip on the popular imagination. It's these sort of intelligent decisions that go into considering this album as among the best release in some time from the Americana genre.