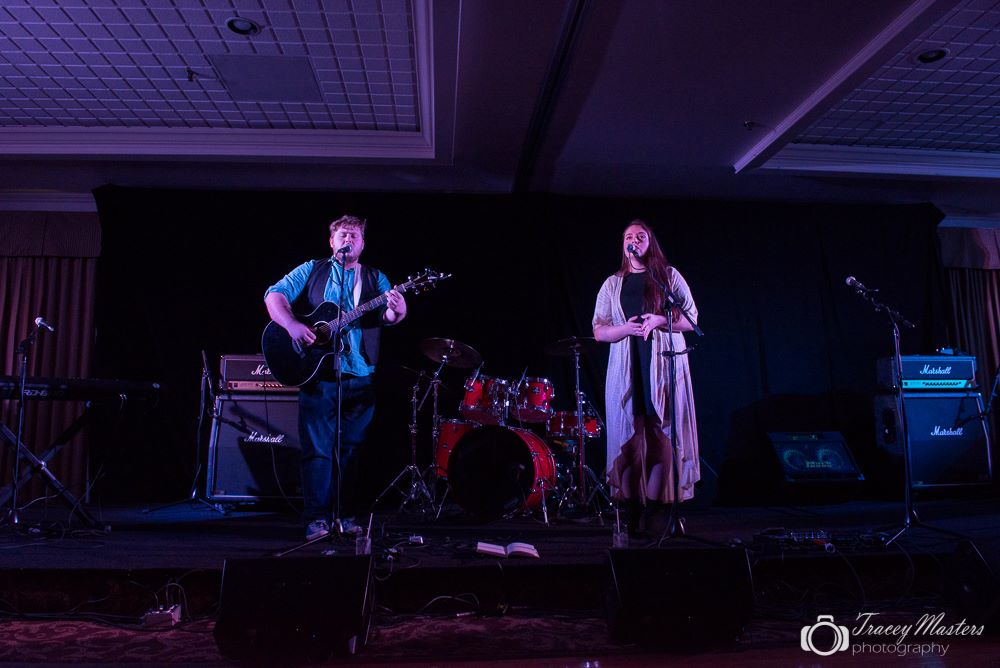 Fri Oct 26, 2018
Submitted by Christopher Kerwin
Like a breath of fresh air, stirring the soul while soothing the heart; hauntingly beautiful melodies wrapped in harmonies as warm as a mid-winter fire- there's a telling familiarity to the themes explored in 'Golden Hour'- the debut release from powerhouse Newfoundland folk duo Quote The Raven. Comprised of the pairing of emotive vocalist Jordan Coaker and haunting songstress Kirsten Rodden-Clarke, "aptly titled 'Golden Hour' is the physical embodiment of right place, right time, right people." Crafted alongside virtuoso producer Chris Kirby, and featuring an embarrassingly high caliber of Canada's songwriting elite – Gabrielle Papillon, Ian Janes, Charlie A'Court, Keith Mullins, Chris Kirby, Stephen Green, Aaron Green, and Dwight D'eon – "Golden Hour is as much a statement piece of a pair of hungry musicians ready to hit the stratosphere as it is a tremendous artistic achievement."
The album starts with the title track 'Golden Hour' embodying that feeling of setting out on a new journey, trusting the process and being there with a loved one; sun slowly rising in the distance. There's a feeling of tranquility, of being at peace in the moment while living youthfully, but there's unmistakable tension, from time passing quickly or a window of opportunity slowly closing. Listening to this record I can't help but be taken back through my own life, with so many defining experiences passing before my eyes. Truly remarkable songwriting and an absolute treat to listen to, as Quote The Raven takes you on a rejuvenating journey of self-discovery and introspection.
Take a picture because life is a quick burn
Everything's clearer, than ever before.
I want to hold you now, in the golden hour.
And every day's a minute,
In every way we're in it.
Let me hold you now, in the golden hour.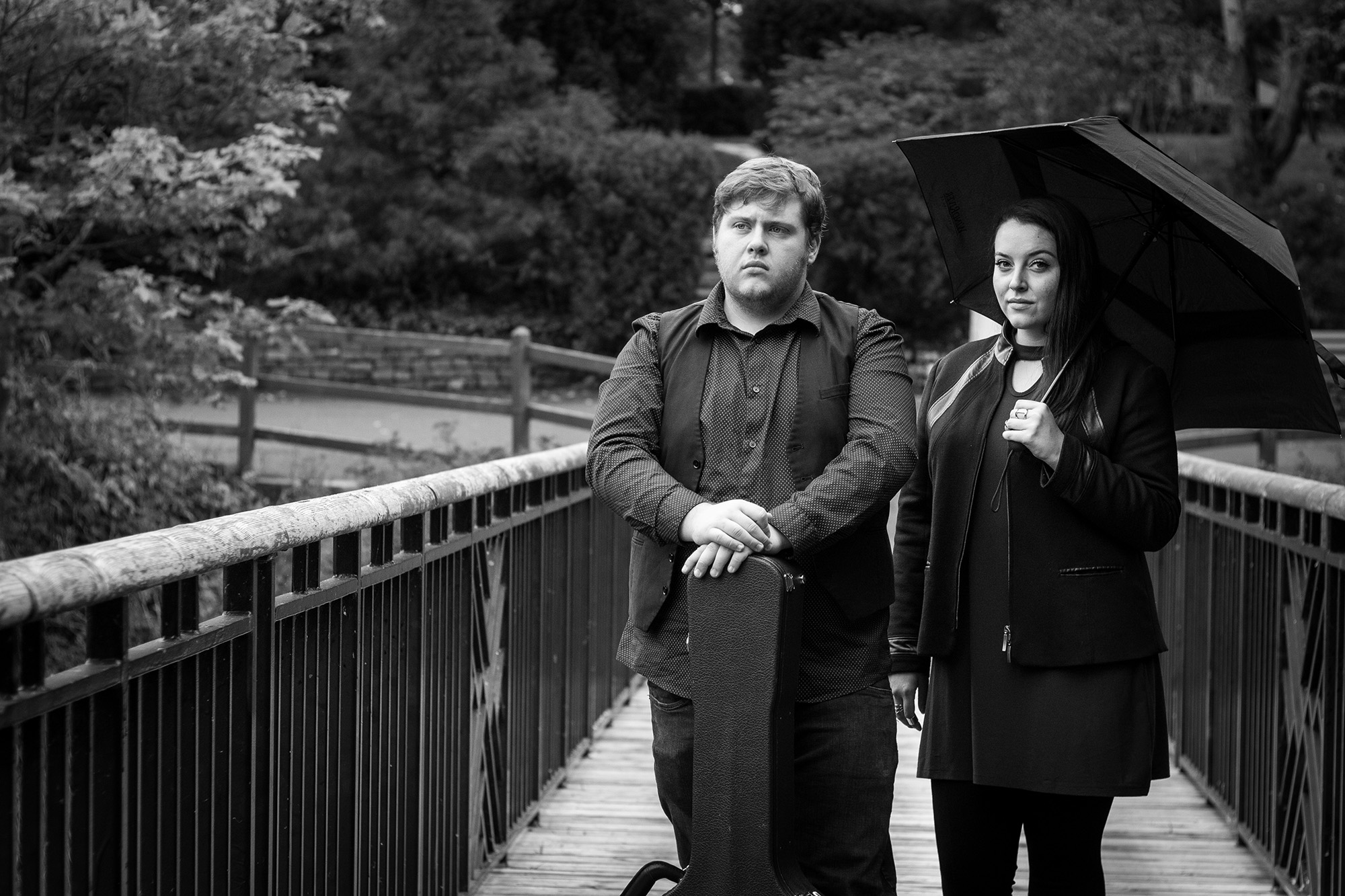 Listening to a live performance of "This Isn't Love" at this year's Live At Heart Newfoundland, I was completely enthralled by the vocals in this heart-wrenching lover's lament. Captured by the absolute sincerity and honesty in which the duo delivered their music to an audience that sat spell-bound as the duo carried them through one of life's harsh realities- sometimes no amount of effort can save a relationship. Sometimes, not even love can. When all you're left with is the absence of love, it's time to hang it up. The vocal blend of Coaker/Rodden Clarke on "This Isn't Love" was reminiscent of Sarah McLachlan's duo with Greg Keelor on "What Is This Love", tragic and truthful, this track is to be the crowning jewel of "Golden Hour".
You won't wonder where I spend nights
You won't wait for my call
As you fall asleep in someone else's arms
You won't think of me at all
This isn't love
This isn't love
In 'Deadman's Pond', the duo dabble into a unique rendition of dirty swamp-rock, or "pond-rock", touching on some gritty Delta blues-lines, tying in a little sonic banditry a la Steve Earl and Kenny Wayne Shepherd. There are many shades and sounds to this promising young group out of Newfoundland, with their formidable songwriting and choice lyrics, they are sure to capture the hearts of audiences around the world in the years to come.
QTR on Plans for 2019:
"The future is looking up for us, we had a great time at Live at Heart and at this year's MusicNL week and although nothing has been set in stone we look forward to touring a lot over the next year, making some moves further west in Canada and hopefully expanding further into the international market."
QTR on Finding Inspiration:
"Most of the most amazing times we've had have come from traveling around our home province and more recently around Eastern Canada, and into some international markets. I think the fact that we get to go out and meet new people every night and share in their life experiences is a huge driving factor that keeps us inspired. Making the world a smaller place while growing our musical family has been a pretty magical thing! We also have a lot of amazing friends in the music industry at home who are making some amazing music and so when we need that extra driving push we put on a friend's album and rock out and realize that we're really all in this together and that's awesome!"
QTR on Influences/Craft:
"We're heavily influenced by the Civil Wars out of Nashville, they're no longer performing together, but their music is so great and is part of the reason that we started singing together. I think that we're constantly evolving the more and more we play, we're very fortunate to have met each other and that our voices blend so well together. It was pure chance that we stumbled into each other in a small choir in 2011 and for us to be best friends still today, we've grown not only as musicians together but as people. I think that has been a huge factor in us honing our craft. We've also been very lucky to work with some of our idols who have helped to propel us and support us so much!"
Quote The Raven's debut LP is a must-listen & must-add to any roamers playlist; wipe the dust from your boots and take the moment while it's there in front of you- the sun rising before you in the beauty that is the 'Golden Hour'.
See Quote The Raven LIVE:
October 28th @ Barfly - Montreal
October 29th @ Live! On Elgin - Ottawa
QUOTE THE RAVEN ONLINE:
FACEBOOK: www.facebook.com/QuoteTheRavenDuo/
INSTAGRAM: www.instagram.com/quotetheravenduo/
SPOTIFY: https://goo.gl/C5ymXG
SOUNDCLOUD: https://goo.gl/hPDqFv