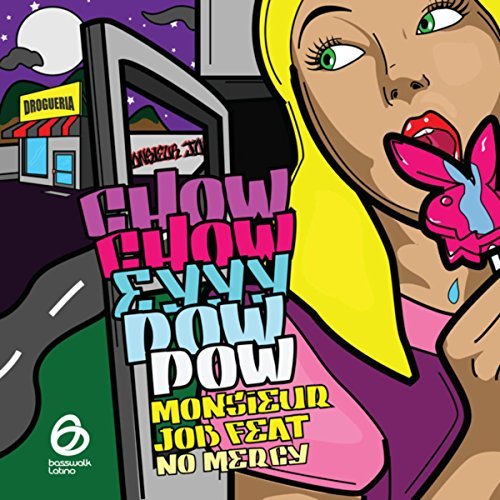 Fri Mar 24, 2017
South American based act Monsieur Job has released a memorable single "Chow Chow eyyy Pow Pow" certain to be an enormous hit with Latino listeners, but the quality is so high that's safe to say this song has a lot of crossover potential begging to be realized. The power of this release is twofold – it lies in the mix of Caribbean/Latino influences with the urban beats now so common in EDM and hip-hop, but given an additional spike in Monsieur Jobs' hands. The second factor is in how the band's four members bring a cross-section of influences. Songwriters Toby Holguin and Stan Kolev, alongside other members Charlie Illera and Leo Jaramillo, are well schooled in both DJ style and live music that enables them to bring organic qualities to bear on the largely electronica nature of the music. This is one of the year's most compelling singles thus far and will likely finish as such. It's also coupled with a powerful remixed version that will enjoy many admirers as well.
It isn't likely that listeners will experience a clear preference for either version because they both have their merits and something to offer. The remix definitely utilizes Martin Citron's vocal talents in distinctly different ways, but each method proves to be valid for entertaining different segments of the same audience. Some will naturally gravitate towards the more traditional approach Monsieur Job takes with the radio edit while other fans will bestow their favour on the flinty, highly energetic version offered by Kolev's remix. The creative vision of the song is expressed through its writers Kolev and Toby Holguin, but Kolev's larger hand in the remix doesn't necessarily mean that the alternate version betrays the first in any way. Both recordings are, in some respects, interchangeable in their influences and share common ground.
The addition of traditional instruments to the mix contrasts nicely with the electronic flourish we hear in the radio edit. There's clearly a stronger focus on aural balance in the radio edit or perhaps, just more elements for the production to accommodate than we hear in the comparatively stripped down remix. Citron's more expansive singing in the radio edit allows the melodic potential of the song to be underlined, but it works in concert with the song's other elements without ever assuming a dominant role. It's a wicked good radio edit that runs just the right amount of time without ever overwhelming listeners or leaving them wanting. The power and musicality of both versions are impossible to deny and it's enormously impressive that such a new unit can sound as cohesive as this, typically the hallmark of outfits who have established a rapport extending over years, if not decades. They've found an ideal collaborative partner in No Mercy's lead singer Martin Citron and one can only hope he'll continue to work them, at least sporadically, in the future. "Chow Chow eyyy Pow Pow" will bowl over even the most jaded music listeners and newcomers or casual fans will likely flock to the song's infectious sound.