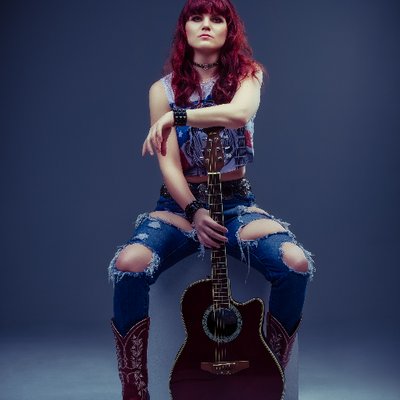 Fri Feb 22, 2019
To quote an old Timbuk3 song, Monte Mader's future's so bright she has to wear shades. This young Wyoming born singer/singer is about to break through with a new album and kickin' single. A little country and a whole lotta rock "Pour Me Whiskey" from 'The Devil I Know' album will grab your attention and your ears. This is not Monte's first rodeo, her debut EP with Big Sky, Skydive, brought Monte's name to people's attention and the new EP The Devil I Know will solidify her place in the industry.
Monte Ashley Mader was born in the Big Sky country of Wyoming and her rancher Dad was a huge influence on her love of music and zest for life. "My Dad was a musician but gave it up to run the family ranch. He instilled a love of music in me and my early influences were Three Dog Night and The Steve Miller Band. I guess the turning point for me was watching the George Strait movie Heartland. I saw George singing I Cross My Heart and at 5 years old I knew that's what I wanted to do. But I ended up in Virginia in a bad relationship and knew I had to make a move. On February 10, 2014, I packed everything I owned into a U-Haul trailer and headed to Manhattan. I figured New York City was where I had to be to pursue my music. I had to find out who I was as a person, a musician and a songwriter. I wanted to write my own songs and say what I wanted to say. When my Dad passed away I lost my best friend but I feel him with me all the time and feel him smiling with pride as I move forward."
Monte is performing constantly around New York in June of this year has been selected to participate in the first ever Cashbox Magazine Showcase songwriter circle at the prestigious MIDEM conference in Cannes, France.
Her new CD is finished mixed and mastered and ready to go.  Keep your eyes and ears open for Monte Mader, her time has come.
Listen to Pour Me Whiskey: