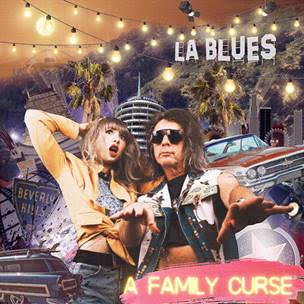 Fri Sep 18, 2020
Driven by bluesman Niz and Baby Kiz — aka 54-40's Neil Osborne and his daughter, singer/songwriter Kandle — modern day blues duo A Family Curse are out with their new self-titled album.
Check out the entertaining video of "LA Blues"on YouTube here:
Decidedly different from their respective artistic pursuits, Niz and Kiz' approach to A Family Curse seizes firm hold of whatever emotional range, found sounds, or random instruments are within reach.
This a family band created by 54•40 singer/songwriter Neil Osborne and his daughter Kandle (affectionally known as Bluesman Niz and Baby Kiz).  Often supported by various cousins, uncles and aunts of the Osborne clan. "We are kin. We make our music from experimenting with various audio scraps and acting on our emotions". The music is pure folk-Art, worked from found objects (something old, something new) transformed into beautiful tunes. Best listened to under the light of the Moon.
And people: it's not uncommon to hear Osborne uncles, cousins and other honorary musician 'adoptees' chime in on the tracks, from the LP's kickoff "Cast A Curse" to the release round out "Getaway Car."
The result is bespoke musical mastery of the best variety — 10 tracks of pure folk-art best listened to, they urge, under the light of the Moon.
For more visit:
afamilycurseband.com/
instagram.com/afamilycurseband/
facebook.com/AFamilyCurse
twitter.com/curse_family
open.spotify.com/artist/4xXfGjpHtnaHAuBH0lpw8L?si=XTx0G7q_SsWkweI-wKaAKQ
soundcloud.com/user-27171054/sets/a-family-curse