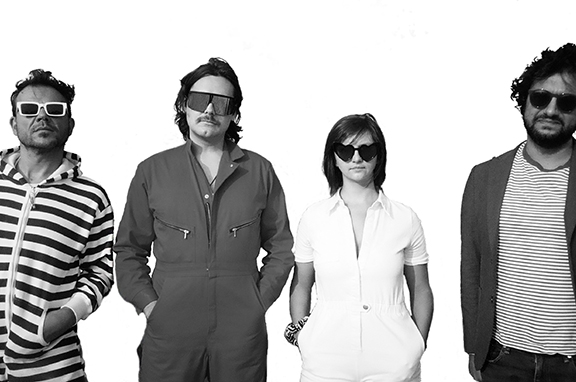 Fri Apr 01, 2022
Canadian art-rock quartet AUS!Funkt want you to "Set yourself free" with the release of their fiery new single – check it out on YouTube here:
Fresh from their newly landed EP, Human Response, the track offers a straightforward message through its unconventional mash-up of the Toronto-based band's signature blend of post-punk surf-rock, psychedelia, and electro-funk.
"This song came together pretty quickly, and was one of the first we wrote together as a group," the band recalls. "Michael Wallace of Preoccupations helped produce this track, and added some percussion and tape-delayed vocal effects."
The video for "Set yourself free" — which simulates a real beach using a green screen — pays homage to Toronto's legendary Bloordale Beach, a spot that holds a special and somewhat symbiotic meaning for the band, who are Miroslav Miskovic (aka Jozzef Ladovina), Evan Henderson, Olivia Korwan, and Hugo Frutuoso.
"Bloordale Beach was a big, empty lot south of Bloor and Brock that a community of artists and locals transformed into a hangout spot that anyone could enjoy," the band shares. "Unfortunately, it's now been demolished; but we are proud to preserve its legacy with our video.
"Bloordale Beach fits the concept of AUS!Funkt perfectly: the area was repurposed to serve as a playground for the creative community in the same way we reuse and repurpose musical ideas to recreate different, constantly changing versions of songs when we play live.
"This is particularly important when we see more and more music venues and rehearsal spaces disappearing in Toronto," they continue. "It's important to not forget, as we tend to set ourselves free, that we should also aim to free the spaces from the cuffs of bureaucracy for people to push the barriers of art; Bloordale Beach was one of those attempts."
"Set yourself free" is one of three songs from AUS!Funkt's latest EP, Human Response. The selection touches on basic desires as human beings — freedom, connection, and communion — and include other staple songs from the band's live repertoire, the bouncy-synthed, heavily percussed, and jagged-guitar stabby "Where's my empathy?" and the brutish, in-your-face guitar-fuzzed rock-ripper that is "Socialized (feat. Blake Lambert)."
Also included are reimagined versions of "Set yourself free" with an 'Acid Surf Version,' as well as "Where's my empathy?" with an 'Electro Gospel Version'; both alternative takes are under Miskovic's moniker of El Jozzef, with the latter also featuring Jen Simpson.
Human Response follows AUS!Funkt's early-year offering, January 2022's Post-Stagnation. Both EPs were penned pre-pandemic, but the band felt the world's state of evolving affairs matched the relevancy of the songs and their underlying messages.
"'Information YEAH!' hits all the keywords that marked this last two years: information, regurgitation, constant negation, no inspiration, indoctrination, suffocation and many other '-ations' that we struggled with as a band," AUS!Funkt says of Post-Stagnation's lead single. "But, at the same time, the whole world did as well. It's not that these things did not exist before the epidemic hit, it's just that they became much more palpable in the time of crisis."
For more on AUS!Funkt check out these links:
tiktok.com/@ausfunkt.yeah
instagram.com/aus.funkt/
facebook.com/ausFunkt/
open.spotify.com/track/4fITP01732pyXbSaMwUn30?si=1NzhXlSESpOlcJx2-TuPgA&nd=1