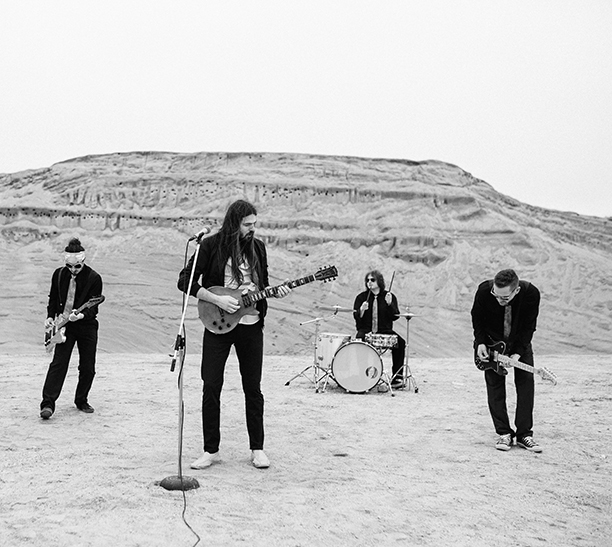 Fri Jun 19, 2020
"Turns out, I didn't just want to sing about it, I wanted to scream about it."
That's BULLRIDER's frontman Bobby Desjarlais referencing the band's newest single release, "Dying".
"It's about death, yes," he says plainly, laughing. "But really, it's mostly about living life to its fullest."
Watch and listen to "Dying" here:
"I had a very close family member diagnosed with cancer say to me, 'when you have cancer, you're the only one in the room willing to make a joke. This resonated with me; the fact they would still take the responsibility to make people laugh while they're sick and possibly dying is real strength. I wanted to help out and sing about death, which is traditionally a difficult topic to breach."
Which brings us back to… "Turns out, I didn't just want to sing about it, I wanted to scream about it."
All caught up now, the Winnipeg-based four-piece extends beyond Desjarlais (The Bokononists, Attica Riots) to include Ben Ferguson (Ash Koley), Tom Sinnott and Chris Peluk (Alverstone, Mad Young Darlings). Together and growing since 2012, they've brought their complete yet complex palate of sonic sojourns — from fun-loving to dark and heartbroken, haunting to near-psychedelic in its experience— to stages at The Forks Winnipeg, Harvest Moon Festival, Dauphin's Country Fest, ManyFest, Hoot Owl, and more.
Previous singles followed a similar, existential and observational theme; "Live My Life" and "The News" serving as prime examples of the band's rebellious, tongue-in-cheek delivery. "'Live My Life" is about needing less to live and be happy," Desjarlais says. "I just gotta breathe, sleep, eat, and feel… The rest? You can keep, thanks."
"'The News' was written in response to my own bad habit of reading too much of it. I had to get out the anxiety it gives me, and music has always been that outlet for me. I tried to make it less about politics and more about the 24-hour news cycle… It's not good for anyone to be that plugged in, but there I was, reading the daily horror show every day before I got out of bed. That plugged in."
"Writing this record, from idea to completion, was like watching a picture come into focus," Desjarlais adds of the band's 14-track debut, 2019's Hidden Gems And The Love Of Another, where all three tracks reside. "As different as we all are as bandmates, it just makes sense. With this many compatible writers in one room, it was exciting to see what we can make happen."
For more visit:
facebook.com/bullriderband/
instagram.com/bullrider_band/
twitter.com/bullrider_band?lang=en
open.spotify.com/artist/5s9Z2Xq0lgI2ei5Hja5hyI