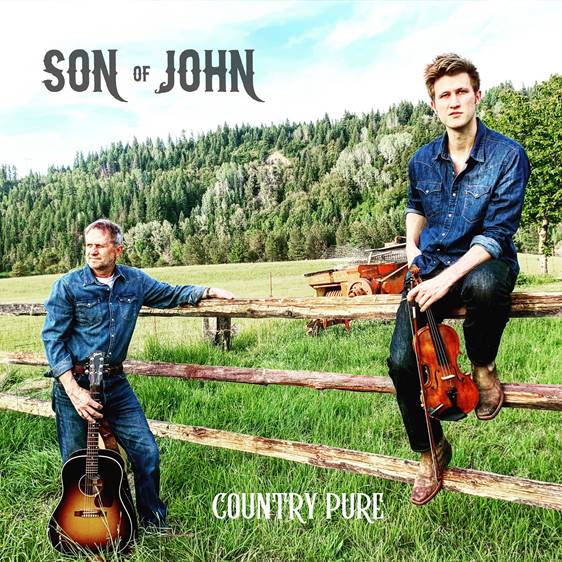 Tue Sep 03, 2019
Submitted to Cashbox Canada
Canadian father/son duo Son of John have added a new release to their roster — "Country Pure" is available now!
The British Columbia-based band - son Javan Johnson and dad Johnny P. Johnson - seamlessly blend two generations and genres as they croon country/roots tunes together, bringing the genre back to its storytelling and traditional roots with their unique acoustic sound.
"When you see the title 'Country Pure' you might think of cowboy culture or certain stereotypes of country music – farms, trucks, beer, blue jeans," says Javan. "But the song is more about those people that wear boots and jeans in the middle of downtown Vancouver. They may have left the country for whatever reason but they're authentic in the way the dress and act – their heart is still where they're from – and that's really the essence of the song.
"We're country boys – my dad grew on the farm in rural Saskatchewan, and I grew up on an acreage by the river in BC," he continues. "Even though it doesn't sound like the songs on country radio – I don't think you can deny that our music is country.
"We make music that's authentically us – and that's what being country pure is all about."
"(The song) is written about real people who lived in (Outlook, SK) that I knew and grew up knowing," Johnny adds. "It's not about one person per se, but of many individuals that make up the fabric of the community.
"The third verse describes a relationship like my brother's and mine. That's the only part of the song that remotely relates to my own life. He owns the family farm and twice a year I'll go out to Saskatchewan for seeding and harvest.
"I guess it's in my blood – like the line in the song says.
"One year during calving season, my brother just had surgery, and there was a problem with one of his cows. Our neighbour from across the way rushed over to give us a hand. It's just what those country boys do.
"That was the genesis of the song I think. He was the inspiration – no questions asked, he just came to help his neighbour for the sake of it."
Initially formed in 2017 as a passion project, Son of John has performed at iconic venues such as the Roxy Cabaret and the Railway Stage & Beer Cafe in Vancouver, the Ironwood Stage & Grill in Calgary, the Charles Bailey Theatre in Trail, the Dream Cafe in Penticton, and the Bailey Theatre in Camrose. They've toured BC and AB performing for arts councils at soft-seat venues and concert halls from Osoyoos to Forestburg. They've entertained in restaurants & bars from Langley to Medicine Hat and were part of the lineup at some BC Interior music festivals like Whatshan Jam and Desert Daze. In Longview, AB, home of Ian Tyson and the heart of cowboy country, they kept the dance floor buzzing at the Twin Cities Hotel all night long with their original music.
Their music can only be described as original; Javan's fiddle and mandolin and Johnny's harmonica bring together strong elements of folk, roots, blues and bluegrass to Son of John's sound.
"We went into the studio wanting a sound that we could easily replicate live," says Javan on "Country Pure" and the forthcoming album. "And our producer John was adamant about keeping it that way – which was great.
"Nothing fancy so even if it was just the two of us on stage, you'd instantly be able to recognize the song. We're an acoustic band – neither of us play electric guitar – so why have it on our recording? We have a very rootsy sound, which is exactly what we wanted."
With Johnny having influence from the greats like Merle Haggard, Blue Rodeo, and Neil Young in his songwriting, and Javan harnessing today's country artists like Sam Hunt, Chris Stapleton and High Valley, Son of John finds themselves pulsing in Americana circles and contributing to the new wave of old-school pure country.
Javan, as a multi-instrumentalist, was a 2018 nominee for Fiddle & Mandolin Player of the Year at the British Columbia Country Music Awards, and has opened for Brett Kissel with Myles Murphy, and playing with other country music bands like Hillside Outlaws and Lisa Nicole.
Johnny brings his experience and vocal talent as the frontman of two '90's bands called the nerV, and the BCCMA-nominated Midnight Harvesters who graced award show stages and the top country festivals like Merritt Mountain Music Festival (now Rockin' River). Originally from Saskatchewan, when he's not on the farm seeding or for harvest, he's back in BC writing songs about the simplicities and complexities of his life and the lives of those around him.
Watch Country Pure here on YouTube:
https://youtu.be/EQVVDZJ20vE
"Country Pure" is available now.