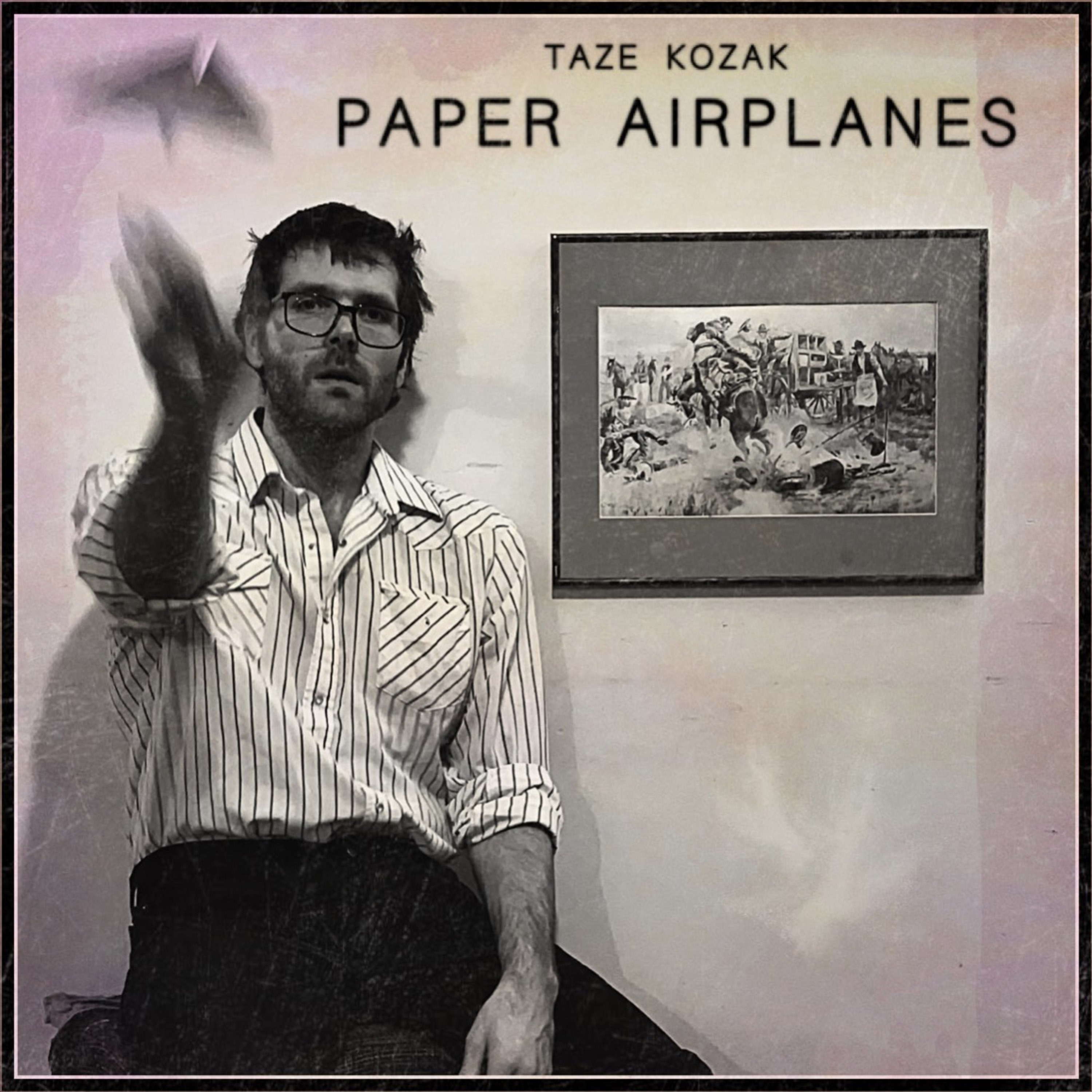 Fri Mar 25, 2022
There are times in life when the past and present collide in such a way as to be surreal, and that's what Canadian folk-rocker Taze Kozak captures in his new single, "Painted Pistols," from his new album Paper Airplanes.
"Painted Pistols" evokes a lonely highway long after midnight, the center lines lulling you into near-hypnosis, and the dead of the night taking on its own shape and character.  The Comox Valley, BC-based artist sings with the plain-voiced candor of Johnny Cash over acoustic guitar that alternates between dark and plucky, and the lyrics take us on a journey from gangs fighting in the streets of Los Angeles, to the narrator soaking in a bathtub and drinking whiskey at noon, to a country boy jealous of other men flirting with his wife.
There's the sense that none of it, and all of it, matters; Kozak describes his state of mind when writing it as: "Feeling strong, weak, helpless, a helper, a father, a loser, a winner, warmth, cold, insight, and outsight."
When he first wrote the song, Kozak was facing his mother's addiction, depression, and multiple attempts on her life before dying by suicide; he was also looking back at growing up with a father who had been paralyzed from a motorcycle accident — all while experiencing his own back problems from years of working in forestry and taking painkillers with booze to ease the pain, feeling a sense of connection between himself and upbringing, and worrying about possibly leaving his own young children to care for him.
my heads spinnin' like a hurricane
for I've been drinkin' pinot noir and poppin' the codeine
and yes you know that it's taking me down so slowly
"It was a beautiful and hard time in my life, a reoccurring theme which spirals in and out," he reveals. "Things have been lost, things have been gained, things continue to move and color themselves as they please."
Kozak went out every day to the motorhome parked in his backyard — his makeshift recording studio — to record songs off-the-cuff, without even writing most of them down, as a sort of therapy.
For a decade, self-taught singer-songwriter, and guitarist Taze Kozak has performed soulful melodies laced with his subtle wit and seamless poetics. Released in 2022, his six-song sophomore album Paper Airplanes follows 2021's LP, Painted Pistols & Lo-Fi Poetry.
The new release brushes shadowy scenes, yet lets the heart dance, intertwining both sides of his songs' lunar dualities influenced by outlaw country, gritty blues, and jazz.
It's an album that's grittily real, and authentically atmospheric; you can hear the pattering of rain against the motorhome in "Kettle of Fish," a narrative about Kozak's grandfather's old moonshine still; at times, you can hear a helicopter overhead, squeaks from the old chair Kozak was sitting on, and the melodic chirping of birds. Song "Orange Honey" is about spring and digging in the garden –- a hope for new beginnings.
For more visit:
tiktok.com/@tazekozak
instagram.com/tazekozak
facebook.com/tazekozakmusic
twitter.com/TazeKozak
open.spotify.com/artist/3CsILAvgOIJPaEW6FowSPM?si=BtXjOD74RluhoBDuGStIvg&nd=1