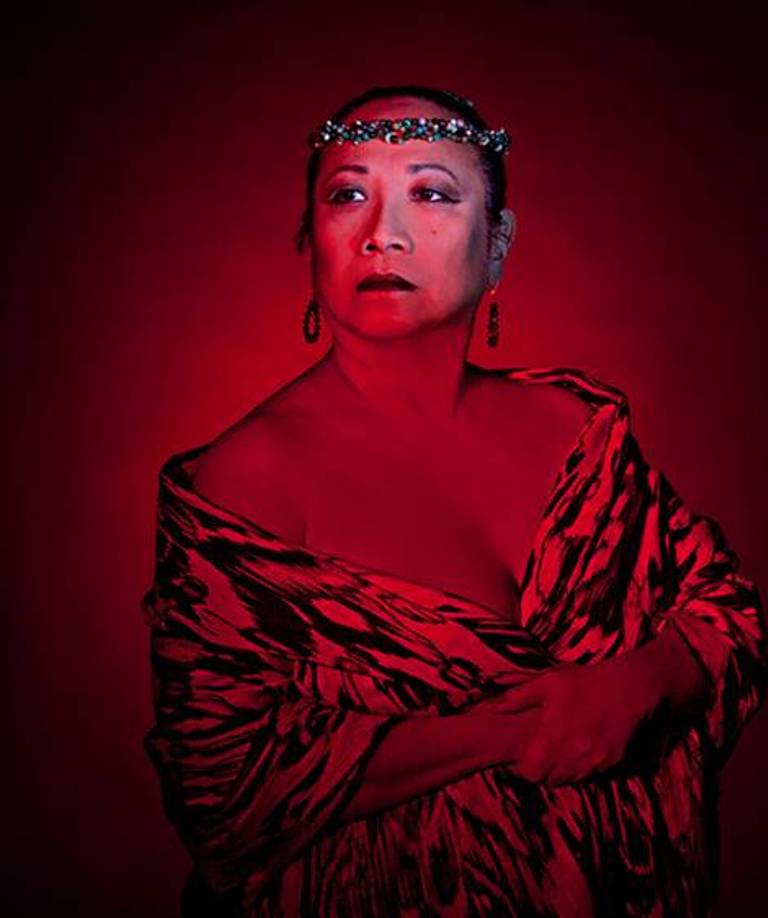 Fri Jun 05, 2020
When it came to her new release "Jerusalem's Thorns: Civilian Remix," artist Carolyn Fe wrangled a tough decision: How does one choose between two creations cut from the same cloth?
"'Jerusalem's Thorns: Civilian Remix' is closer to my heart than the version released on the album," Fe shares candidly. The version is aggressive with a military tone that accompanies tribal sounds alluding to a battle cry stemming from her deepest wounds, she expands. "It's like a purging of poisons and toxins from (my) soul to rebuild a new normal."
Originally from the album Sugat Ko — translating to 'My Wound' in her native tongue of Tagalog — "Jerusalem's Thorns" was the collective choice of Fe's bandmates. "They liked the organic and not-so aggressive vibe of the tune, which was a cry and scream of frustration as (my) wounds healed," she offers.
In both versions of the song, those tribal percussions introduce the listener — and brings Fe closer — to her Filipino roots as she continues to further her version of the Blues genre.
Following a four-year silence to re-frame, re-energize and re-prioritize, she says, Carolyn Fe came back stronger than ever with the release of 2018's Sugat Ko.
"I dropped my malong to reveal my truest self and to heal the wounds of the past," she says, making note of the traditional tube skirt or dress made from a woven, multi-coloured cotton worn for warmth and/or traditional celebrations.
Familiarizing listeners to her Filipino heritage, the album ventures into new blues territory with masterful twists on the familiar forms of the genre. Infused with Filipino rhythms and sounds, and combined with timely lyrics, Sugat Ko is a poignant and unquestionably original release "not for the Blues purist," she says.
Watch and listen to "Jerusalem's Thorns" here:
"This is a modern album and relative to the current world climate, but at once classic with hints of tradition that is not necessarily your definition of, but also undeniably not your 'Grandma's blues.'
"It's me daring you to step out of your comfort zone."
The award-winning video for the original version of "Jerusalem's Thorns" is akin to a short film about the Philippines' Babaylan. "The Babaylan were almost always women. They were held in high regard and were powerful ritual specialists from the pre-colonial Philippines and were believed to have influence over the natural and spiritual realms. They were believed to possess powers that block dark magic and heal the sick or wounded, and interact with the deities of the spirit world."
A dual-city-citizen of Montreal and Toronto, Philippine-born Carolyn Fe is a true artist: curious, adaptable, an outlier, a free-spirited visionary who questions accepted standards and pushes against established rules to bravely navigate the daunting corridors of her soul, reinventing and redefining her craft. She is an innovator who has always expressed herself through the performing arts — dance, television, film, web and music — specifically the blues, where she fully embodies her talents as an insightful lyricist, evocative interpreter, and singularly authentic performer.
Her inspirations come from being a woman of colour who grew up in a predominantly white neighbourhood where she was always on the fringe, even when she was literally in the spotlight performing. Being an outlier fuelled her determination to create her own space and freedom to blaze her own path — on her own terms. Carolyn Fe continues to write her own material and her lyrics lay comfortably on various artists' music around the world such as Shun Kikuta (former guitarist of Koko Taylor), Finland's Sami Joensuu, and many more.
As an actress, Carolyn Fe can be seen in both French and English productions. Catch her in her recurring role as Lola (Grandma) to the host of the show, Josh, in the children's show Blue's Clues and You (the reboot of the classic Blue's Clues) on the Nickelodeon channel, as the mother to CIA agent in Condor on Amazon Prime, as Madame Z in the French web series Meilleur Avant on tv5unis.ca/meilleur-avant and more. In the theatre, Fe graces the stages of Toronto and Montreal's most established houses.
She defies age and challenges our stereotyped thinking about theatre, music and the performing arts in general. When working with and/or seeing Carolyn Fe in action, make sure you've loosened your parameters, or even better, erased the borders of what you think should be. Widen your horizons, only growth and evolution can come from being uncomfortable.
For more information visit:
carolyn-fe.com/
carolynfe.bandcamp.com/
open.spotify.com/album/0xqgnVPymESGwkcE4I2OHc?highlight=spotify:track:145YL4cfFYUIEuVifyvw2L