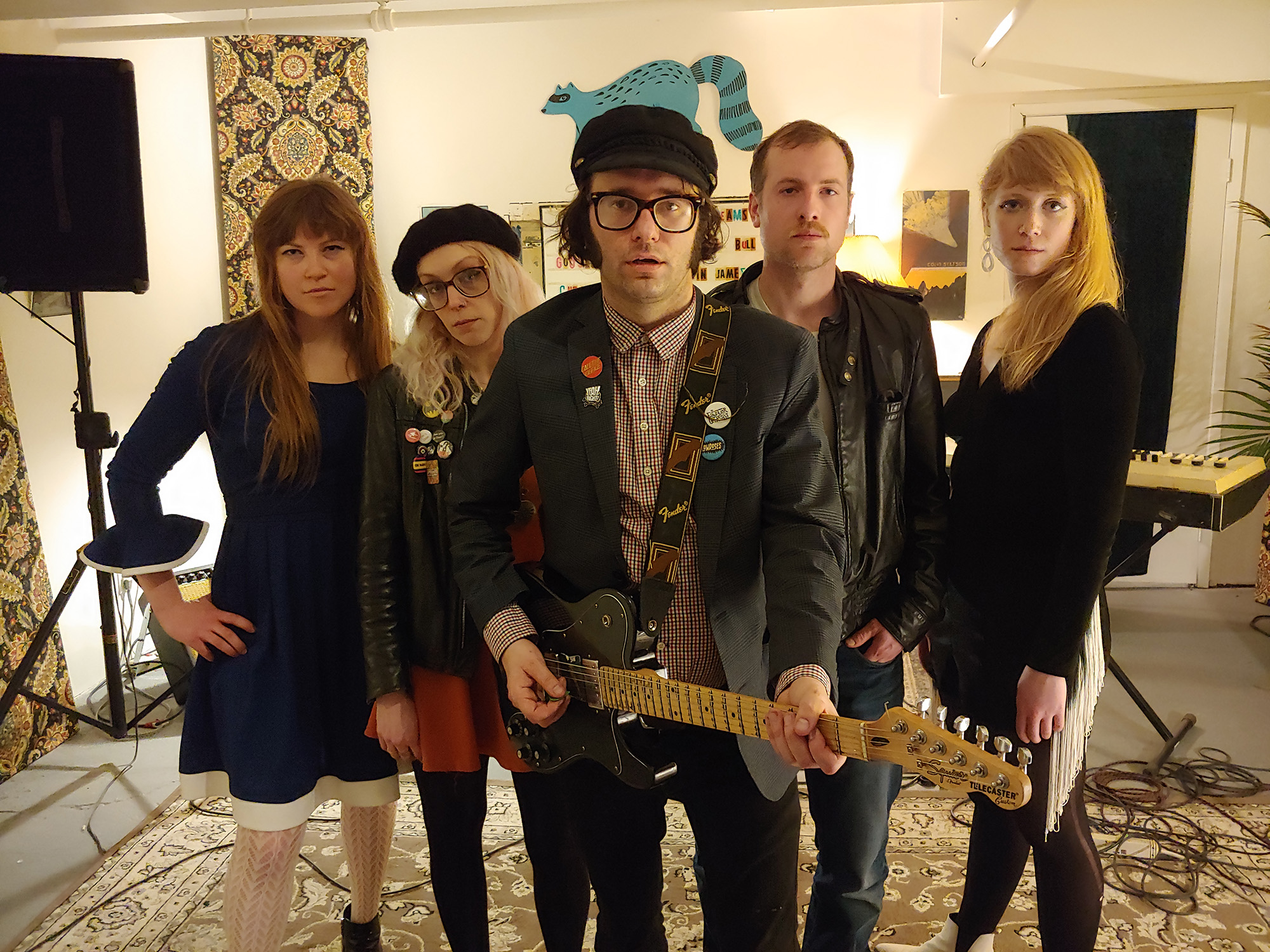 Fri Aug 30, 2019
Submitted to Cashbox Canada
Alt. indie pop troubadour Dany Laj & The Looks left a trail of travel markers when it came to making this, their seventh and latest release, Everything New is New Again — available September 13th. 
"In May of 2018, we toured Canada and the United States," Laj recalls of the era. "We picked up our drummer Victor (Tremblay-Desrosiers) on a swing back thru Montreal and hit the road to Saint-John, New Brunswick to play a festival before locking ourselves in our friend's jam space for a day to learn the record." 
From there, the band — Laj, Tremblay-Desrosiers and Jeanette Dowling — left for New York City. "We descended into what felt like a bunker opening into the depths of the underground through the sidewalk," he continues, speaking of NY Hed Studio where the trio tracked the record over the next two days. "It was an honour to record with Rocio and Matt Verta-Ray at a place where some of our favourite and coolest records we know were made… Heavy Trash, Andre Williams, Ronnie Spector, and Alejandro Escovedo, to name a few. 
"Working with them was like catching lightning in a bottle… They captured us in our purest form. 
"The five of us in the studio were on the same page the whole time, and that felt quite special. Everything was done analogue, on tape — no computers, no cell signal, not a screen in sight."
The dismissal of digital distractions in the depths of Manhattan's Lower East Side held space for the power pop-meets-punk trio's spirited sound to hold strong. "We have a simple philosophy," Laj waxes. "Write good songs. Play them well. And have a good time
"This is pure pop." 
An unstoppable force just waiting to win your heart, the simplicity in which the Kirkland Lake-born songwriter pursues musicality is not to be mistaken by its intricacy. The band's catchy hooks, intertwining melodies and heartfelt songs are known to seamlessly meld rock, folk, and country with deeply rooted power pop "that give the tunes a certain 'joie de vivre'," he says. The results are potent yet unpretentious lyrics weaving tales of a Northern Ontario kid from a rural gold-mining camp finding his way south — ultimately to Montreal, by way of Sudbury, North Bay, Toronto, and everywhere in between — with the highs and lows that go with life and love on the road. 
The tale of Everything New is New Again — essentially crafted on the road — was far from done; its final touches were completed in the band's other home base of Sudbury. "After NYC, we took the tracks to Matthew Wiewel for mixing at Deadpan Studios," says Laj. "He took care to preserve the raw energy of the recordings while bringing out the subtle nuances in the performances. 
"It was simply just meant to be."
Watch 'Annie' Dany Laj & the Looks here:
Tour Dates:
October 2019
1 - The Royal Grove - Lincoln NE
2 - Barley St Pub - Omaha NE
3 - The Lift - Dubuque IA
4 - Eagles Club - Minneapolis MN
5 - The Lyric Room - Green Bay WI
7 - Quarters - Milwaukee WI
8 - Mary's Place - Rockford IL
9 - Live Wire - Chicago IL
10 - Melody Inn - Indianapolis IL
12 - Blind Bob's - Dayton OH
13 - TBA - Cleveland OH
19 - Theatre Bizarre - Detroit MI
November 2019
01 - TBA - Sherbrooke QC
02 - La Sainte-Paix - Drummondville QC
08 - Townehouse Tavern - Sudbury, ON
09 - The New American Pub - Sault St-Marie, ON
10 - The Apollo - Thunder Bay, ON
15 - The Palomino - Calgary, AB
16 - Pat's Pub - Vancouver, BC
17 - Lucky's Liquor - Seattle, WA
18 - TBA - Portland, OR
22 - The Grizzlar - Edmonton, AB
23 - Amigos - Saskatoon, SK
24 - TBA - Winnipeg, MB
For more info visit: http://danylaj.com/