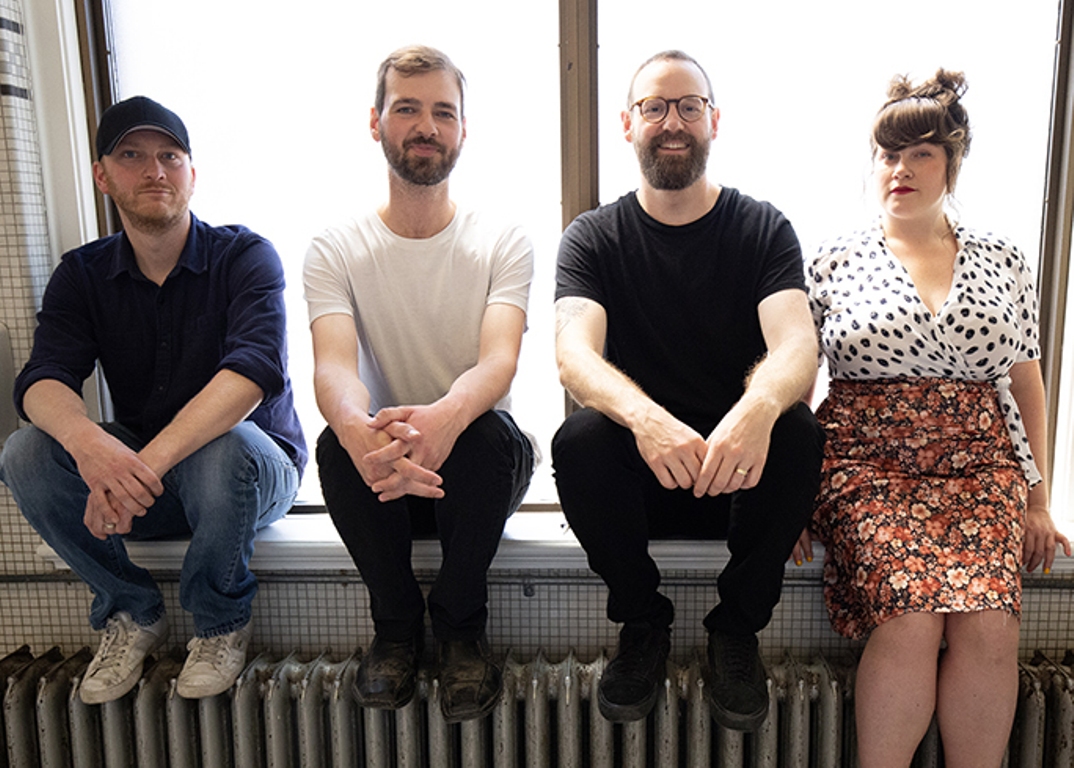 Fri Jun 19, 2020
Stand-out Canadian alt rock-pop outfit Glassreel map the delicate journey into unknown adulthood and unmet expectations with new single,"Crystal Ball".
Watch and Listen to "Crystal Ball" here:  https://youtu.be/NuFHZKv6mdU  
A partnership between longtime musical collaborators Kelly Beaton and Trevor Graumann — with Andrew Workman and Ken Phillips — Glassreel and their 2019 debut EP Unalike has been heralded throughout North America, with features on 100+ radio stations (including CBC and NPR) and a foothold on the !earshot National Top 50 for multiple weeks. Additionally, their music is featured in several episodes of celebrity chef David Rocco's forthcoming series, Dolce Italia.
Separately and together, Beaton and Graumann have shared the stage with Wintersleep, Said the Whale, Partner, iskwē, Sloan, Land of Talk, The New Pornographers, Tokyo Police Club, Julie Doiron, and more, and have played SXSW and Germany's Reeperbahn Festival, to name a few. Their respective projects have enjoyed critical acclaim from Chart Attack, CBC, CMJ, exclaim! and ELLE, and have charted throughout North America.
The newest single from Unalike, which was recorded/mixed by Ryan McVeigh (Boats) and mastered by Philip Shaw Bova (Father John Misty, Feist, Andy Shauf), "Crystal Ball" amplifies Glassreel's signature simplicity and sonic clarity, enveloping listeners in the sobering realization that youthful expectations don't align with adulthood reality.
"The lyrics were born of anxiety…" Graumann shares of his pen-to-paper process on "Crystal Ball." "That generalized anxiety around not being where you feel you 'should be' at this point in life, as well as some specific anxiety about a specific stressful situation that then occurs.
"The line 'handing your changes in' got stuck in my head… Like a 'call to progress.'"
"I remember the first time Trevor played the demo for me," Beaton recalls. "I remember what I felt and what my impression was: The song was different, and it was special.
"It was born out of shared experiences and a bigger idea I had not yet seen, but one that Trevor had no doubt been visualizing for a long, long time. 'Crystal Ball' was and is such an important song — both personally and reflectively — for our band and for one another."
Uniquely to "Crystal Ball," Beaton found it would take some time to fully immerse into the flow of the lyrics as Graumann intended them, but the surmountable hurdle would skyrocket the song to the top as one of her favourites.
"There is an ongoing, simultaneous challenge and privilege of singing someone else's lyrics," she shares. "Especially those of a close friend, and someone with many shared experiences that have brought us where we are.
"There were days when I would totally blank and/or interchange the words in the chorus… Over time, and our weird journey together, certain lyrics eventually sank in, and I was able to visualize the song as a whole and communicate the idea to the listener.
"When it's my turn to choose a song to play at rehearsal, I still choose 'Crystal Ball.'"
Directed by Workman — with videography by Kelly O'Donnell — the video for "Crystal Ball" was shot on a cool Autumn day in Graumann's neighbourhood. Its muted colour palette, solitary plight and dreary, somewhat prosaic adventure follows a quizzical child navigating a symbolic adulthood, encountering regret, vulnerability, and hope of transformation along the way.
For more information:
instagram.com/glassreel/
facebook.com/glassreel/
twitter.com/glassreel
open.spotify.com/album/6Nx6sfevQSD9jDOeGtTQuH